My husband heard about The Parish restaurant from a guy who saw the restaurant on the news. During Mardi Gras, the owners had a huge crawfish boil in the parking lot. Where was I and why didn't I know about this earlier? Geez, I want some crawfish. Upon entering the restaurant, the guy at the bar waved at us as if he knew us. I can only assume he is one of the owners from down South. Who waves at people when they enter a restaurant? It was so funny and I loved it. One of the owners came over to our table. This particular owner is from New Orleans and had been in Tucson since 2000. His partner is from Baton Rouge, which is where I used to live. We had a good conversation and I overheard him say, "How y'all doing?" with a Southern drawl to some people we knew at the next table. The overall feel of the restaurant was great. The atmosphere was laid back, the design and decor was beautiful and colorful. I really like this place.
The Parish Restaurant (www.theparishtucson.com)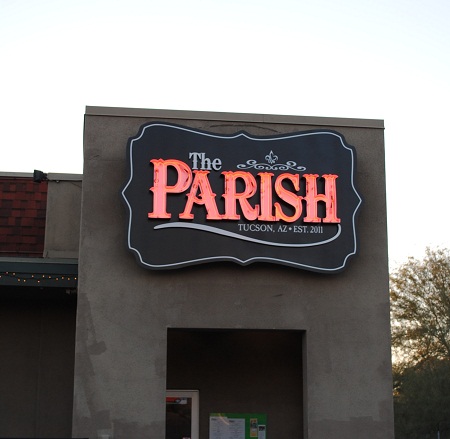 The restaurant's VIP room?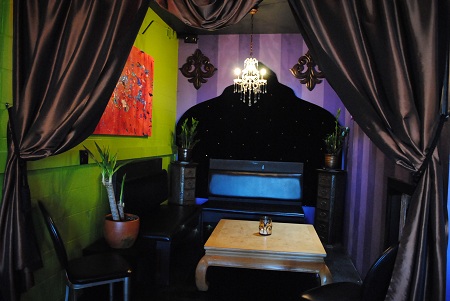 Fleur de lis were everywhere, of course.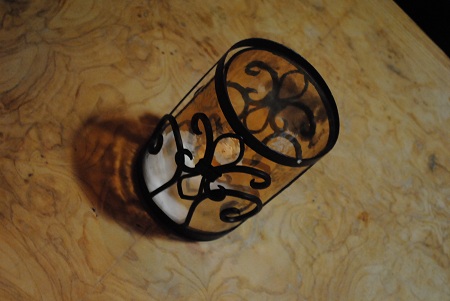 All of my Louisiana friends are posting pictures on Facebook of their good eating down South while I can only hope for some good crawfish. My husband had crawfish in Arizona once, and it was steamed! Yes, steamed! He was so upset when he saw those crawfish. I had never seen him that upset before. Let me tell you something — crawfish should never be steamed. They should be boiled to perfection with corn and potatoes and the best cajun seasonings known to man.
Unfortunately, by the time we got there, there was no crawfish for us, but there was one of my favorites — the poboy. Before we ordered our poboys, my husband and I ordered the crawfish hushpuppies as an appetizer. I don't know what kind of sauce they served with the hushpuppies, but it was delish. It was very spicy, so be careful if you are not used to spicy foods.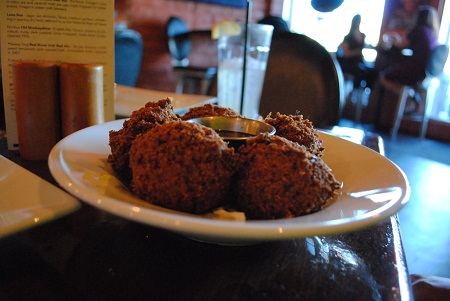 My husband ordered the oyster poboy and I had the shrimp poboy and a cup of gumbo. The poboys were so good and seasoned well. The gumbo was also really good. I had no room for the rest of my gumbo, so I had to get a to-go box. My belly was so tight by the time I finished my sandwich.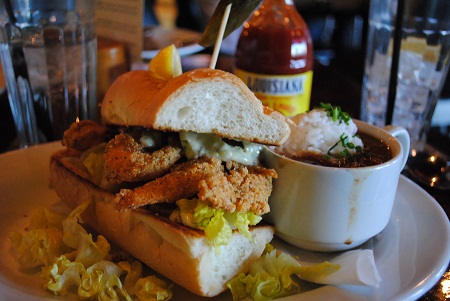 I have to mention the lemonade. It is homemade lemonade and it is the best lemonade I have ever had. I don't like really sweet lemonades. I like lemonade that makes your lip curl. This lemonade is for big girls only.
Before anyone asks, I would like to note that I did not put the hot sauce in the lemonade. Cravings are serious, but I haven't had any that are that far out.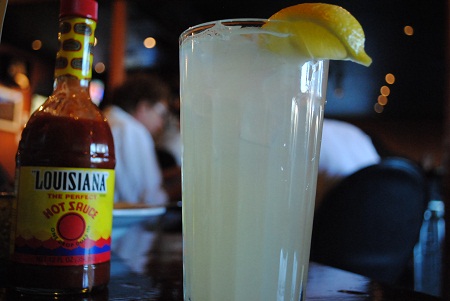 I had to try the bread pudding. I am a bread pudding snob. Drusilla's Seafood in Baton Rouge made me that way. They have the best bread pudding, served hot and moist with the best sauce you ever want to taste. Well, this bread pudding wasn't as moist and although it was okay, it didn't compare with my Drusilla's bread pudding. We ordered the bread pudding with walnut chocolate bacon (yes, I said bacon), maple whipped cream and butter rum sauce. Don't worry folks, there was no alcohol in my dessert.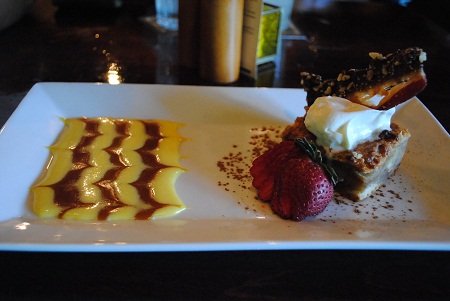 Back to the bacon — my husband and I thought we were misreading the description, but there was an actual piece of bacon that had been dipped in chocolate and walnuts on top of the bread pudding.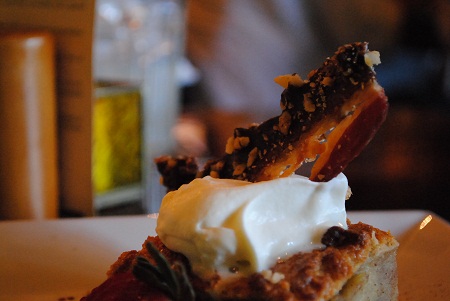 I was not brave enough to try the chocolate dipped bacon, but my husband tried it and said it was good.
Overall, I had a great time out with my hubby, and if I want a good poboy, I know where to go! I will be returning to try some of their other dishes, which look so good. I really like this restaurant and I hope it's around for a long time. Until next time, have a blessed and safe weekend!