Today I met a woman who inspired me to do better and to be better. She started a business in a small rented house in the middle of Phoenix and branded herself into a household name here in Arizona. I love her story, her determination, and her warm spirit. Her nickname is "Lo-Lo." You might know her as the owner of Lo-Lo's Chicken and Waffles in Scottsdale and Phoenix. I made a prior post about Lo-Lo's restaurant on September 12, 2011. Lo-Lo's does not disappoint.
Picture with my college friend, Regina (left), and Lo-Lo (middle)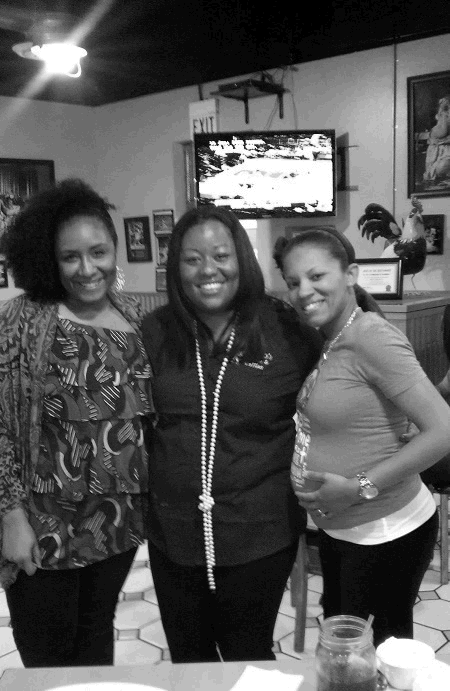 I was really not expecting to blog about my trip to Scottsdale, so I am looking rather casual and the pics were taken using my camera phone. I look like a pumpkin (and yes, I am laughing at myself for saying that). Juicy Couture velour has become my favorite item for the winter. These track pants feel so good, especially when I have to do a lot of walking, and my friend Regina and I hit every store we could think of while out and about in Scottsdale.
Regina, Matt and I went to college together. She was visiting from Dallas and my husband recommended that we go to Lo-Lo's. Regina is a country girl too, and she was excited about going. I love Regina! She is the designer and owner of Banafrit' Decor and went with me to several stores to look at things for the baby. She also gave me some great tips on decorating. You have to check her out on Facebook at http://www.facebook.com/banafritdecor. Her work is phenomenal!
I had been craving some salmon croquettes and I was ready for my serving. Ironically, we had the same server who served us in September. Our food arrived and you know what I ordered: Aunt Hattie's salmon croquettes, cheesy eggs, grits and toast. The salmon was hot off the grill and was oh so delicious, just like my grandma used to make them.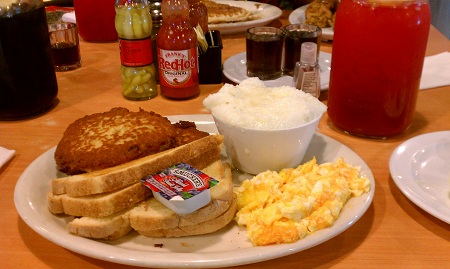 Regina had "Lo-Lo's", a dish with two waffles and chicken, which she loved. She was amused by the menu, which referred to the beverages as "A Jar of Drank." Kool-Aid was served in Kerr jars, and when our server asked what we wanted to drink, Regina and I requested "red" Kool-Aid —- not cherry or strawberry, but "red." If you're from the country, you know the deal. Matt ordered "purple" Kool-Aid. This was so good and sinful!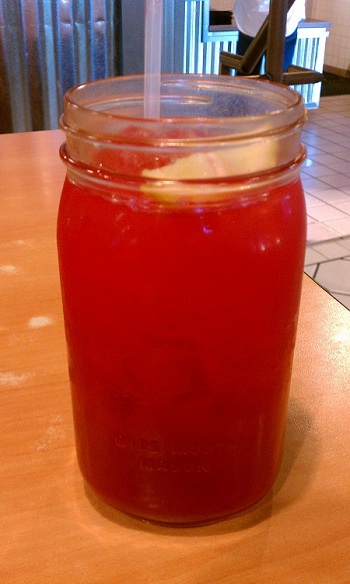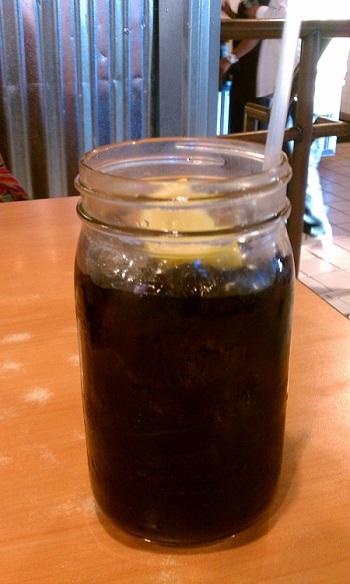 After we finished our meal, Lo-Lo made her way over to our table. I love meeting new people and knowing their stories. She told us of how she started cooking in a small house she rented in the middle of Phoenix. She opened her restaurant and many days, she would play dominoes with her crew because there would be no customers showing up to buy food. She also told us of how she would have to take the orders, go to the back and cook the meals, and then bring them out to the customers. She made it happen even if she was the only one there to make it happen. She was determined to see her vision come to fruition and she stopped at nothing to make that dream a reality. We talked for a long time, even about pregnancy ups and downs. These are the kind of people I like to meet and keep in my circle, people who know what hard work is and who are not "too cute" to get their hands dirty. Building a business is not always easy. You have to be willing to put in the hours.
When Lo-Lo left our table, I looked around the restaurant. This place showed no signs of a struggling business. People were everywhere and were steadily streaming into the restaurant. I love it when I hear stories like Lo-Lo's and see the happy ending. I left that restaurant with a smile on my face. Good people, good food, and good times!
I hope you had a great weekend, and have a wonderful week!