If you read my previous post on Purveyor, you'll notice we did not get dessert at Purveyor because I had been wanting to try this bakery at Mid-City, and I'm so glad I did. After our dinner, we went to Mid-City to get some macarons and Cloud Cake. This is the cutest cafe ever! I even went back again the day after my birthday!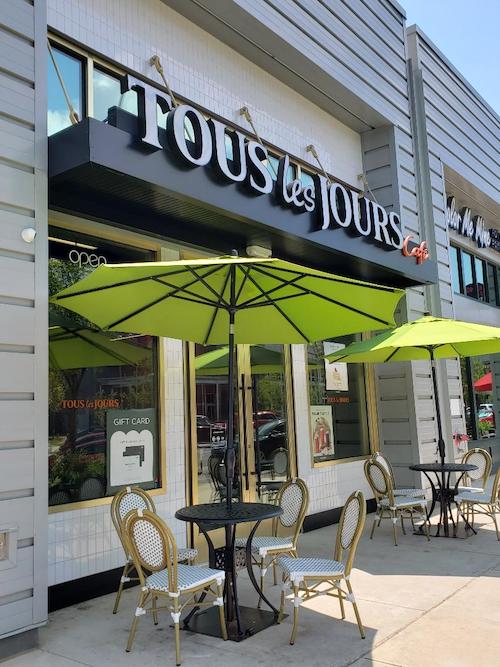 I love the look and feel of this bakery. Everyone walks in and just lounges on the comfortable chairs while working on their computer or just chatting with friends.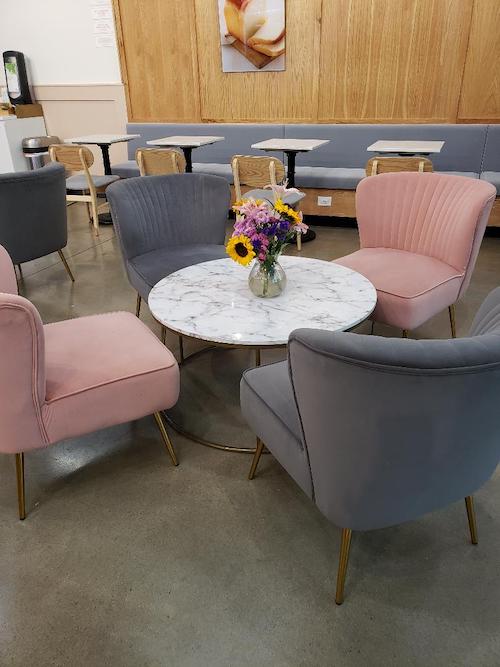 Matt and I went in when they were preparing to close on my birthday, so there were only a couple of people in the cafe. When I went in the following day, the cafe was packed!
I wanted to try the mango cloud piece. My wedding cake at the Ritz was mango, and it was literally the best cake I have ever eaten. The Ritz knows how to cook a great cake, and I wanted to take a walk down memory lane with TOUS les JOURS' mango cloud piece. TOUS les JOURS' cloud cake is their signature cake made of sponge cake topped with cloud cream, which is a lightly sweetened whipped cream.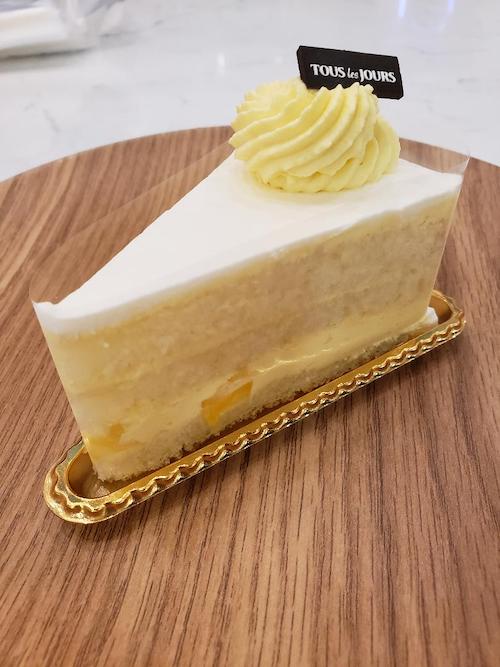 Mango Cloud Piece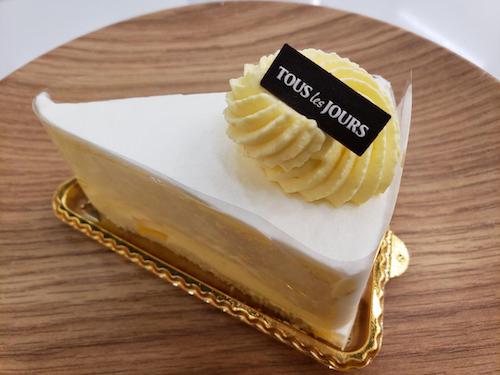 Each slice has chunks of mango. The cake was so moist.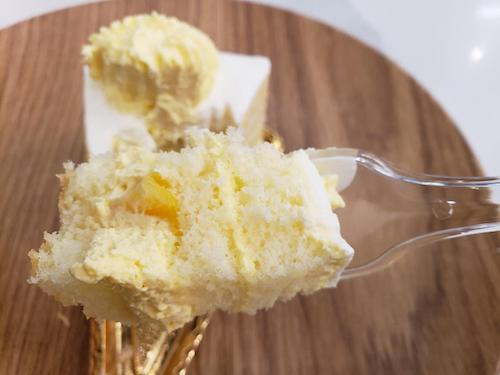 This cake is truly a light dessert. It is not overly sweet or rich. It's just the right amount of sweet and creamy. There are also other cloud cake flavors such as peach, orange, mango, green tea, blueberry, chocolate, and the list goes on and on. When Matt and I ordered, we purchased the mango cloud cake for me to savor and some macarons for the kids. The kids absolutely love macarons. Whenever we go to Green Hills Mall in Nashville, they have to get macarons. TOUS les JOURS' macarons were the best I have ever had. They beat Green Hills by a landslide. These were really bursting with flavor. I tried the blueberry lavender, and it tasted like blueberry with a hint of lavender. You could really taste the blueberry flavor. The raspberry was also very flavorful. I think the raspberry and blueberry lavender were my favorite. They also have a rose macaron. It literally tasted like a rose! The flavor was not as dominant as some of the other flavors. However, you could literally taste the rose flavor in this macaron. I know you're wondering how I know what a rose tastes like, but when you smell something, you can sense what it tastes like. I loved the rose macaron. I thought that was a really unique flavor. My kids also love this one. Other flavors include Earl Grey, coffee, coconut, pistachio, green tea, cookies and cream, birthday cake, vanilla, salted caramel, hazelnut brittle, coffee, lemon, and pistachio. I was in macaron heaven.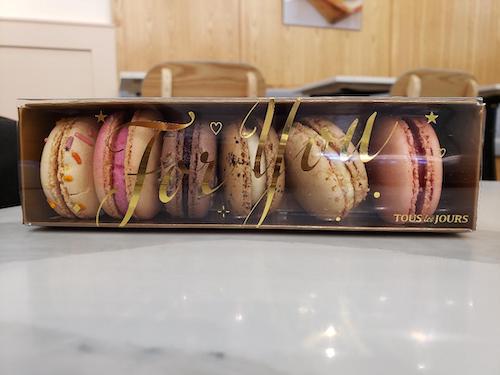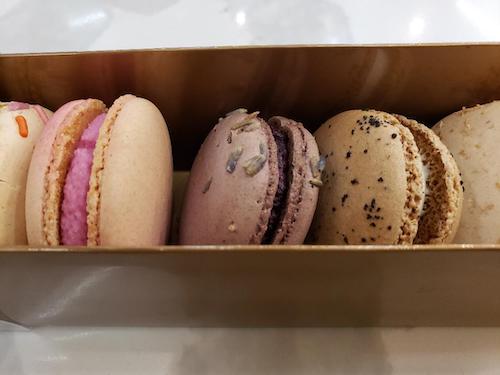 Rose macaron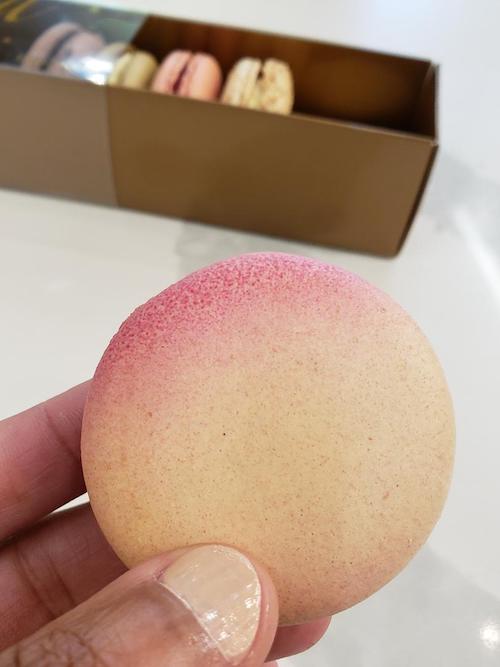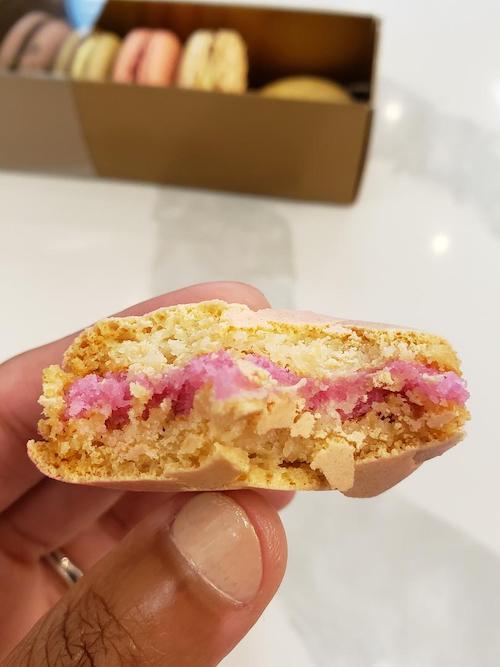 Earl Grey macaron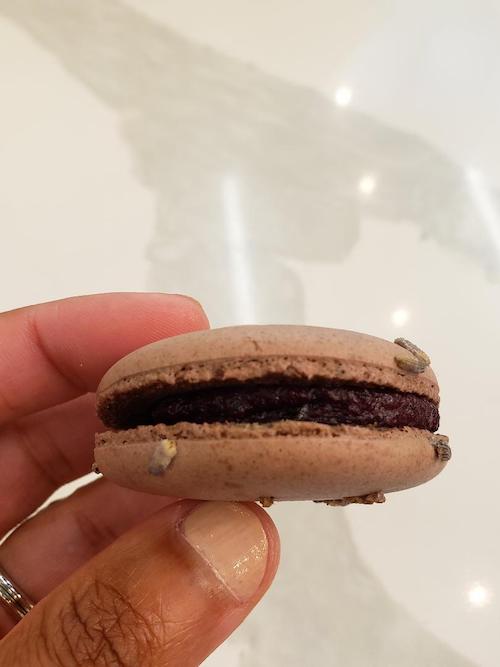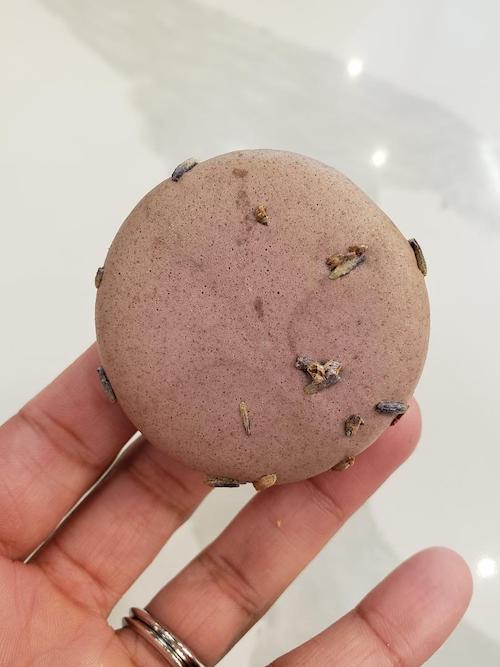 Pistachio macaron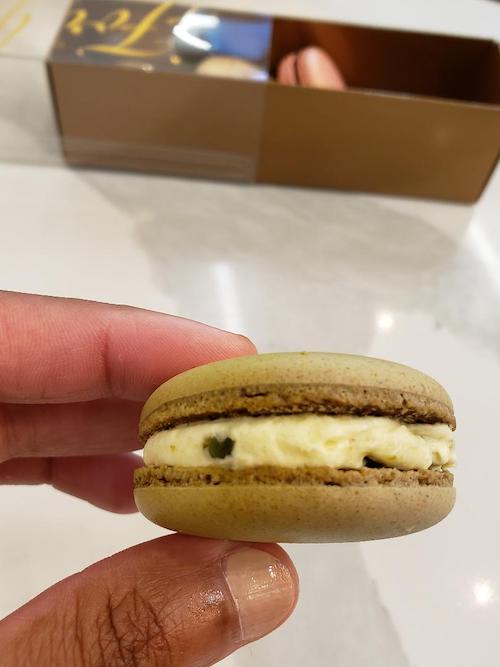 Orange Cream Piece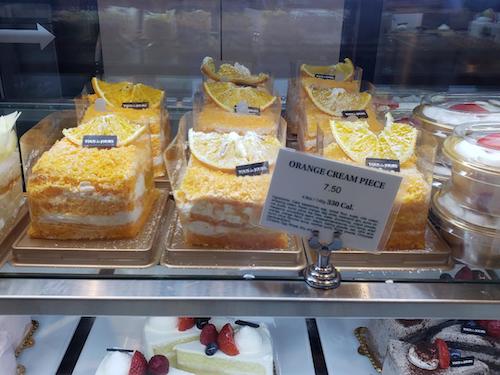 Peach Cream Piece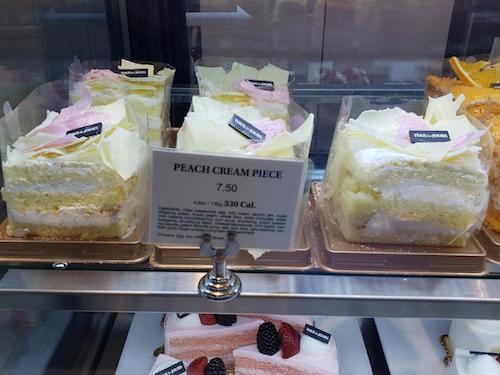 TOUS les JOURS also offers a large selection of specialty breads and coffees. You have to stop by to see all the great things they offer. They have soft strawberry bread, soft honeydew melon bread, soft banana bread, and other flavors. These breads come in bright hues. The honeydew melon bread is a bright green, and the soft banana bread is yellow.
Soft strawberry bread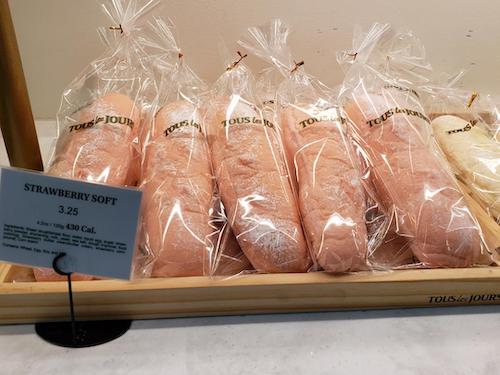 They offer mocha cream bread, milk cream bread, sweet potato breads, a mascarpone whipped cream loaf, and purple sweet potato loaves. They also have a selection of cakes, coffees, and teas.
Mocha Cream Bread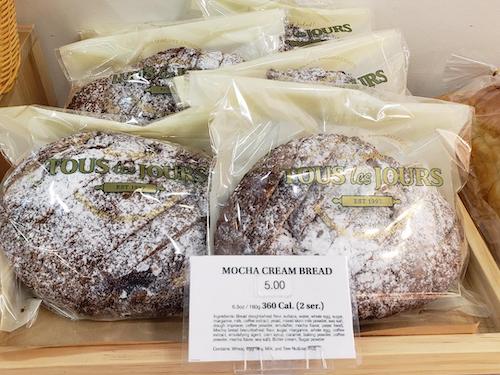 Mascarpone Whipped Cream Loaf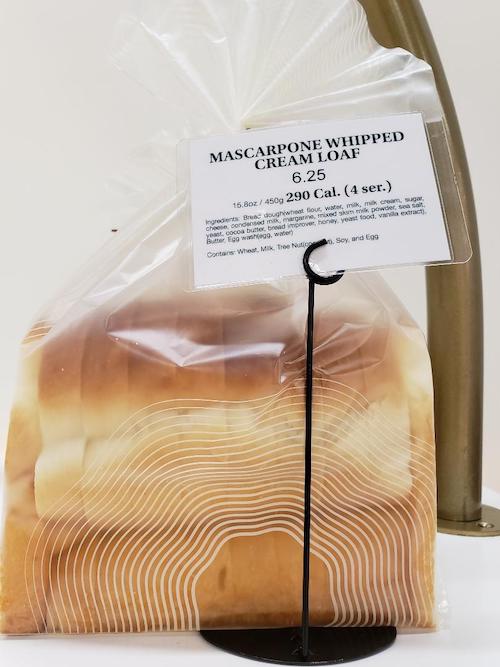 Plant-based breads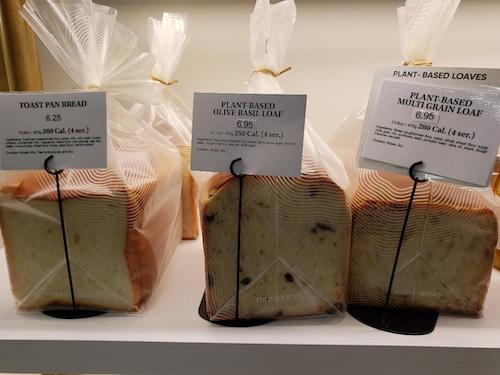 Assortment of Cloud Pieces, Tiramisu and macarons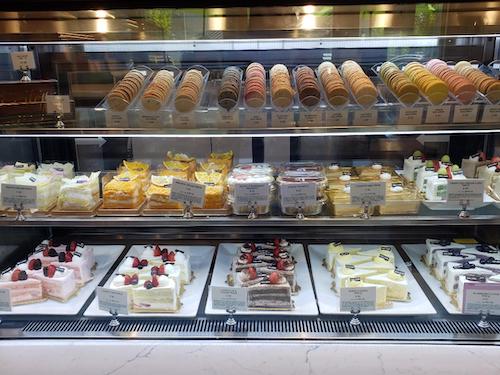 Assortment of cakes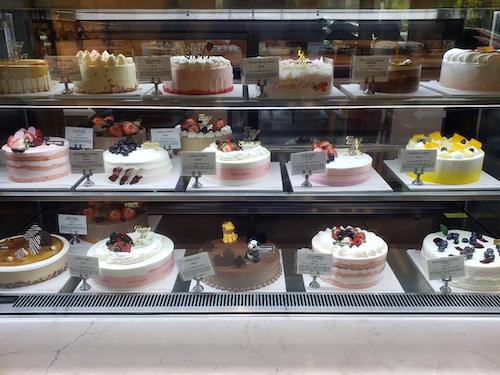 Jams and Marmalade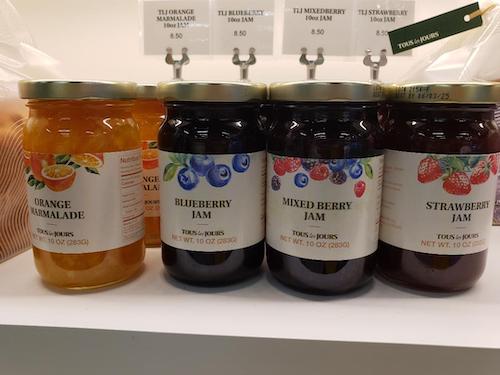 There is just so much to choose from at this cafe. If you're looking for a sweet treat to brighten up your day, then stop by TOUS les JOURS Cafe at Mid-City.