During our stay at Atlantis, we spent a lot of time at Marina Village. Marina Village has beautiful shops, local artists, and great restaurants. They also have Ben & Jerry's, which my kids loved. This is the most expensive Ben & Jerry's I have ever visited. Our tab was around $50. Of course, everything is expensive at the resort. One cone was twice the cost of a cone here in the U.S. When people walked out, everyone was saying the same thing, "This is the most expensive ice-cream I have ever eaten." We can get this ice-cream at home, but who doesn't want ice-cream to cool off on the island?
No matter what time it is, this place is always packed. Expect to stand in line, especially at night after dinner.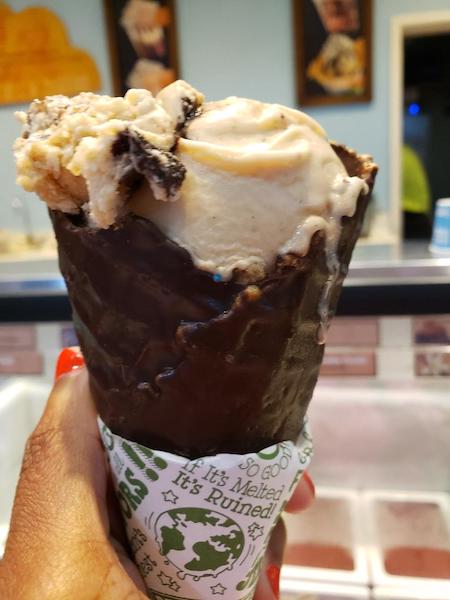 Colin Kaepernick's Change the Whirled non-dairy ice-cream — it was absolutely delicious!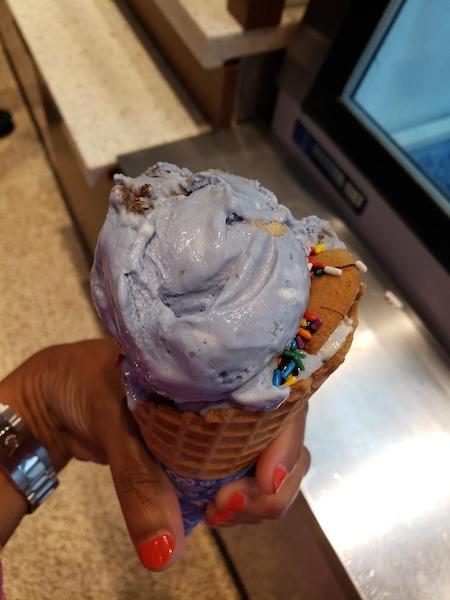 Marshmallow sky — my kids loved this. It had sprinkles, cookies, and marshmallows. I am not a fan of anything blue, so I passed on this one.
The line was always outside the building, but we all waited patiently for our turn to get a sweet treat. It was so relaxing to sit outside on the porch enjoying our ice-cream.
Marina Village also has a jewelry store and a boutique for resort wear.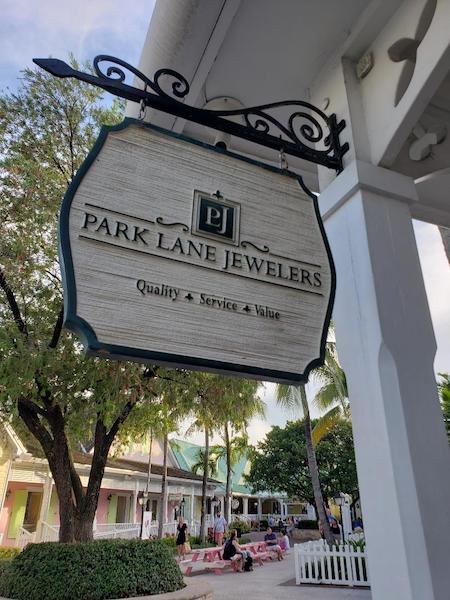 This little shop was my favorite … Blue Moon.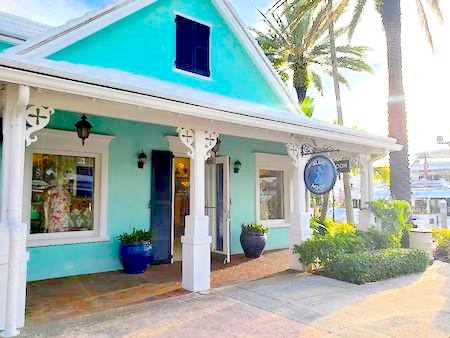 They had beautiful handbags and resort wear for men and women. The clothing was light, airy, and colorful. They sell wraps, kaftans, swim trunks — everything you need to look great on the resort. If you shop here, please ask about the return policy. The return policy was a source of contention for some customers on the resort in the past. When you go, they might not allow returns, so please ask before purchasing.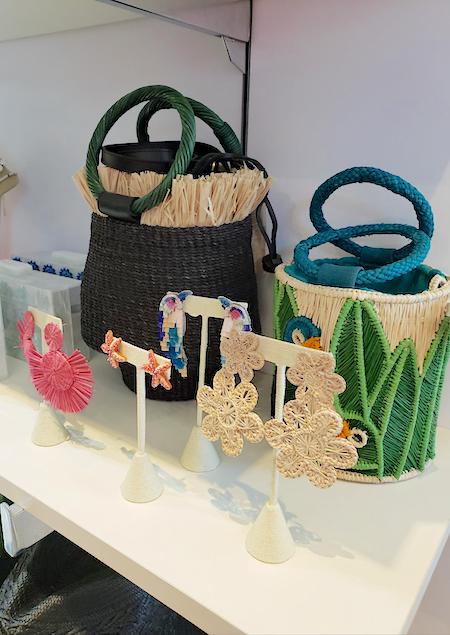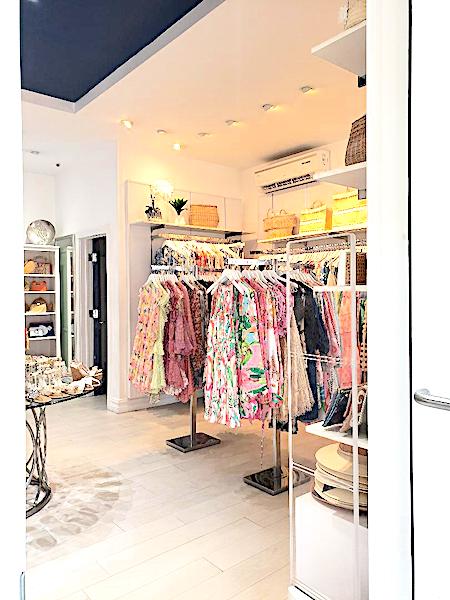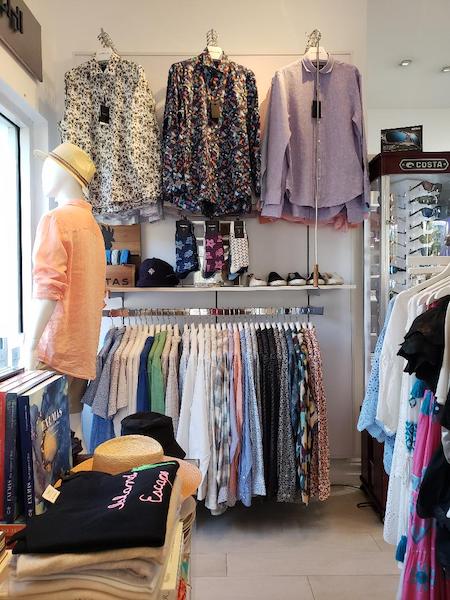 We dined in several of the restaurants at Marina Village. Seafire was a great restaurant. I'll blog about my experience there later.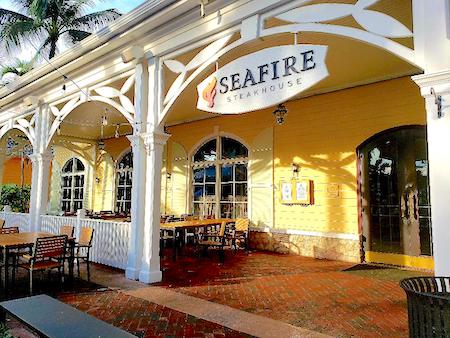 We had a reservation at Carmine's and decided we wanted to stay at the pool a bit longer, so we cancelled the reservation. I wish we hadn't because we had to wait until 9:30 to get back in. Instead, we went to another restaurant. Lesson learned — always keep your reservation.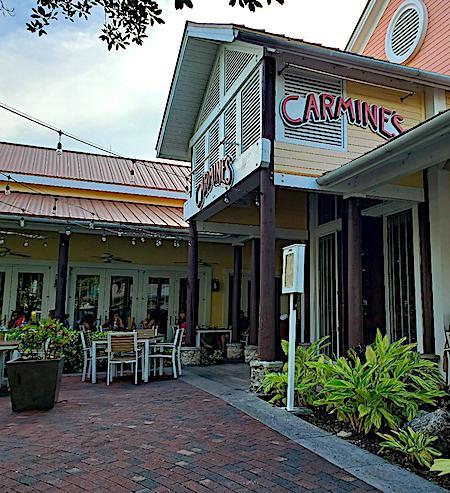 There was also the unforgettable Bimini Road. We had a great time at this restaurant. This restaurant is special because my daughter played with the band at the restaurant. I was attempting to look at some of the locals' art, and I noticed her going underneath the railing leading to the band. She went over and asked them if she could play a song, and she made her first performance on the keyboard in the Bahamas. I could not believe she made her way into the band.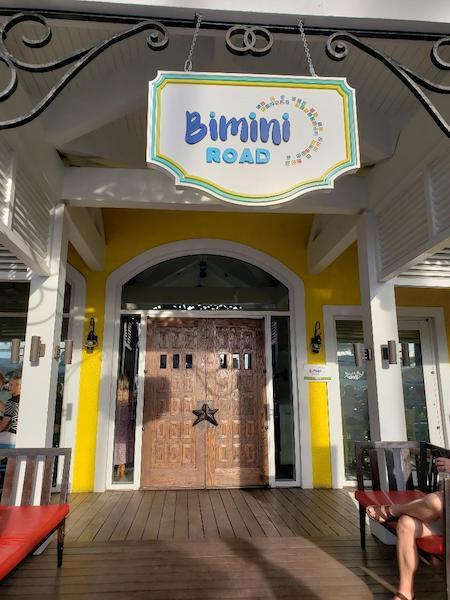 This is a different band playing earlier during the day.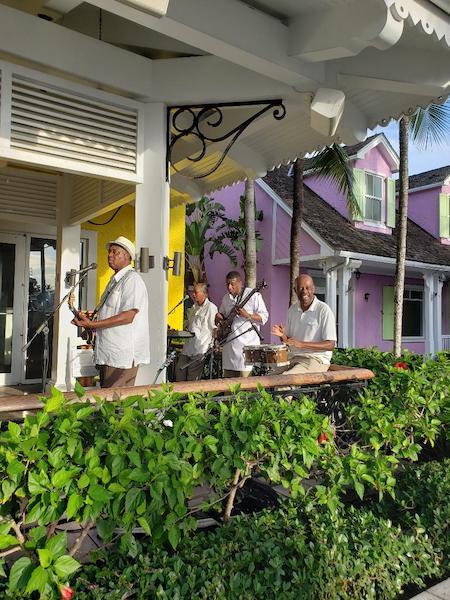 My daughter played with this band later during the night. I don't think I will ever forget this trip, and I'll never forget my kid's performance at Bimini Road. I still cannot believe they allowed her to play that night.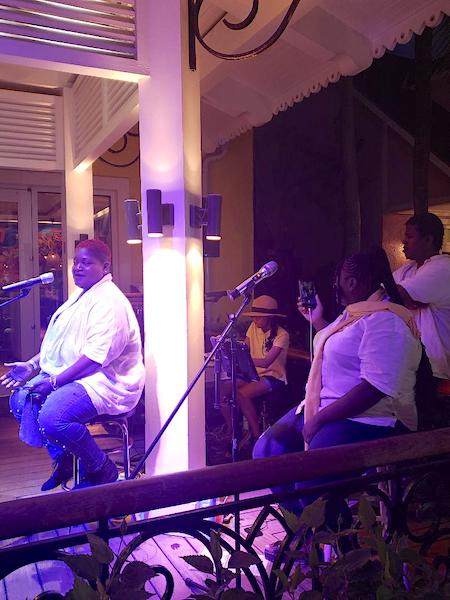 As she played, I was standing with one of the local vendors who poured some of the best soy candles I had ever purchased. I love her scents and wished I could bring them all home with me. I chose "Island Switcha," and it is lovely. Whenever I light it, it reminds me of my trip to Paradise Island. The owners are a mother-daughter team. They have soaps, candles, and even straw items for sale. Please check out their website here.
Cia Monet Candles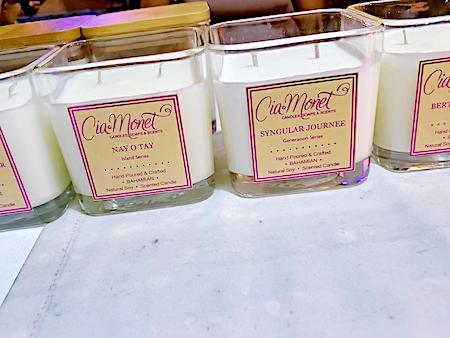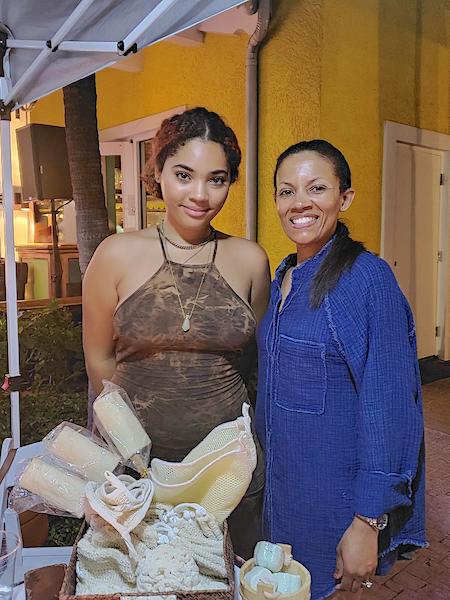 This young lady is extremely talented. As one of her candles burned, her mother showed me that the soy could be used as massage oil. Their soaps and candles smelled heavenly. I couldn't really enjoy my hand massage because my oldest was going under the rail to get to the band, and I was calling for my husband to stop her.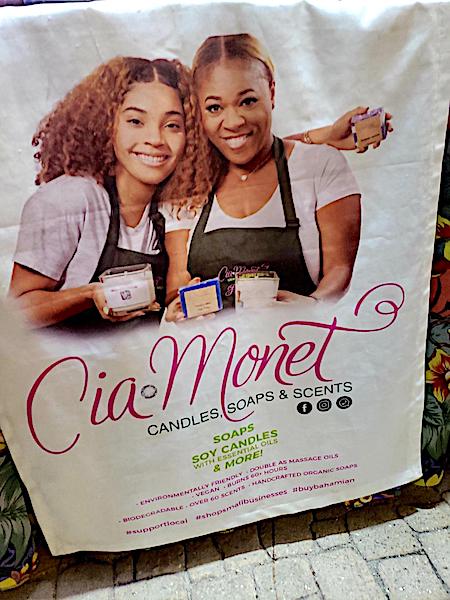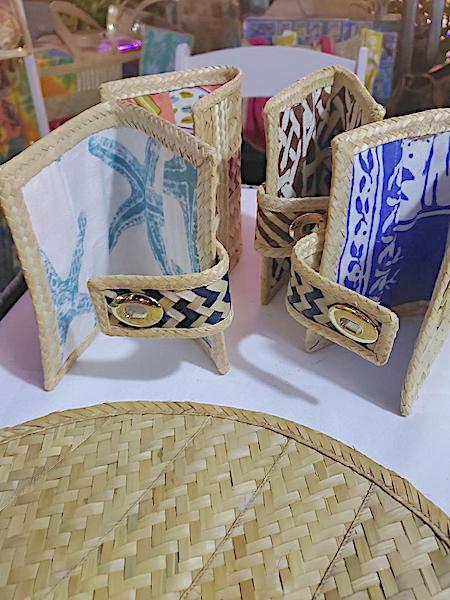 Whenever we travel, we have to bring back some beautiful island art. We have art in my dining room from St. Thomas and St. John, so I hung some of my Bahamian art in my home when I got back to the states. I actually purchased two pictures. This one is a house the artist stayed in on holiday in the Bahamas. She painted the home in which she stayed and sold the pictures when she returned home. There were so many talented, beautiful people at Marina Village. You never know who you're going to meet.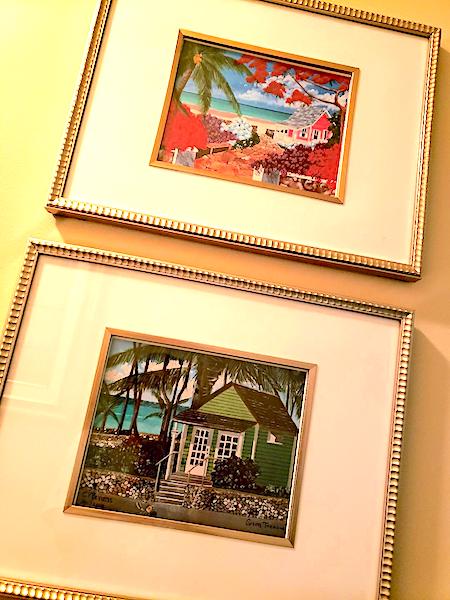 I love this place and the beauty it has to offer. I must say we didn't have to leave the resort for anything. Everything we needed was right at our fingertips. I pray that these business owners are blessed in their endeavors. They are such creative, hardworking women.
One of the things I will tell you about Marina Village is that it is fairly small, but there is so much talent and creativity here when you can get there during the times local artists are there.
We travelled here the week before Memorial Day, so it was hot, but it wasn't as hot as late June or July. However, you want to dress accordingly, and flats are the best option if you are going to walk around. I purchased two of these cover ups for hanging out at the resort. You can find the cover-up here. I wish it was on sale when I purchased it, but it is now on sale. These cover-ups sold fast, and they came in so many different colors. I purchased the pink and blue set. I also purchased the white cover-up top to wear with leggings. They are so soft and perfect for hot weather. Loose-fitting, light and airy clothing are in order for a day on the island. The flats are by Havaiana's and can be purchased here. They also sold out quickly. With the St. Tropez sandal, you get the comfort of a flip flop with a little flair.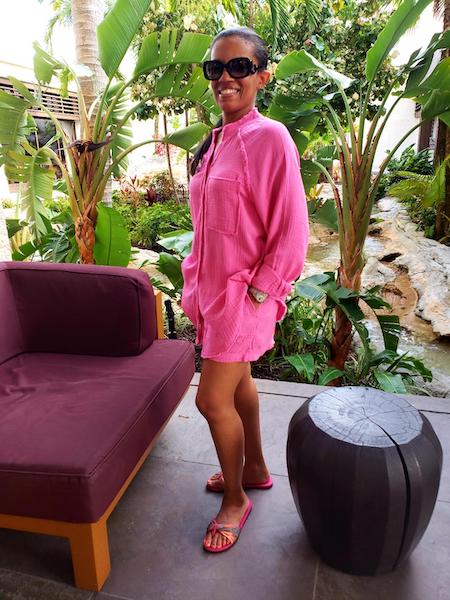 Cover-up (Aerie) and sandals (Havaiana's)
Things to know about Marina Village:
Marina Village is not a large area. It is pretty small, but you will find most of the restaurants and shops on the resort here. You can take a chance and try to walk into one of the restaurants without a reservation, but you need a reservation to get a seat. You might get in as a walk-in, but the odds are not in your favor without a reservation. I suggest reserving restaurants at least 2-4 weeks before you arrive on the island. It is hot in May, but the locals will tell you it is not as hot as June, July, or August. Dress accordingly. Light and airy fabrics are the best. Flats are great if you plan to walk around. I only wore platforms when I was going to the village specifically to dine.
No matter where you are staying, you can catch the shuttle to get to Marina Village. If I'm not mistaken, Harbor Village is right across from Marina Village. The Royal is also next to Marina Village and within walking distance. However, a shuttle will need to be taken from The Cove to get to Marina Village. The shuttle takes less than 5 minutes to get to the village (unless the shuttle has to stop at other hotels on the resort).
Marina Village is a great place to visit with the family, whether it is for shopping at the boutiques or with the local vendors, dining out, or eating Ben & Jerry's. You will always find something to enjoy at the village.