If you are traveling with children, rest assured that there is PLENTY for them to do at Atlantis. I did not take a picture of every swimming pool because there were just too many. The kids have their own play area, so my kids fell in love with this area. I was able to take a picture during one of the breaks. They clear the area for 15 minutes twice during the day, so I was able to take a shot without getting the kids in the picture. There are slides all over this place, and the water is not deep at all. So, even the smallest kids can have fun with adult supervision, of course. My youngest kiddo enjoyed this place, but my oldest liked the adult slides and the lazy river.
Poseiden's Playzone and Triton's Tower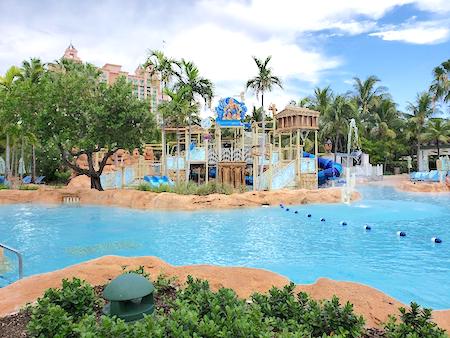 Does this look familiar? If you read my blog of the Grand Floridian at Disney World in Orlando, you will see the Mad Hatter water feature that my kids loved at that hotel. Well, they had these. They filled with water like the mad hatter feature and splashed the kids below. There was also a large one connected to Poseidon's Playzone that splashed the kids every few minutes. It was a hit with the kids. This was a small one next to Poseidon's.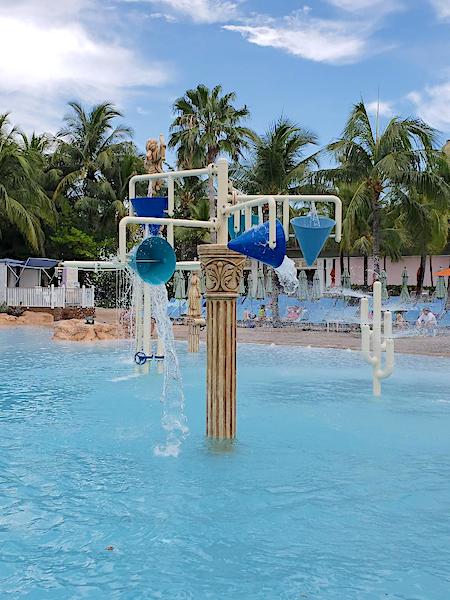 As we sat there watching the kids, a little boy walked over to my daughter and said, "A girl gave this beach toy set to me as she was leaving the resort. She didn't need it anymore since she was traveling back home. I'm leaving tomorrow, and I want you to have it." It was the sweetest moment. She said, "Thank you," and promised to pass it on to another child before we left the resort. She ended up giving it to a little girl the night before we left the island.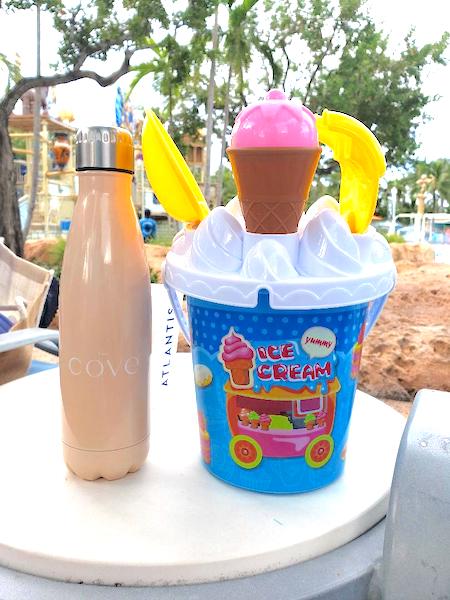 If you are thirsty or hungry while your kids drag you around the resort, there are outdoor cafes all over the place. You can order sandwiches, burgers, pizza, Dole whips (my favorite), and so many other food items.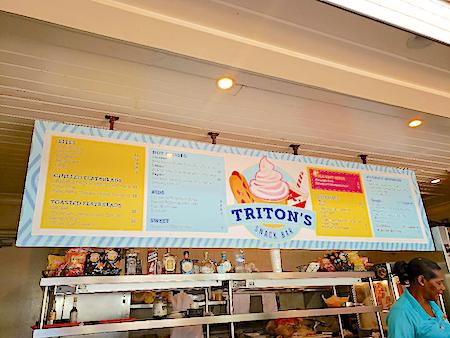 Triton's Snack Bar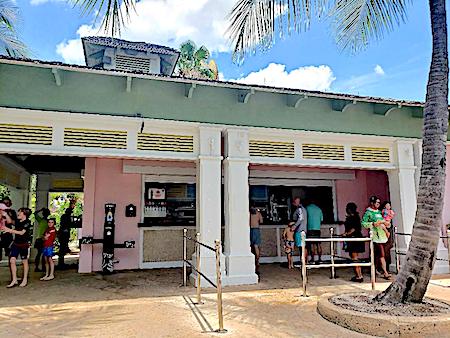 We often ate lunch at one of the outdoor cafes because it would take too much effort to hop on a shuttle and go over to Marina Village to eat. This was convenient, and we loved the convenience of having the cafe next to the pools and kids' play areas.
There is also an aquarium on the resort. I was amazed at this shark that floated by, but my child was focused on the people who were diving in the tank with the sharks.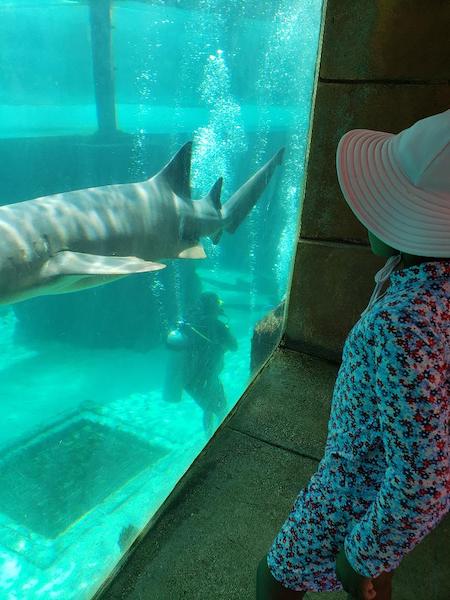 You can get on a tube and ride down a steep, dark tunnel and end up floating through the shark tank. This was one of the best rides on the resort. My youngest did not want to get on this ride, but we were able to bribe her because we all wanted to ride at the same time. I cannot believe we got her on this ride. I was concerned about the dark tunnel ride that gets you to the shark tank, but she was fine. We had an amazing time!
Riding through the shark tank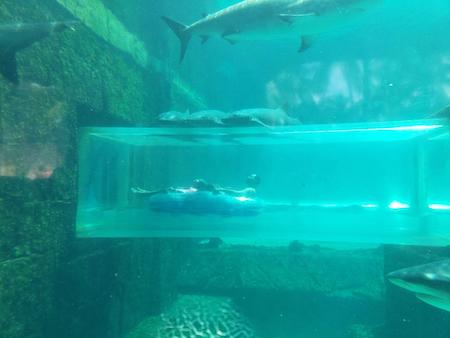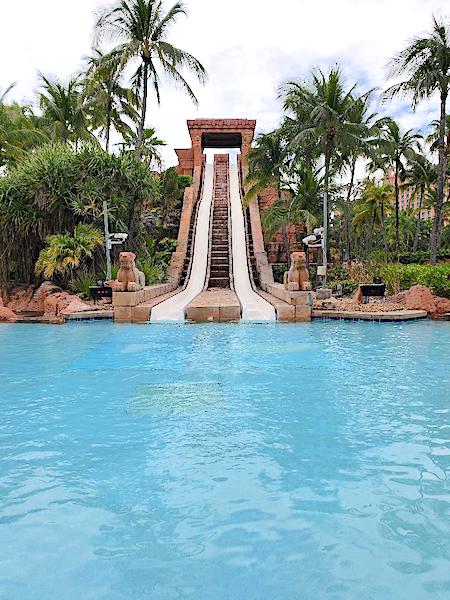 There are about three slides similar to the one above on the property. I would suggest getting on YouTube and checking out the Atlantis slides. You can slide as many times as you want to as long as you are staying on the property. That's the beauty of it all — if you are staying on the resort, you can wake up everyday and hang out at every pool and water attraction.
There are also some rides you have to pay for on the resort. This ride is so much fun with a group of people. Only two can fit on each water trike, so we rented two. I pulled out my phone and started taking pictures. My daughter was nervous because she thought I would drop my phone, and there were slots in the seat that the phone could slide through. I was able to hold onto my phone with no issues. This ride was so much fun. Again, we had to bribe my youngest to get on the ride. A floating tricycle riding on water — she was not having it.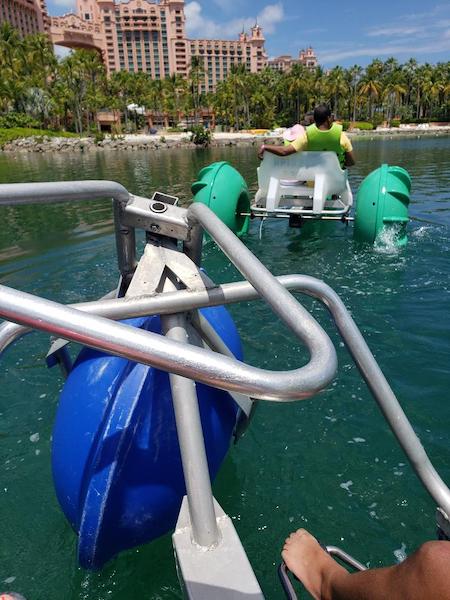 This was my favorite — the lazy river. I think the workers knew me by name by the time I left. I rode on the lazy river all day, every day. There are tubes that seat two people, so we often rode together as a family. However, if my husband and the kids wanted to do something else, I got on a tube and floated away. The waters do get rough a few times during the ride, but most of the ride is spent just lounging on your tube. I always wore a rashguard over my swimsuit for protection from the sun and so did my children. I purchased all of their swimwear from Rufflebutts. All of the swimwear had built in protection from the sun. Check out Rufflebutts' swim collections here.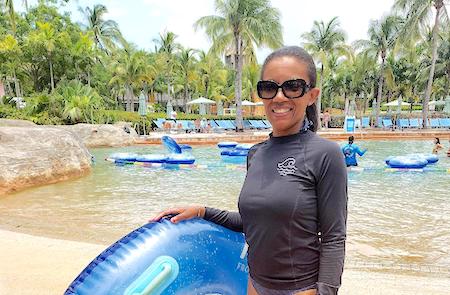 After my lazy river rides, I was usually ready to get in to take a shower and get ready for dinner. That lazy river will spoil you. If you do nothing else on this trip, grab a tube and float on the lazy river.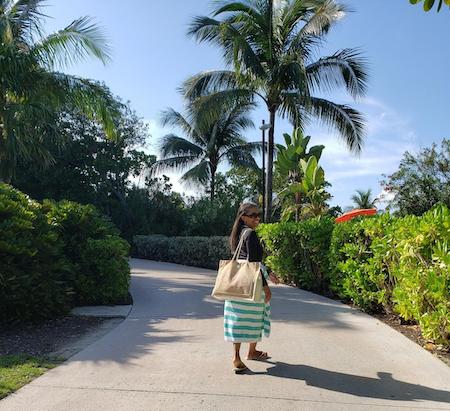 If you have kids, most of your time will probably be spent doing what they like. Mine love the water, so they spent a lot of time in the different pools and slides. Don't worry about towels for drying off. The resort has plenty!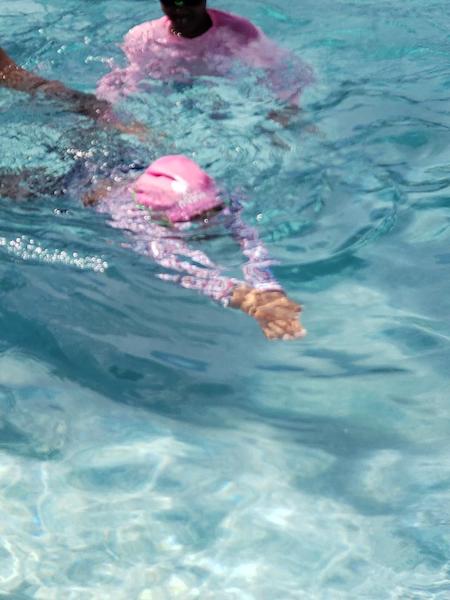 There is also Atlantis Kids, which caters to children ages 3-12. The kids can participate in culinary lessons, theatre, and outdoor play. Kids ages 3-6 have specific activities for their age, and kids 7-12 have activities for their age. Proof of age is required.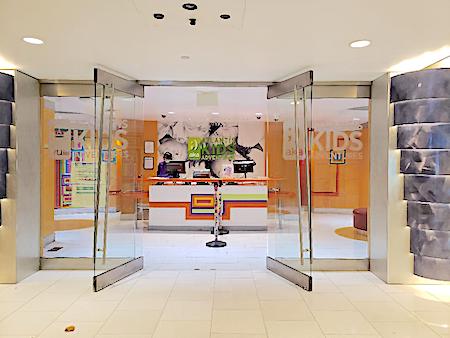 This setup is in The Royal Towers at Atlantis. We did not want to stay at The Royal, but a lot of the action for kids is in this hotel. The Cove is the hotel where we booked our stay. It is really a "chill" hotel. There were absolutely no crowds. I prefer that when I'm on vacation. However, knowing they have a kids' club at The Royal might help you make your decision about where to book your stay.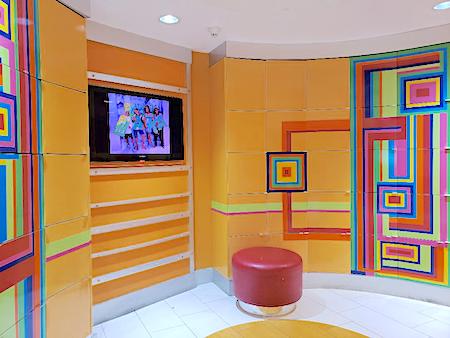 There is also an arcade with video games across from Atlantis Kids. There were some families in the arcade, so I didn't want to take pictures of them. However, there are racing games, video games, and these machines located in the arcade room.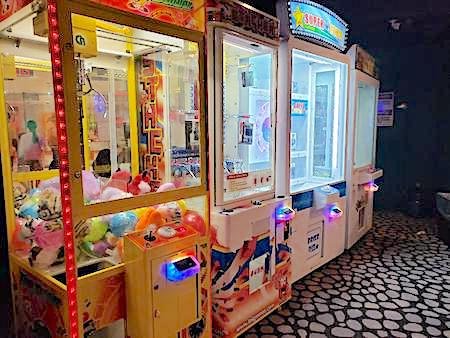 Please note that all activities are outdoors, so you need both sunscreen and a hat. The kids and I wore hats the entire time unless we were on a water attraction. There are beach chairs and umbrellas everywhere, so shade is readily available. The resort also gives you a water bottle depending on your hotel. We filled ours with cold water before we left the room. When you book your stay at the resort, you will get access to the water parks. There are only a few attractions that require separate payment, but the aquarium, pools, slides, and tube rides are included in your resort fee if you book one of the hotels at the resort. A day pass is required for anyone who is NOT staying on the resort. Currently, Atlantis Day Passes cost $190 for adults and $95 for children ages 4-12. There is no charge for children under the age of 3. We went to the water attractions everyday, so staying at the resort was worth it.
Each hotel has a different atmosphere. We went to The Royal Towers to the gift shop and to Nobu Restaurant. However, The Royal is the hotel tourists flock to because the dock for the cruise ships is close to The Royal. The Royal Towers also has a casino for guests to gamble, restaurants, and shops such as Gucci, YSL, Rolex, Bulgari, etc. It was literally packed every time we went to the hotel. The Royal Towers is also a short walk to Marina Village where many of the restaurants are located. The Cove is laid back, we saw no tourists, and there is a separate pool for families and adults. I did not worry about my kids getting lost in a crowd at The Cove.
If you want to try everything and have an opportunity to take your time enjoying the rides, I suggest a trip of no less than 3-4 days. We were at the resort for 5 nights, and we were able to take our time and enjoy everything. This is not a trip you can do in a weekend. You are going to miss something if you try to squeeze everything in.
This was a great vacation. I would do it all over again. The kids had a blast, and so did I. If you're looking for a family-friendly vacation, try Atlantis at Paradise Island. There is something for everyone at Atlantis.