Atlantis has so many different restaurants to choose from. You can eat at most of the hotels, so we visited Nobu at The Royal Hotel during our stay. My family and I absolutely loved Nobu.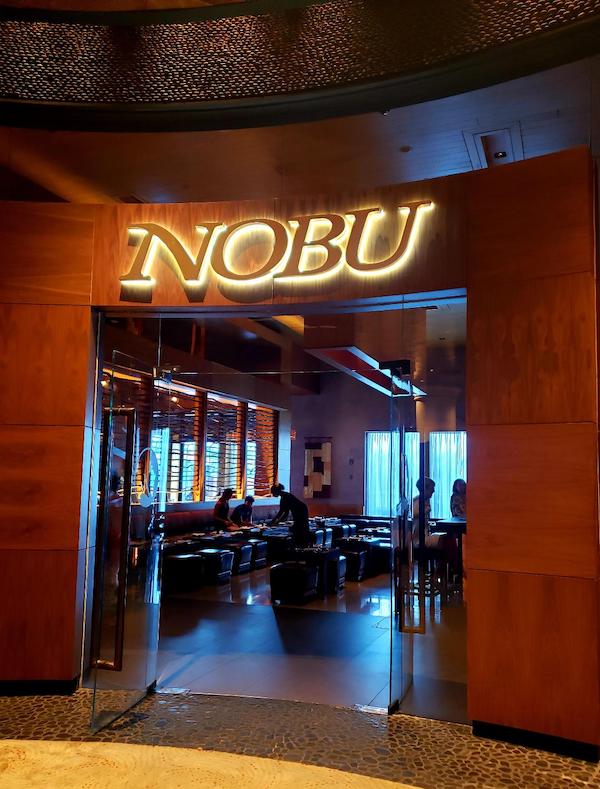 Nobu at The Royal Hotel at Atlantis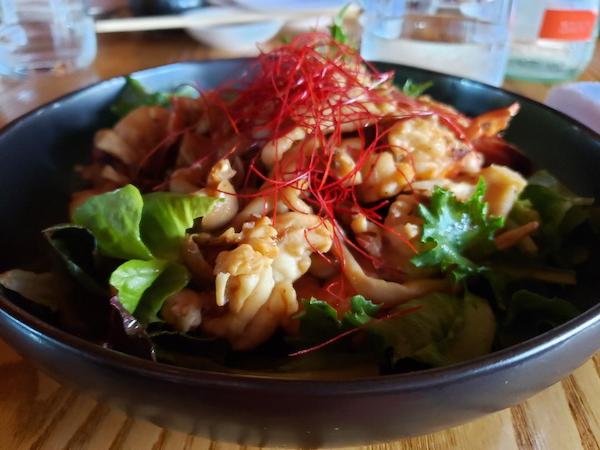 I ordered the shrimp & Bahamian lobster with spicy lemon dressing. It was scrumptious and filling. The lobster and shrimp were plentiful.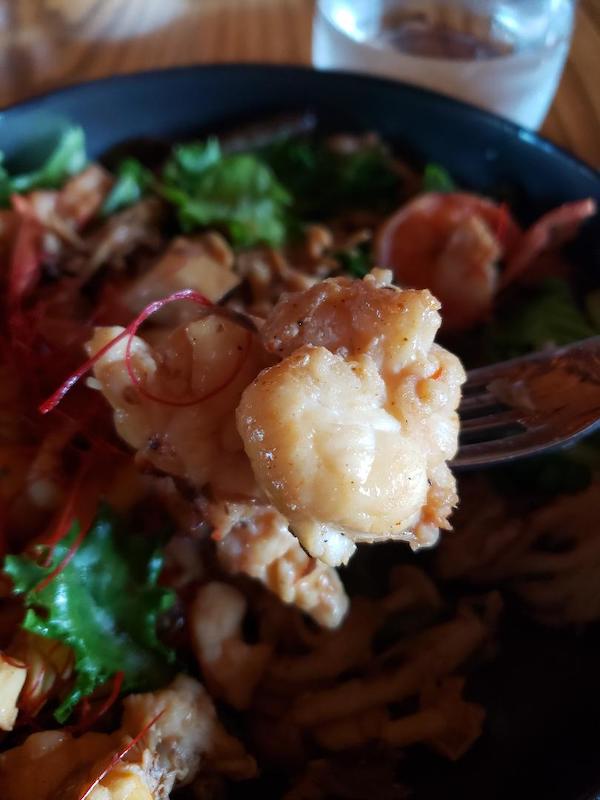 They did not hold back the shrimp and lobster for this dish.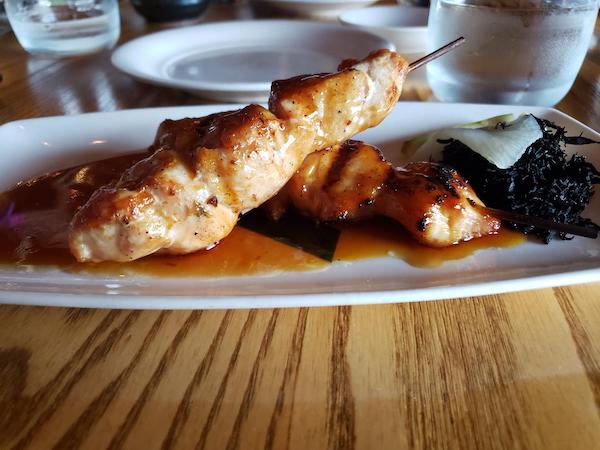 My little one ordered teriyaki chicken skewers. She is so picky, but she ate most of her chicken.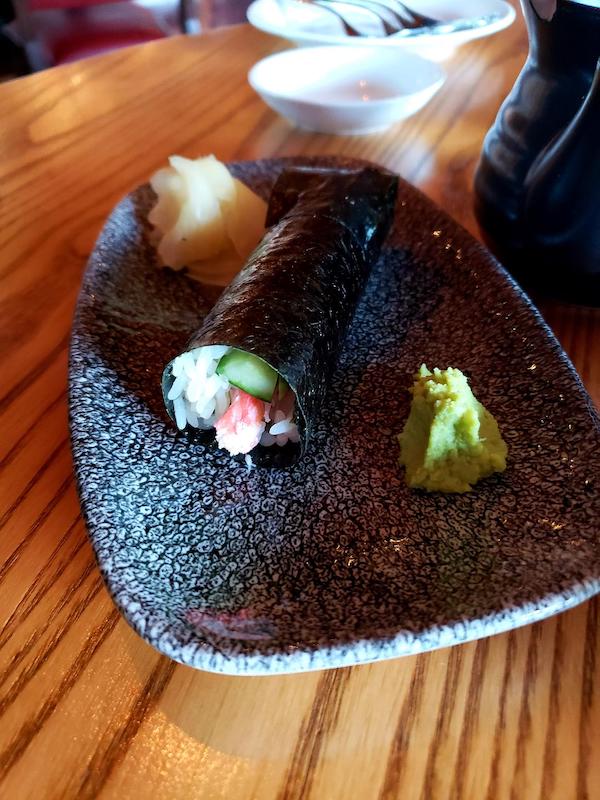 My daughter ordered the California hand roll, which she enjoyed eating. It's a regular California roll, but you can hold it in your hand and eat it. She got a kick out of that. She's used to her chopsticks, but enjoyed holding her sushi.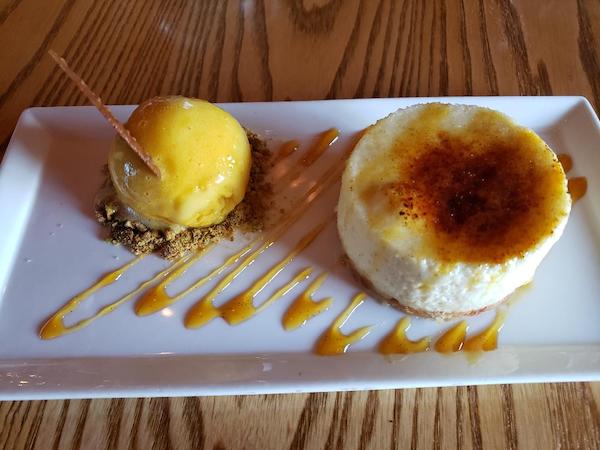 My kids ordered the vanilla cheesecake, which is brûléed vanilla bean cheesecake with passion fruit sorbet, golden vanilla glaze & caramelized pistachios. It was delicious, but my oldest did not like her passion fruit sorbet. I finished it for her, and it was delicious. I'm glad she didn't like it. 🙂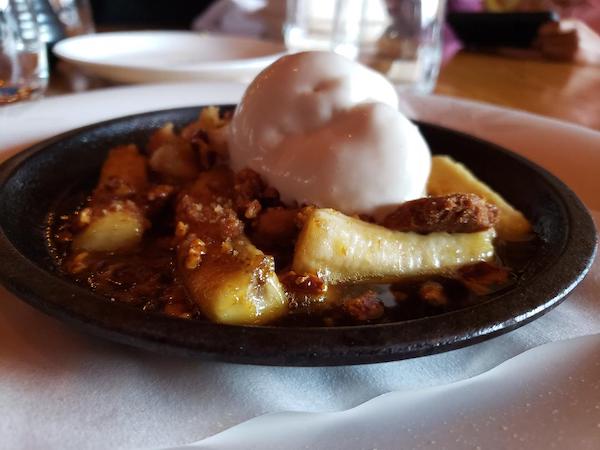 I ordered the Banana Toban Yaki, which is caramelized bananas with Marsala currant ice cream, almond crumble & crispy pecans. I wish I had taken pictures of it when they brought it to my table. The ice-cream sat on top of a beautiful blue dish. When they set it before me, the server removed the dish, poured the ice-cream on top of the bananas and almond crumble, and I was ready to eat. This was so flavorful. It almost tasted like it had rum in it, but I don't think there was any alcohol in it. However, it was delightful. I finished all of it and thoroughly enjoyed my experience. Check out Nobu's menu here.
If you visit Paradise Island, I highly recommend Nobu. The food, the service, and the ambience were amazing! However, please note that you need to make reservations at least two weeks in advance to get a reservation. I reserved all of our dinner plans before we arrived at the resort. We reserved a table at Carmine's, but we cancelled it earlier during the day because the kids wanted to stay at Atlantis longer. We tried to walk in later, but it was packed, we were hungry, and we had no time to wait. So, please make sure you make dinner reservations before you arrive and do not cancel them unless you have a backup. Fortunately, there are numerous restaurants on the property, so we didn't lack choices for dinner. I was bummed that I didn't get to eat at Carmines the following day because of my cancellation. I'm glad we kept our reservation at Nobu because this was an amazing choice.