On our first night in the Bahamas, we ate at Fish by Jose Andres. This restaurant was in The Cove, the hotel we reserved for our entire visit. I love the decor, the food, and the service in this restaurant. I also loved the convenience of it being in the hotel. Instead of taking the shuttle to dinner, we went downstairs and were able to eat.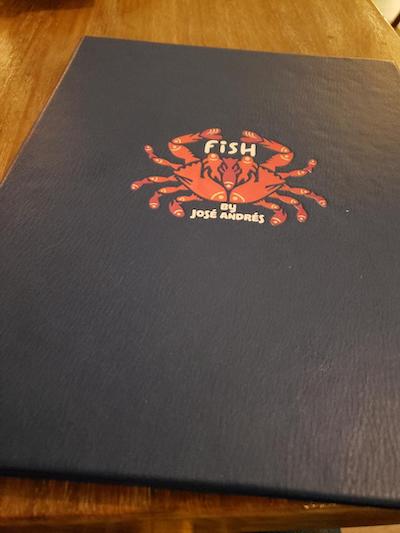 This restaurant was beautiful. I could not take pictures of all of the beautiful furniture and details because there were quite a few people in the restaurant. All of the decor has a "fish" theme from the school of fish here…
To the lighting, which appears to be a small boat.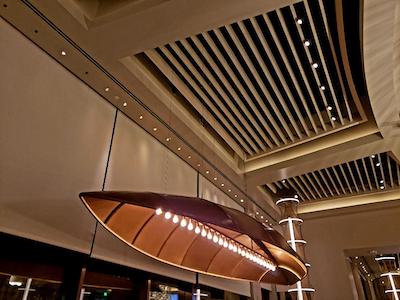 Fish nets for lighting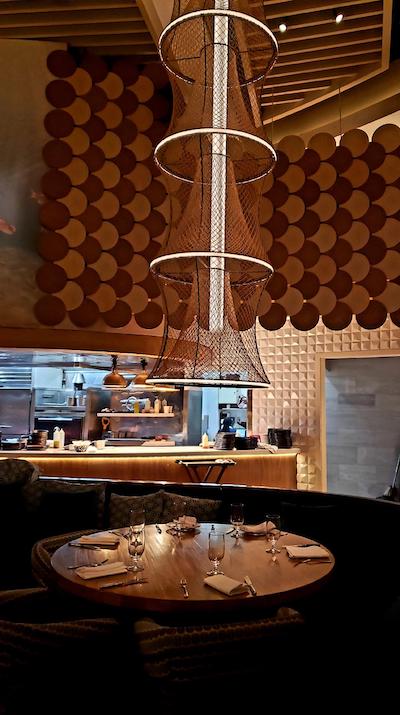 A mural of a swimmer in the ocean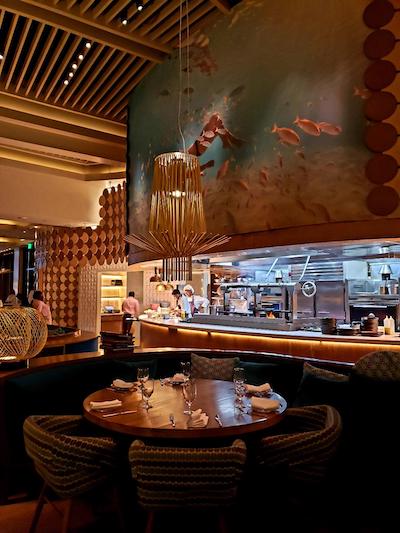 Earlier, we had a bite to eat, so I wasn't really hungry. However, everybody raved about conch, so I had to try it. You can order it scorched with ghost peppers, onions, radish, and orange. You can also order it grilled with chimichurri sauce or cracked (deep fried with tartar sauce). I tried the tropical salad with pineapple, mango, green pepper, tomato, and onions. I made a great choice because it was delicious with all the right flavors mixed in.
Conch tropical salad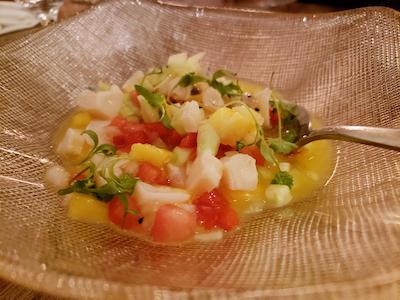 I know what you're thinking. Yes, this is an extremely small serving. This is what I call a "Miraval" serving. I learned the sizes of true servings when I visited the Miraval Resort, which I blogged years ago, in Arizona. However, at Miraval, you could eat as many servings as you pleased. Not so at Atlantis. I'm so happy I had eaten before I arrived or I would have been a bit upset. Nonetheless, this was a great mix of flavors. The cilantro, tomatoes, mango, green peppers, and everything mixed in was delicious. I could have eaten several servings of this dish. The conch doesn't really have a taste, but the flavors mix well with the meat and offer a burst of flavors.
Conch meat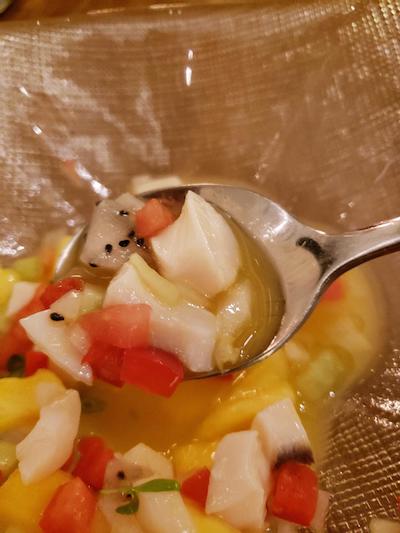 My husband ate the jerked chicken with Abaco, Bahamas Josper roasted fingerling potatoes, sweet corn, and bell pepper. I ate true jerked chicken for the first time in Jamaica years ago. So, anytime I ordered jerked chicken from the menu in the US, I was always hoping it tasted like the jerked chicken from the islands. Well, this jerked chicken was delicious, but it was not giving me Jamaican vibes — maybe because I was in the Bahamas and not Jamaica. LOL!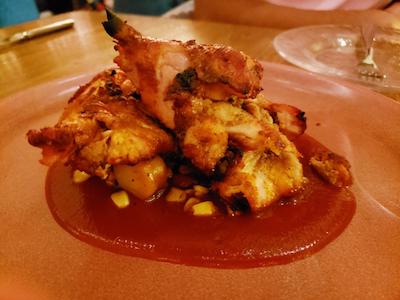 Overall, I really enjoyed this restaurant. The ambience, service, and food were amazing. Something to note is that I had reservations to this restaurant before we arrived. Always reserve your place at the restaurants or you will possibly be turned away or have to return hours later. I cancelled our Carmine's reservations a couple of days later and wished I hadn't. We were going to have to return at 9:30 that night, and I was not eating at 9:30. If you reserve dinner, try to do so at least two weeks in advance because the tables fill quickly. Once you have reservations, try not to cancel. If you do cancel, you must cancel before 4 p.m. or you will be charged for your party. If you're in Atlantis, stop by The Cove and visit Fish by Jose Andres.