I was looking for a place to grab a bite to eat with the hubby. So, we chose Grille on Main in Providence. This restaurant used to be Grille 29, but it closed shortly after the pandemic began. We were so sad the restaurant had closed. My eight-year-old loved Grille 29. We always went there to have Father's Day lunch with her Papa and dad. Her birthday was always around this time, so she equates eating here with good memories.
Although I was a bit bummed about Grille 29 closing, I decided to give Grille on Main a try. They did not disappoint. They have a beautiful patio with lots of seating, so it was perfect considering most people want to eat outside. The weather was pleasant, so we sat down for a quiet lunch together.
The shrimp and grits were tasty. They are usually smothered in a sausage and parmesan cream sauce with bacon. I don't usually eat pork, so I asked for the toppings on the side.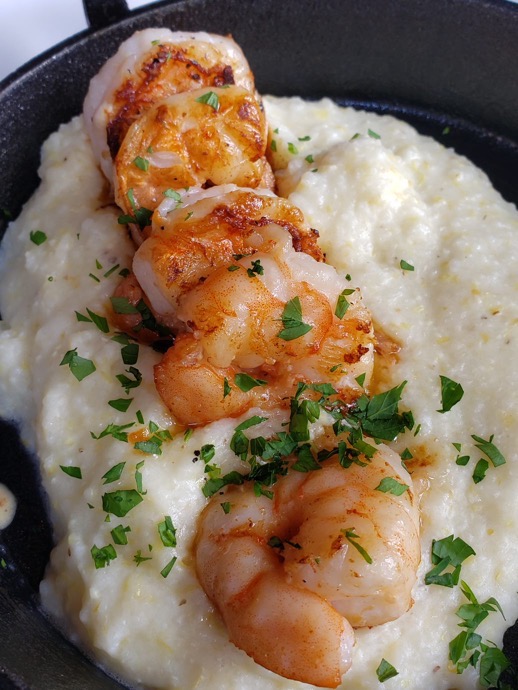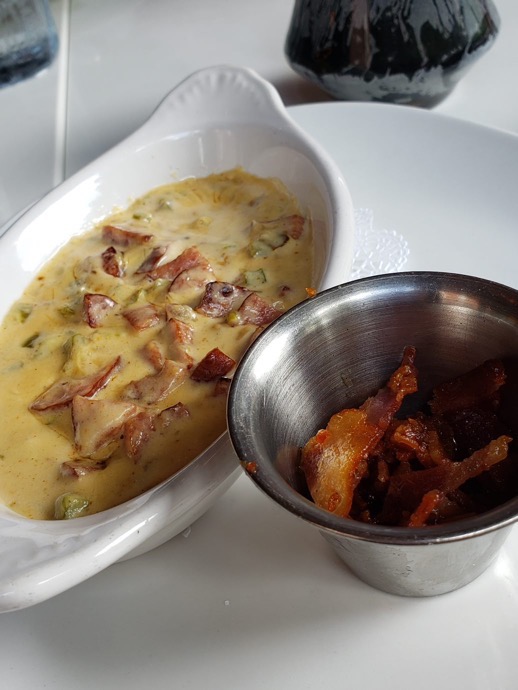 I tasted a small amount of the sausage and parmesan cream sauce, and it was delicious. I knew I could not eat much of the sauce, but I have to give it two thumbs up. It was heavenly.
We ordered oysters for the appetizer, and they were delicious. You can't really go wrong with oysters. If oysters are on the menu, I usually order them. I used to eat raw oysters when I was in law school. At Chime's restaurant on LSU's campus, they used to sell them on the half shell for .25 cents. I added ketchup and horseradish to make a dip, and life was good. Those were some of the best oysters I have eaten to this day.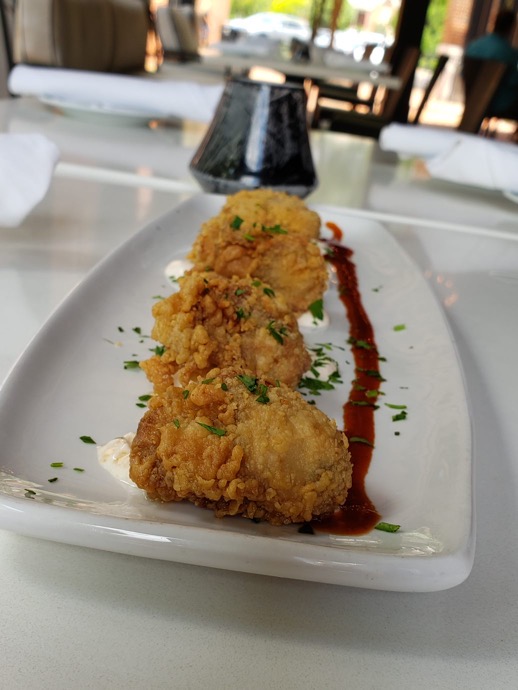 These greens were nostalgia for me. Yes, the chicken was crispy and juicy, and the potatoes were creamy and delicious, but these greens sent me back to my grandma's kitchen! My grandma used to make a hot pepper sauce to add to her greens, and I can still taste it. These greens had just the right amount of salt (not too salty) and that heat from the pepper sauce. This was some good eating! I'll be back just for the greens!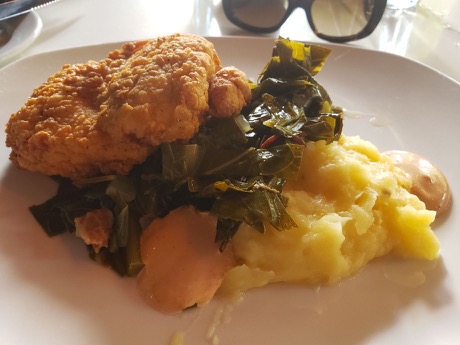 For dessert, we ordered the chocolate trio, which was s'mores chocolate cake with toasted marshmallow, dark chocolate espresso creme brûlée, and chocolate fudge brownie ice cream. This was a great dessert. Both my hubby and I enjoyed it. The ice cream and the dark chocolate espresso creme brûlée were a great mix of flavors for this dish. I think we'll order this again the next time we visit.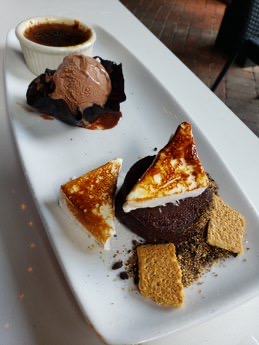 Overall, this restaurant is quite similar to Grille 29. I think it is going to be one of our favorite places to dine. We will definitely be back to get those greens again! You can check out the restaurant here: http://grilleonmainhsv.com