If you haven't noticed, I am crazy about a good cupcake. They're cute and so delicious. You can serve them at a baby shower, birthday party, or an elegant event. When I was in Los Angeles, I told my husband that I had to try a good cupcake bakery. We were told about Sprinkles, which was in Beverly Hills, but the line was literally down the street! I knew I wasn't going to spend the day standing in line for a cupcake, so I decided to pass on Sprinkles in Beverly Hills. However, I always wondered what was so special about their cupcakes. I found a location in Lenox Square in Atlanta and decided to try them.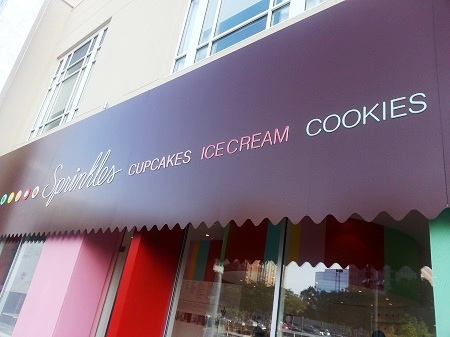 Candace and Charles Nelson opened the first cupcake-only bakery, Sprinkles, in Beverly Hills in 2005. Both Charles and Candace were investment bakers, but had a love for baking and fine desserts. They left their lucrative careers and opened what has become one of the most successful cupcake bakeries in the U.S. They recently received a lucrative offer to bring Sprinkles to 34 locations in 10 Middle East countries. Who says you shouldn't leave your day job?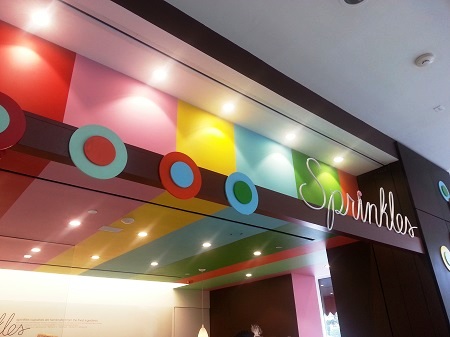 I must admit that I tried too many of these cupcakes. My cousin and I went to the bakery and I ordered the dark chocolate mini (Belgian dark chocolate cake with bittersweet chocolate frosting) and red velvet mini cupcake (Southern style light chocolate cake with cream cheese frosting).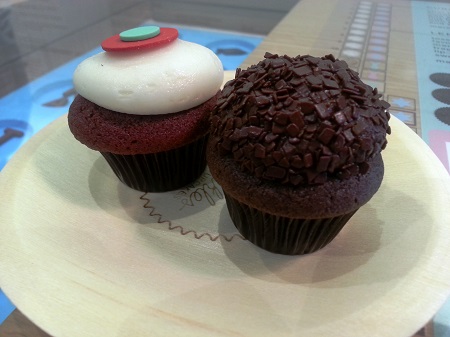 I also ordered a banana cupcake, which is fresh banana cake with creamy vanilla or bittersweet chocolate frosting. No, I did not eat them alone. I had a wonderful cupcake taster who assisted in the taste tests.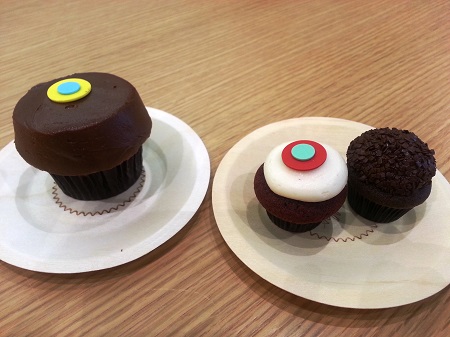 I absolutely loved every bite. They were moist, which is sometimes a problem whenever I order cupcakes. They can become stale in no time, but these were fresh, soft and moist. The frosting was also really delicious. I always wondered about the dot that is placed on the cupcake. The color of the dot is supposed to let buyers know what flavor they are purchasing. The yellow dot is for banana, and the red dot is for red velvet. You can also buy Sprinkles cupcake mix at Williams-Sonoma. I haven't tried the mix yet, but I hope it is just as delicious as the store bought cupcakes.
If you're having a cupcake craving after hours, there is also a 24-hour Cupcake ATM, which is available in select locations (Beverly Hills, Atlanta, New York, Chicago, Dallas, and Vegas). What do you expect from investment bankers? Of course they will find a way to make money even while everyone else is sleeping. I am guilty of a late night run to the ATM.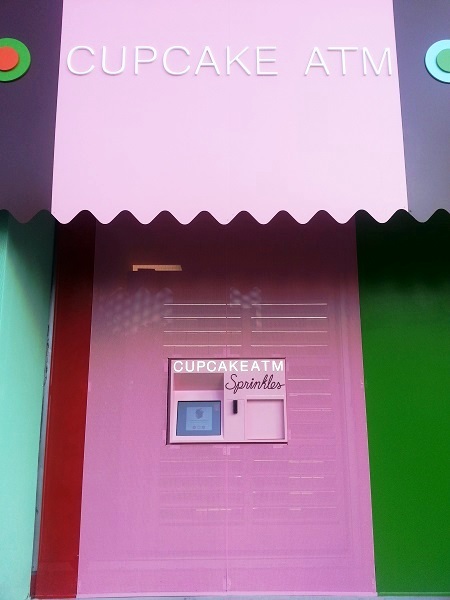 I ordered the black and white cupcake, which is Belgian chocolate cake with creamy vanilla frosting. I tried the ATM because I wanted to see if the cupcake would taste fresh or if it would be stale and uninviting. You literally swipe your card, pick your flavor and the number of cupcakes you'd like to purchase. The little door on the right opens and your cupcake is delivered in a brown Sprinkles box. I was surprised that the frosting and small chocolate pieces on the frosting were still intact. I have to agree that this is a wonderful business concept! I used the ATM around 11:00 p.m. on Saturday, but I did not eat the cupcake until the next day. I left it in the Sprinkles box and it was still moist and just as delicious as the cupcakes I purchased inside the bakery.
For those in Arizona, we now have a Sprinkles with an ATM in Scottsdale. Sprinkles is located at 4501 N. Scottsdale Road. Check out their website for available flavors and a location near your city. Website: www.sprinkles.com