We always visit New Orleans during the holidays. I love this city. Many people think of partying when they think of New Orleans, but New Orleans has so much more to offer — meeting wonderful people, eating delicious Cajun cuisine, shopping, art, and jazz, just to name a few. If you've never been to New Orleans, just know that you will get your fill, whether it's great food and wonderful music or just good times with those who call this city "home." Whenever I visit, I try to eat at a restaurant where I have never dined. I was itching for Commander's Palace (I love their food) but we chose The Court of Two Sisters, an old New Orleans restaurant that offers live music, outdoor dining, and above all — a brunch buffet. Website: http://www.courtoftwosisters.com/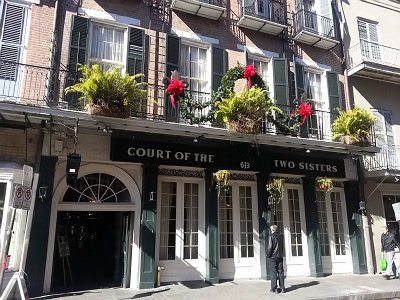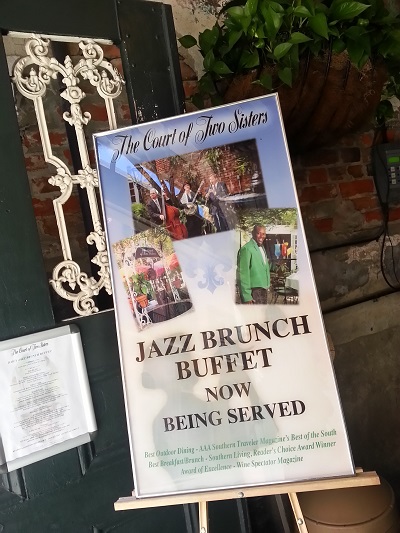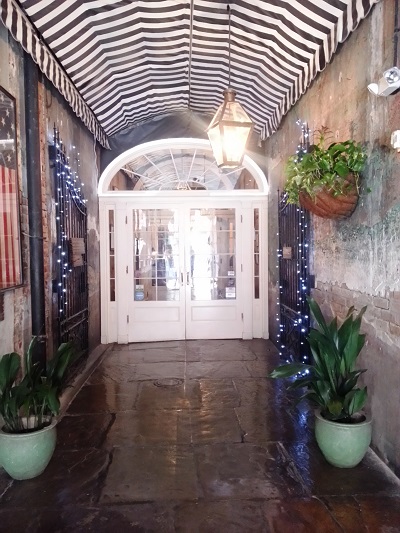 We chose to dine outdoors. The weather was beautiful, so we took advantage of the cool breeze and the live music.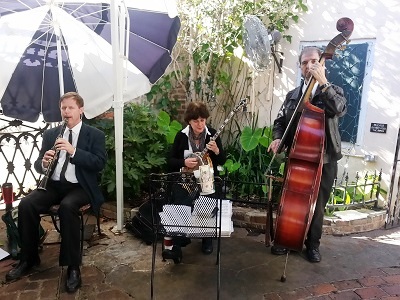 I chose the buffet and ordered the seafood and shrimp creole omelet with pancakes. I'm usually an egg whites girl, but when you're in New Orleans, you have to get the real thing.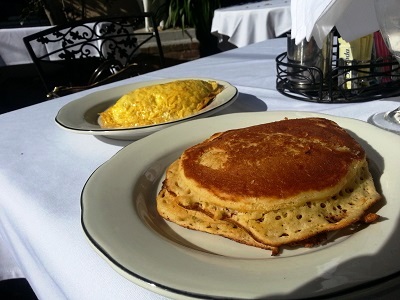 If you know me, you already know that I also sampled the buffet. They have so many Louisiana favorites, and they were refilling the stations shortly after we arrived. Some of the dishes include: Turtle soup au Sherry, eggs and omelets made to order, sweet potato with andouille sausage, crawfish and spinach pasta, Cevich, seafood mousse, domestic and imported cheeses, a carving station, shrimp etouffee, duck with orange sauce, crawfish Louise, Creole jambalaya, veal grillades and gravy, corn grits, and an assortment of breads and desserts, including my favorites, bread pudding with whiskey sauce and Mardi Gras King Cake. I sampled most of the dishes, which were delicious.
The last time I visited New Orleans, I took you to Jackson Square, Canal Street, Bourbon Street, and Cafe du Monde, but during this visit, we walked down Royal Street, which is home to so many artists. The streets are really crowded during the weekend due to tourists, but I prefer going during the week so that I can enjoy the city without the hustle and bustle.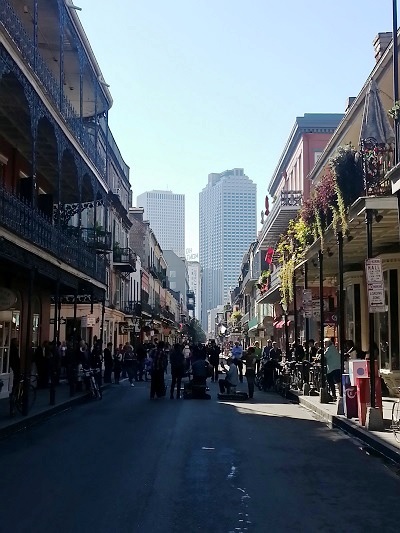 We passed George Rodrigue's gallery on Royal Street, which was closed because of his death on December 14th. If you're familiar with the blue dog paintings, he is the author behind those paintings.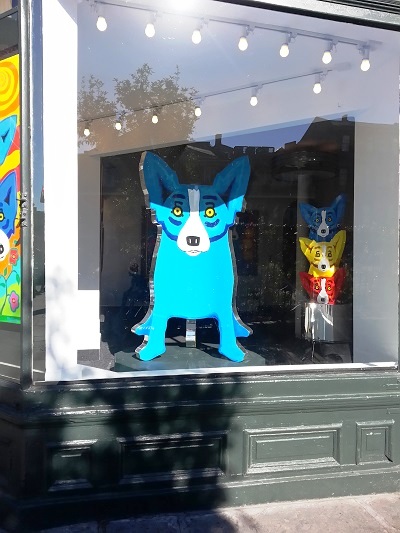 In New Orleans, you can find someone performing on every street corner. A band performing on the street is common in New Orleans.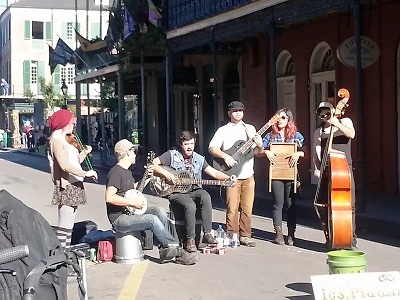 I have to admit that I cheated on Starbucks with my first love, Community Coffee (CC's). I chose CC's over Starbucks every time I ordered frozen coffee. I only began drinking Starbucks when I moved to Arizona where there are no CC's stands.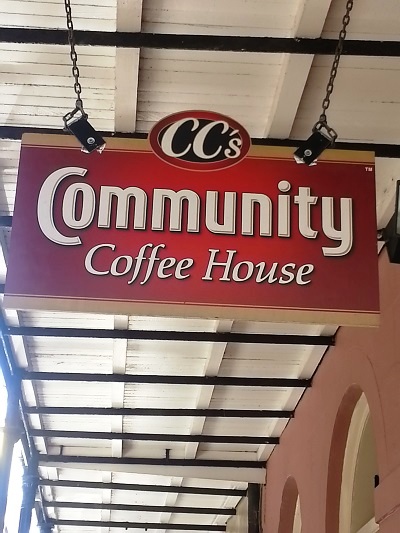 Caramel Mochassippi (and it was delightful)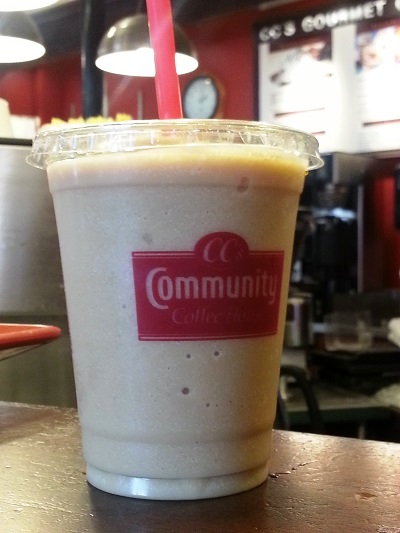 New Orleans has great shopping! I have always loved Canal Place. Canal Place is home to numerous premium stores, including Mignon Faget, BCBGMaxazria, and Saks Fifth Avenue, which houses Chanel, Louis Vuitton, Gucci, and many other designers.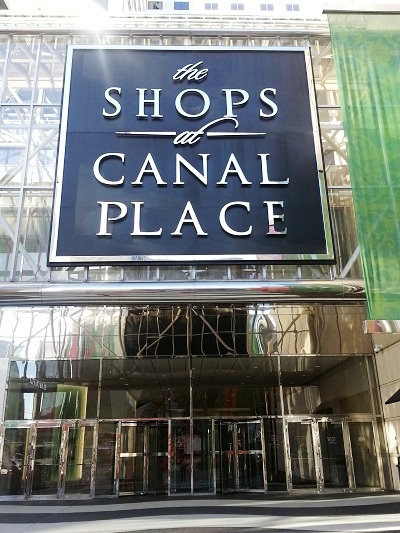 You can also enjoy live music while you shop.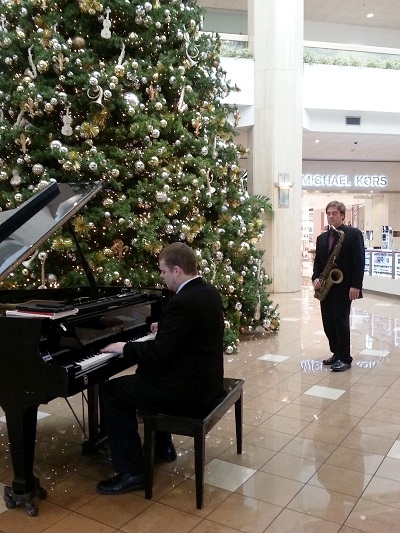 I was so excited to see the new kid on the block, Tiffany & Co., which had opened only a week before we visited. I was excited to see this store for two reasons: (1) My wedding ring and band are by Tiffany & Co., so it will always be special to me. (2) If Tiffany & Co. has decided to open a boutique in New Orleans, they apparently see a booming economy in this area. This is great for the city because I know that a lot of businesses left New Orleans and will probably never return. I am thankful that other businesses see the value of this wonderful city and are being a part of what New Orleans has to offer.
If you visit, ask for Tereal Altemus. She is a sweetheart!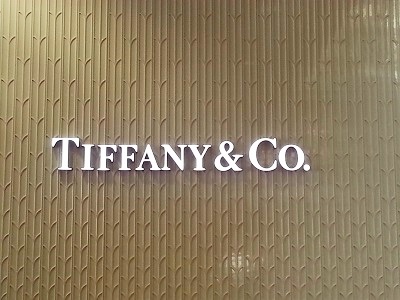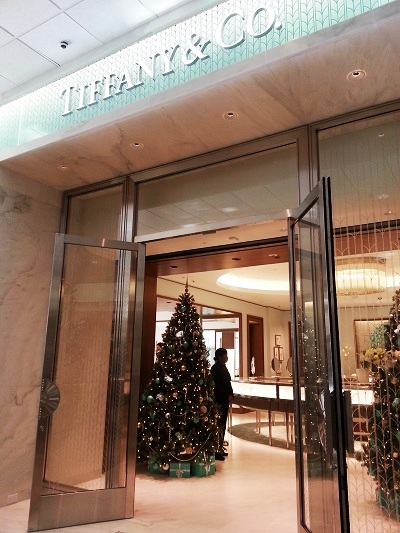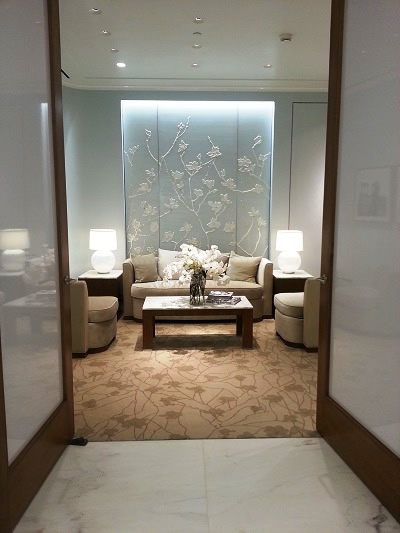 Last, but definitely not least is my favorite place to unwind — the Ritz-Carlton. You MUST go to the Davenport Lounge at the Ritz to hear some phenomenal jazz music. Jeremy Davenport performs here on Thursday, Friday and Saturday night. On Friday and Saturday, he performs from 9:00 p.m. – 1:00 a.m. No matter what city I visit, I must have some Ritz in my life. I love this place. I stayed here prior to Hurricane Katrina and after the hurricane. The service is a little different post-Katrina, but I still give it 5 stars. If you don't stay at the hotel, you have to visit the Davenport Lounge to experience Jeremy Davenport live at the Ritz.
Check out the Davenport Lounge here.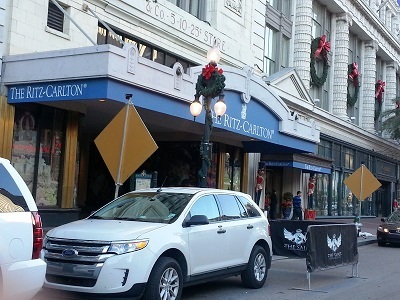 If you're looking for a laid back place that offers great food, music and southern hospitality, consider New Orleans. You'll be glad you did!
Check out my fanpage here for more pics from our Louisiana visit!