While my in-laws were in town, we went to Pasco's Kitchen & Lounge. It's located in Geronimo Village on University Blvd. in Tucson. I saw this restaurant because it is located next to the Frog & Firkin where I used to listen to Kevin & Tanisha Hamilton's band play on Saturday nights. I have found a new place to have some great food.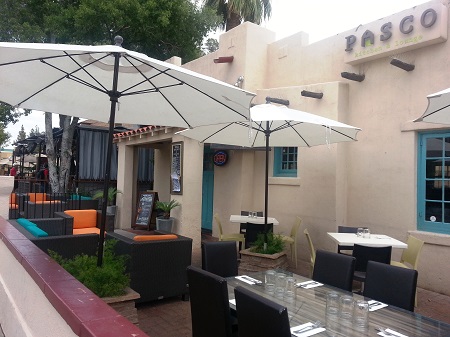 Can you guess what this is? It's chicken and waffles (with a twist, of course). I don't fry foods at home and I have not had fried chicken in over a year. My husband and I ordered this dish, and I have never tasted anything like it. This dish consisted of chicken filets, baby spinach with strawberry compote, and citrus reduction.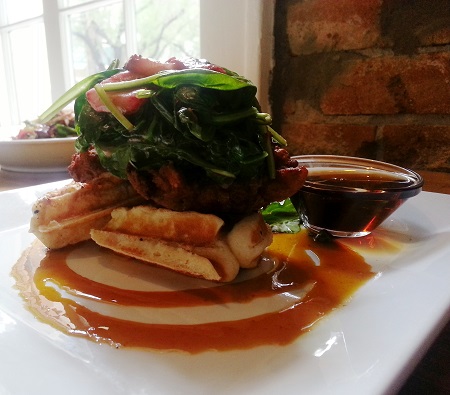 The amazing thing was how these flavors complemented each other. When our server explained that the spinach and strawberry compote would be stacked on top of the chicken and waffles, I was a bit concerned. I decided to try it anyway, and I have no regrets! Matt ate everything together, but I separated my spinach and strawberry compote from the chicken and waffles so that I could eat everything separately. The spinach and strawberries were delicious, and the chicken was flavorful, but not salty. I don't know why people think that chicken has to be so salty. This chicken had just the right amount of seasoning to complement the various flavors in this dish. I tasted a little tang in my mouth when I got down to the waffle. I realized the waffles had soaked in the orange reduction, which is the decorative ring around the waffle. It had a delightful "kick", which made me want more. I had to stop by the kitchen and tell the guys what a great job they had done. My only problem with this dish is that I would have preferred a whole waffle instead of half.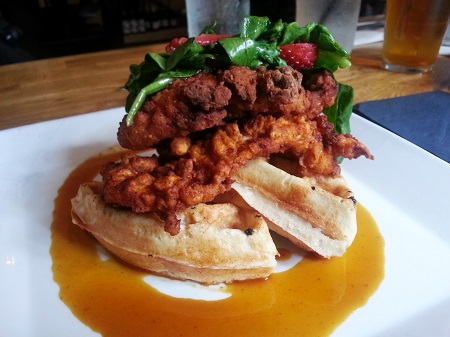 Asian salad with organic greens: Organic Spring Mix, Won Tons, Fresh Chive, Orange Pegments, Pineapple, Cilantro, Organic Radish, Bok Choy, Toasted Sesame Seeds, Red Bell Peppers, and chicken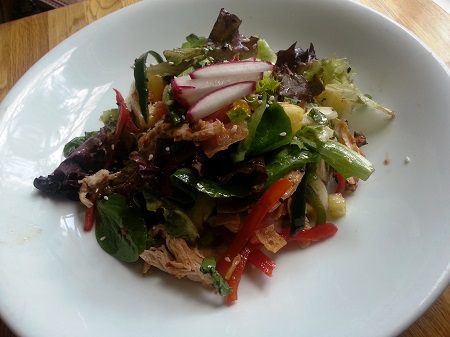 Big Boy Burger: Grass Fed Beef Patty, House Smoked Pork Belly, Fried Farm Egg, Organic Hollandaise, Oaxaca Cheese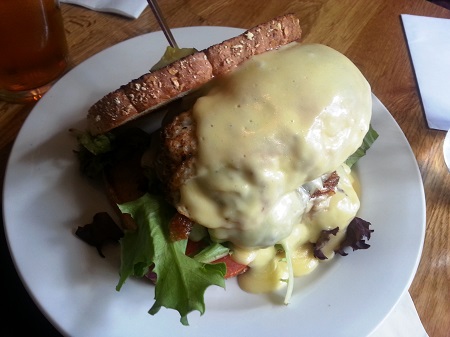 I will be returning to this place, which has made me fall in love with chicken and waffles. Check them out at www.pascokitchen.com.
Things to know:
I did not order the big boy burger. I will eat grass-fed beef, but I'm not a pork fan. However, my father-in-law loved it. The Big Boy burger is large, and you will probably end up eating it with a fork and knife instead of biting into it as you would a regular burger.
Parking is limited in front of the restaurant unless you're lucky enough to snag one of the few spaces on University Blvd. A large garage is located behind Geronimo Village, which is very inexpensive during the week and is free on weekends. So, don't fret if you can't get a parking space in front of the restaurant. There is plenty of parking in the parking garage located behind Geronimo Village.
I hope you are having a great week.