While visiting California a couple of weeks ago, I was craving fish tacos. I don't know where the craving came from, but I just had to have one. Ironically, the restaurant where we ate had what appeared to be a delicious grilled fish taco on the menu, but they were out of fish! I guess I wasn't the only one who wanted fish tacos. I found this great recipe that is easy to prepare and is very healthy. I serve mine with black beans as a side. I found the original recipe here.
I deleted the cayenne pepper, jicama, and salt. The amount of cayenne pepper the recipe requires is a bit too much even for me, and I love spicy foods. If you want to add cayenne pepper, you probably want to reduce the amount of cayenne. I used non-fat sour cream, and I could not find a red bell pepper, so I used a yellow one instead.
These measurements make four 4 tacos. On the website above, you can change the servings amount to your desired number of guests and family:
2/3 cup corn 1/3 cup diced red onion
1/3 cup diced yellow bell pepper 2/3 cup fresh cilantro leaves, finely chopped
5/8 lime, zested and juiced 1 tablespoon and 1 teaspoon sour cream
4 tilapia fillets 1 tablespoon and 1 teaspoon olive oil
4 corn tortillas, warmed (I purchased Trader Joe's Olive Oil Whole Wheat Tortillas because they don't have partially hydrogenated soybean oil.)
2/3 cup peeled, chopped jicama (I did not use jicama. Add if desired.)
Tony Chachere's seasoning (season to your liking)
Directions
NOTE: You don't have to use a grill. Of course the grill gives it a wonderful grilled flavor, but you can also saute the tilapia on the stove top in olive oil. The grill is better though! 🙂
Preheat grill for high heat. In a medium bowl, mix together corn, red onion, jicama (if used), red bell pepper, and cilantro. Stir in lime juice and zest.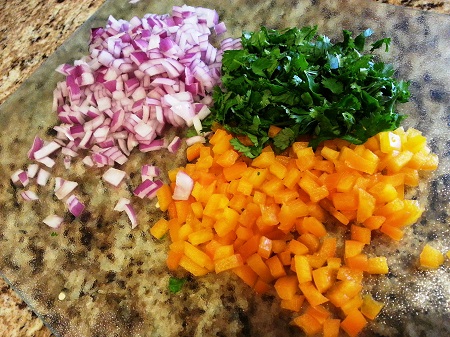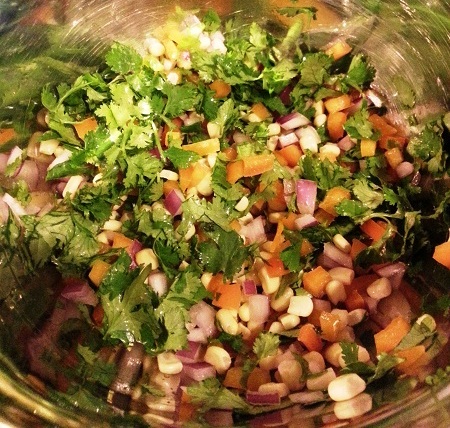 In a small bowl, combine your seasonings. Brush each fillet with olive oil, and sprinkle with spices.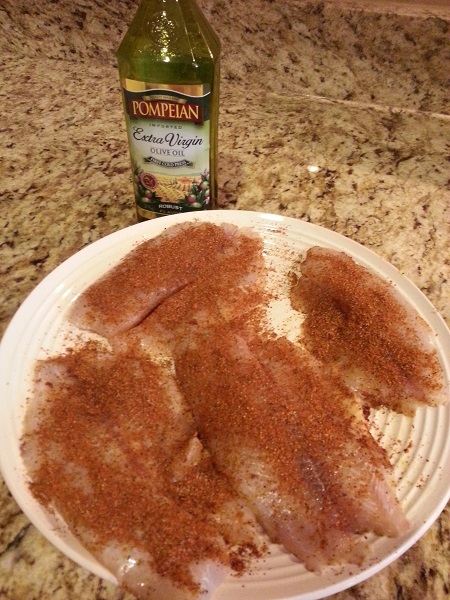 Arrange fillets on grill grate, and cook for 3 minutes per side. For each taco, top one corn tortilla with fish, sour cream, and corn salsa.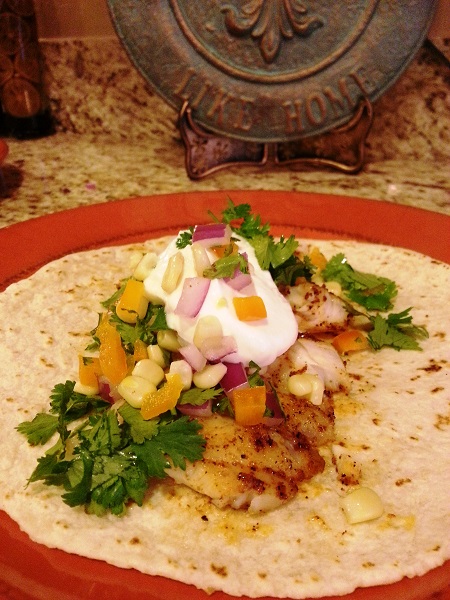 Enjoy! I hope you are off to a great weekend!