A couple of weeks ago, my family and I attended Second Saturdays Downtown. Different artists showcase their talent during this event and vendors are everywhere. I wanted a cupcake, but not just your ordinary cupcake. I heard about a company called Cup Quequitos, which made vegan cupcakes. I went to their website (www.cupquequitos.com) to see what all the rave was about. Vegan and delicious in the same sentence just didn't register with me. However, I wanted to try one for myself. We drove downtown, fought traffic, tackled a parking space and purchased a little piece of heaven.
Tee and jeans (Zara), handbag (Louis Vuitton), sunglasses (Burberry), bracelets (Madewell), shoes (Steve Madden)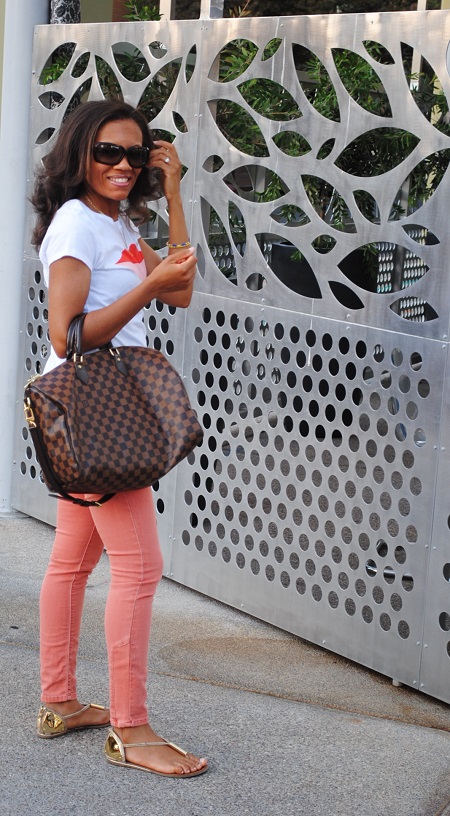 Cup Quequitos is not an actual bakery. The cupcakes are in a restaurant. Once you enter, the servers will tell you which flavors are available that particular day, and you can choose the cupcakes you want to purchase. I chose the ginger rose. There are other flavors such as apple maple bacon, avocado lemon, banana bacon caramel, beet chocochip ganache, red velvet, etc. I know what you're thinking — "beet, bacon, and avocado?" Well, the owner does not use artificial dyes, so beet juice is used for the red velvet cupcakes, and it must be a fan favorite because all of the red velvet cupcakes were sold out when I arrived!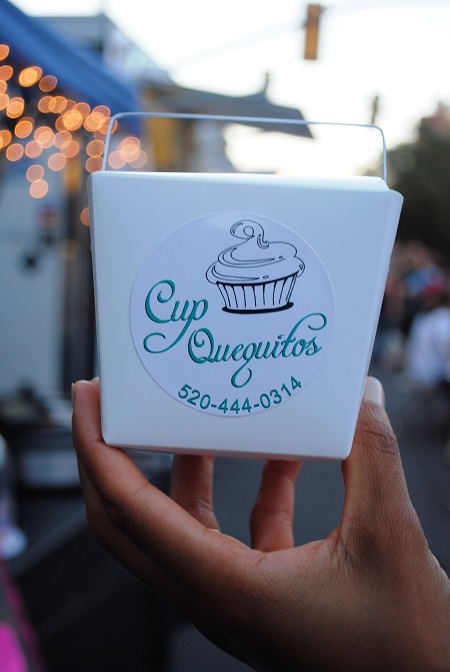 I spoke to the owner before I arrived, and I must inform you that she uses no dairy in her cupcakes and no artificial ingredients. She uses coconut milk when necessary for her cupcakes. The fact that she uses no dairy was a concern for me because I am accustomed to the buttery, moist cupcakes of our day with milk and butter as the main ingredients in any cupcake. This cupcake was so light, fluffy and moist. I honestly could not tell the difference between this vegan cupcake and a butter-filled cupcake. It was just as moist and delicious. During the drive home (two hours after I had eaten the cupcake), I kept saying, "That cupcake was so good!" Matt agreed. I had allowed him to take a small bite.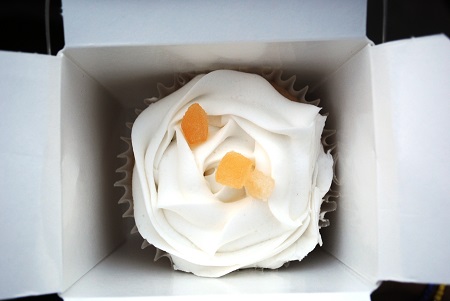 Go ahead and make your smile…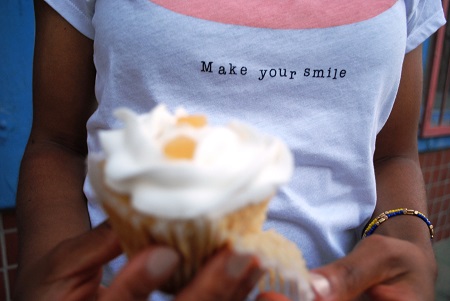 by unwrappping and savoring a sweet treat by Cup Quequitos today!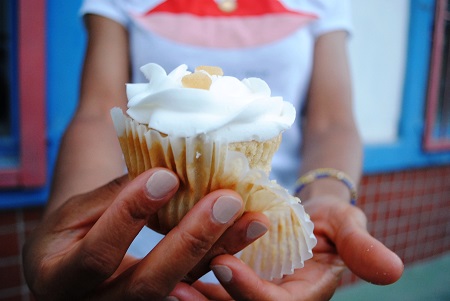 I'm a new fan, and I will be ordering again soon!