Today, I had a long conversation with one of my childhood friends, Fabian Forte. Fabian and I grew up together, and we both share a love for fashion. Fabian is a stylist for men and has big plans for his career in fashion. He took some time out of his busy day to tell me about his current ventures and where he plans to take his career in the future.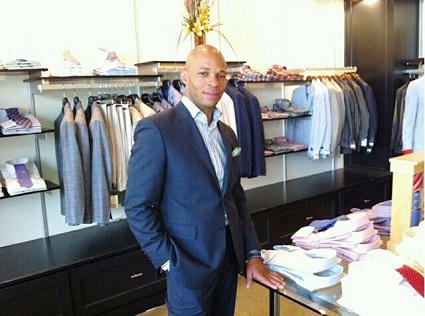 Shayla Jay: How did your passion for fashion evolve?
Fabian: Actually in junior high (eighth grade), my love for fashion began. I used to raid one of my cousins' closets. He worked for a men's boutique in Cleveland, Mississippi called Abrahams.
Fabian featured in Vertical Magazine.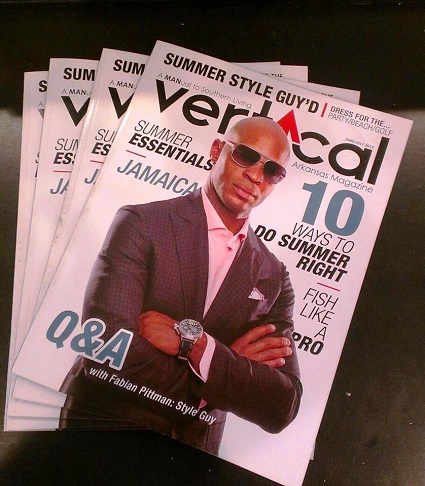 Shayla Jay: When did you know that you wanted to pursue the art of fashion?
Fabian: During my freshman year of college. I always wanted to work at a retail store, but I couldn't because I played basketball.
Fabian and his casual look – Many men know how to wear a suit, but they have problems putting a casual outfit together. It doesn't have to be busy. It can just be a casual, relaxed look, nothing too fussy. Remember that just because a man can rock the suit doesn't mean he can put together a casual outfit. I have seen Fabian's casual outfits, and trust me, he can put together any outfit. Note: I love the fact that he is not wearing square toe shoes! Oh how I loathe the square toe!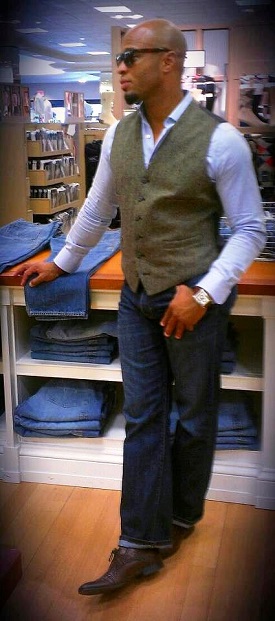 Shayla Jay: I remember your basketball days! You will never believe this, but I always wanted to work for Louis Vuitton, Gucci, or some great designer label. During the summer after my first year of law school, I worked at a retail store in the mall and played in jewelry all day. That was the best job ever. I also worked retail after I got married. My husband told me to do what I wanted to do and instead of going back to the legal profession full-time, I started selling handbags! I had to get it out of my system. Being around jewelry, clothing, handbags, etc. is therapy for me! What are some of your favorite products/ styles for men right now?
Fabian: I love the double breasted sports coat, colored jeans and colored khakis. I also love pointed toe shoes, such as Garvati, an Italian shoe, and Aldo. I think the square toe shoe is tragic.
Shayla Jay: Do you have any projects we can look forward to in the future?
Fabian: Right now, I am learning to sew. I am looking forward to designing my own clothes. I know I have a long way to go, but you have to start somewhere. I'm just trying to take in every aspect of fashion. I have been blessed with the seed, but it is my job to grow that seed and nurture it. I am very observant, and at the end of the day, you must do what you love. I understand that life gets in the way, but in the back of your mind, you should always have that plan to do what you love. When you stay focused and fulfill your passion, you are giving back to God what He has given to you.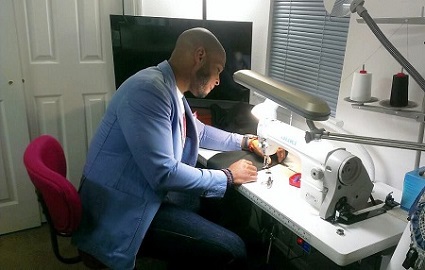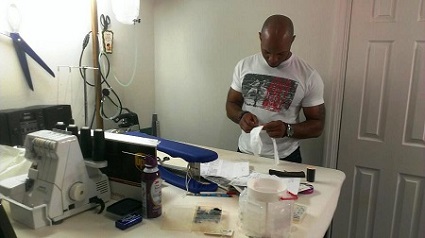 Shayla Jay: My mom would sew a lot of our clothing. I should have learned from her. She was the best, and I loved all of the clothing she sewed for me. Do you have any style tips for men out there? I have so many things I dislike seeing in men's suiting. I do not like to see men with 4, 5, or 6 different patterns and prints when wearing suits. I also dislike the matching tie and pocket square, and I do not like to see a man with suit pants that are too long and do not have the appropriate break in them. Since I'm done venting, what are some style tips you want to tell men about when wearing casual or dress wear?
Fabian: I can't say this enough, but fit, fit, fit, fit, fit, is the key. I don't care if you are the client who can afford Wal-Mart, Dillard's, or custom. If it doesn't fit, it doesn't work. I don't care how much money you spend on the outfit. Fit is the key! A recommended reading for the man who wants to know about dressing is Dressing the Man: Mastering the Art of Permanent Fashion by Alan Flusser. It's a great read.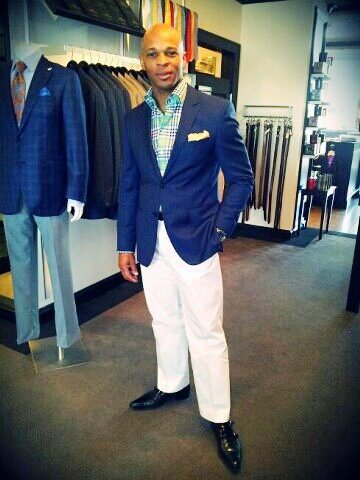 Well, I can't wait to see his career blossom. I love it when people pursue their love and don't get locked in what society tells them they should be. It's those people who make their mark in this world and become the man/woman who lives that fulfilled life. No matter the obstacles, stay focused and keep your eyes fixed on the finish line! One thing I can truly say is that I have lived a life with no regret. How about you? Until next time, stay fab!