For the past couple of weeks, I have been organizing my closet. The back wall of my closet was a mess. I knew it was time to make some changes when I could not find clothes or when I found clothes that I forgot I even owned. The entire rear wall of my closet contained one long rod. The left wall contained double hang, and the right wall contained a large shelving unit. Unless you have lots of dresses, you don't really need a lot of long hang in your closet. I love my home, but the builder got it all wrong when he designed this closet. So, I called Ana of Closet Trends. (www.closettrendsaz.com) Ana is a lifesaver! I originally wanted to add double hang (a rod at the top and a rod at the bottom) to create more hanging space on the back wall. However, Ana added lots of shelves all over the closet including on my left and right walls, which freed up much more space. She also gave me some long hang on the right wall, just not as much as I had before. This also freed up more hanging space.
Closet Trends can match the woods you already have in your home. This is called "Sunset" and the rods are oil rubbed bronze. The bronze matches the door knobs, cabinet and drawer pulls in my home.
Here is a portion of the rear wall of my closet designed by Ana. This wall used to be my wall of headaches. Ana's design allows me to find everything I need.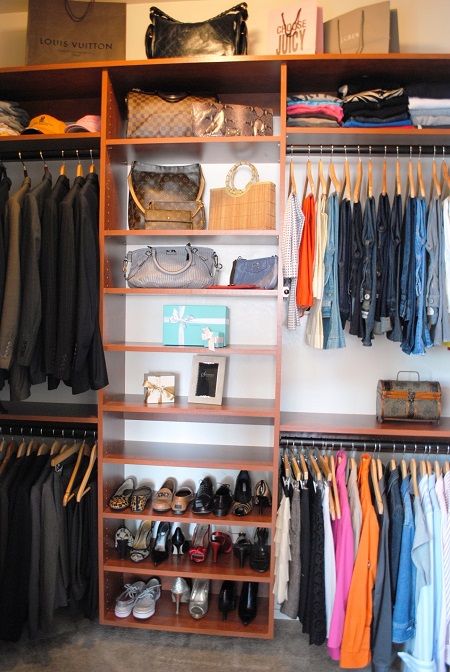 The shelves can be adjusted, which is great for storing boots, large handbags, etc. in the shelves. I placed a lot of shoes that I don't wear often in boxes at the top of the closet. Many of my handbags are also at the top of the closet in dust bags. I wanted to leave some of the shelves free to store things that I use more often. The closet design utilized the space at the top of the closet really well. Before Ana's closet design, I could only use space on the left wall and some of the space on the back wall for handbags and shoes.
I didn't think the shelves would make a huge difference, but they freed up so much space. Each section of the closet has this much extra space or more.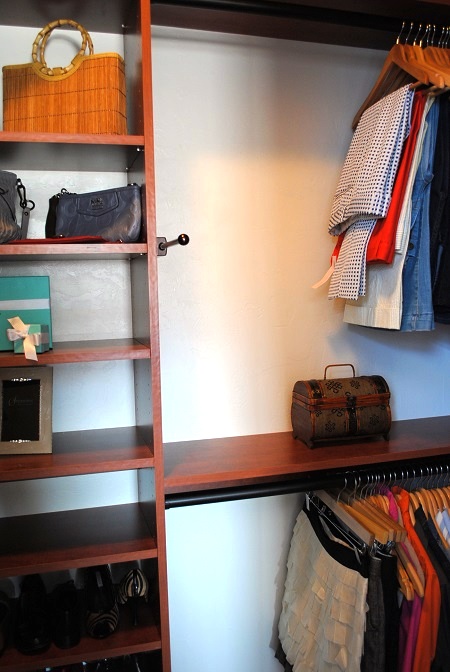 I do not encourage people to hang their sweaters, because sweaters will lose their shape from hanging. I had so many sweaters that I ended up draping many of them over hangers, which was so annoying when I tried to look for a sweater. They were hidden in my closet among my other shirts and became so difficult to find.
Sweater draped over a hanger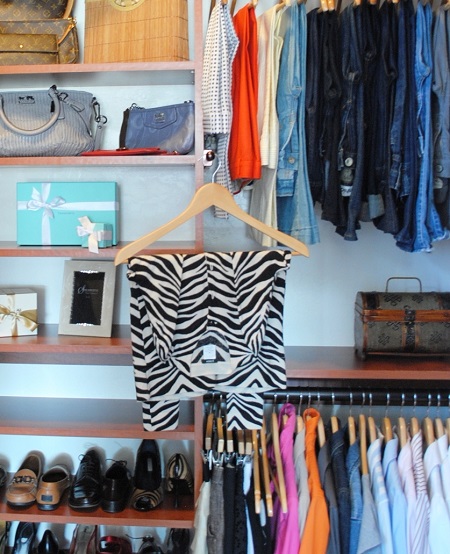 I did not have a problem with misshapen sweaters, because I did not hang them from the shoulders. However, I wasted a lot of space by hanging sweaters. Ana's shelving solution solved this problem. My sweaters and some of my tees are now in their rightful place. — on a shelf and not taking up extra hanging space in my closet.
Another problem I found was that my hangers were too large for my shirts and blazers. Many women have this problem. I ordered wooden, 14-inch hangers from www.onlyhangers.com. This is the average size hanger (17 inches) that I have been using for years. It is too wide for this blazer.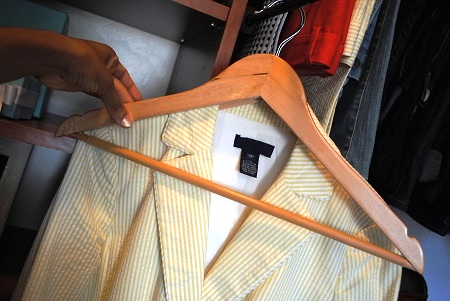 Depending on the material of your jacket or shirt, you could damage the shoulders or arm of your apparel with a hanger that is too large. Have you ever seen the arms of your shirt pucker like this because of your hanger?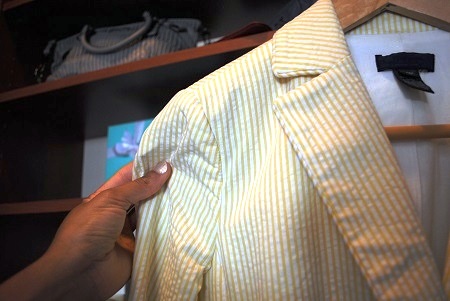 This is the smaller, 14-inch hanger that I ordered from Only Hangers. The hangers also come in 15.5 inches and the standard size (17 inches). So, measure your shirts from seam to seam to see which size you will need.
Smaller, 14-inch hanger from Only Hangers.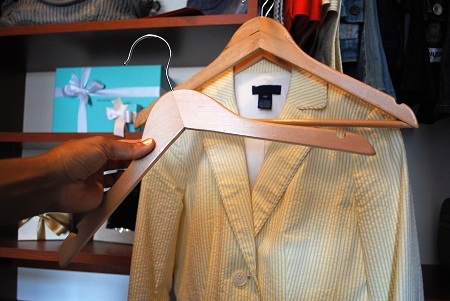 This hanger is a much better fit. There is no bulge in the arm of my blazer from a hanger that is too large.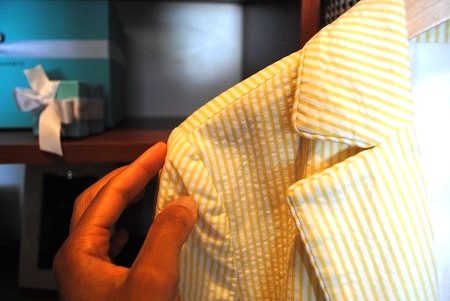 I also included two accessories that I love.
A valet rod — I love this accessory because I used to always try to put an outfit together before an event and hang it somewhere in the closet so that it would not get wrinkled or mixed up with my other clothing. I no longer have to do this with the valet rod. I can just pull out the knob, hang my outfit for the evening on the rod, and get ready for my event.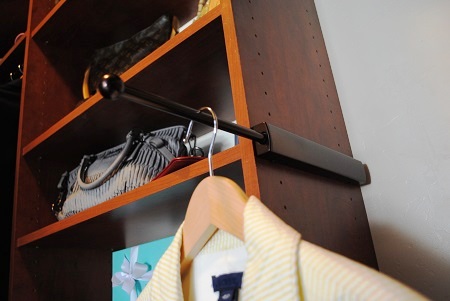 A belt rack — I had actually lost several belts and had forgotten that I had a couple of others I could not find previously. I'm a sucker for organization, so the belt rack was a much needed accessory. We have separate belt racks now to keep up with our belts. Just pull the hanger out, choose a belt, and push the hanger back in. It takes up no space, and we can find all of our belts now. You can also hang ties or scarves from this rack.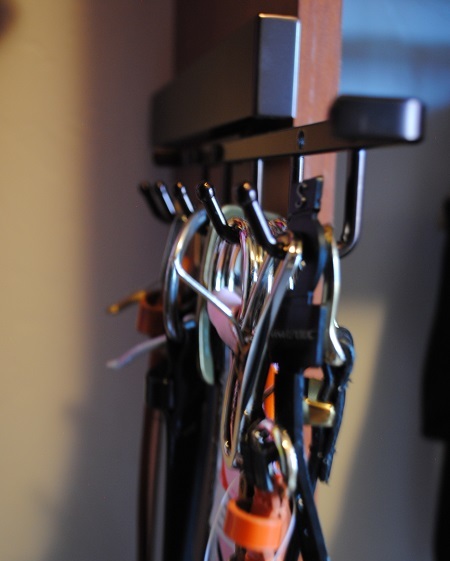 If you want to tackle a do-it-yourself project, you can find these accessories and extra shelving for sweaters and other clothing at your local Bed Bath and Beyond. Some of these products can also be found at your local Target or Container Store.
Valet Rods, Belt Rack, Sweater Shelves – $19.99 each at Bed Bath and Beyond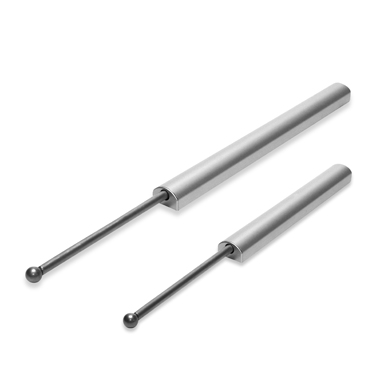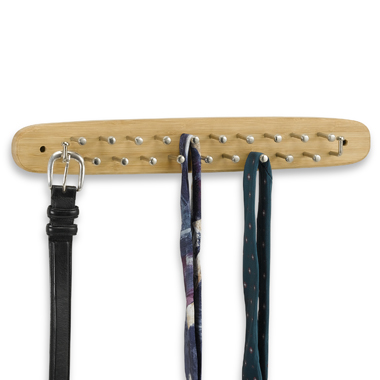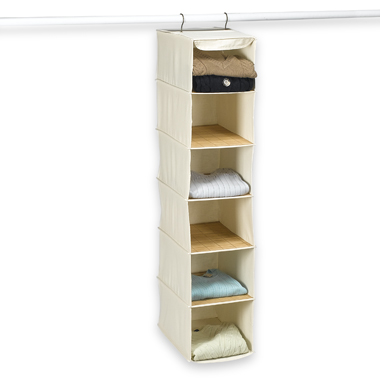 I hope you guys are having a great week! Until next time…