I participated in some activities (other than the spa) while at Miraval. We went hiking if you can believe that. If you come to Miraval and you are not a local, you need to go hiking or do some of the other outdoor activities. Matt has always wanted to go hiking with me, but I am not fond of the wildlife lurking in the mountains, so we went with a hiking group while at Miraval and we had an actual guide who guided the group on a trail. This hike was several miles and the elevation was about 3000 feet, so make sure you are in shape or take any inhalers or medications with you. They also offer a hike where they drive you to a destination and drop you off. You have to hike back. That was not the hike for Shayla.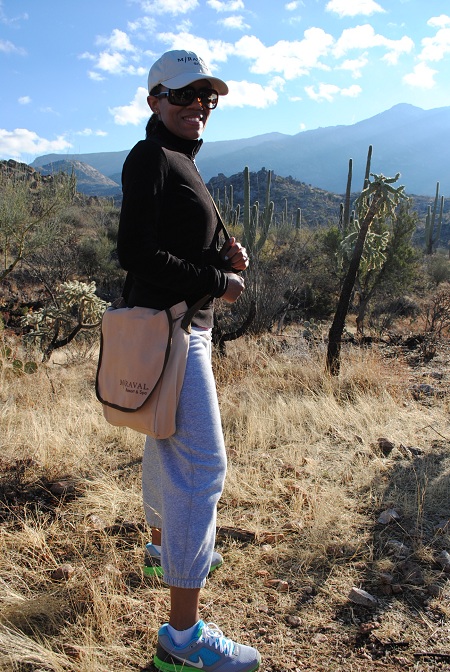 We hiked early, so we saw the sun rising behind the mountains.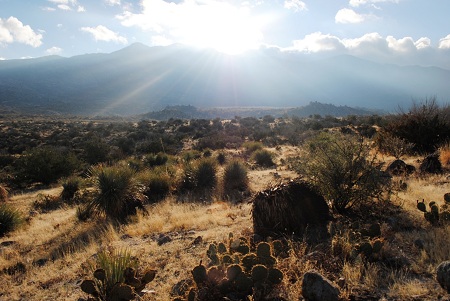 I would have been so lost had I hiked alone. There are so many different trails, twists and turns. While hiking, we saw huge paw prints on more than one occasion. I just prayed and figured that whatever it was, I would probably get away because there were about 40 other people on the hike, hence the reason I hiked in a group. I might get lucky and not get eaten.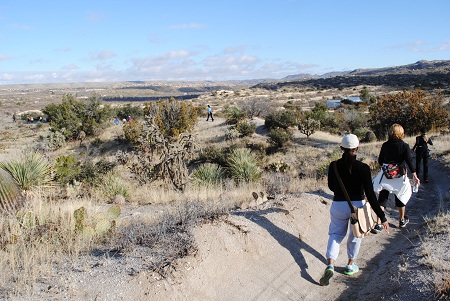 The landscape and the weather were perfect. However, I had a little hurdle while coming down the mountain. I H-A-T-E spiders. I do not do spiders AT ALL! This is a tarantula. It was pretty big (but this is definitely not as big as they can get)! The guide made an announcement that we should walk on the left of the trail because a tarantula was hanging out near its hole on the right of the trail. I had no problems walking to the far left. I even held up the line because I had to coach myself across its path to get to the other side. I started running and did not stop until I got back to the resort. Thank God we were getting closer to the resort. Matt stopped to take pics! Really, Matt?
It blends in with the dirt and twigs really well. Can you see it?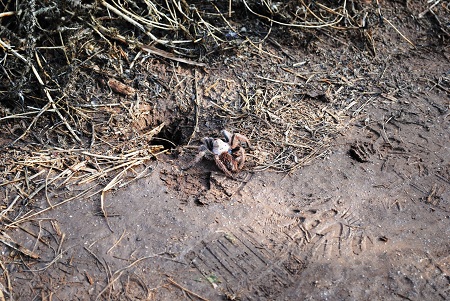 After a nice, hot shower, I'm ready for my photography class.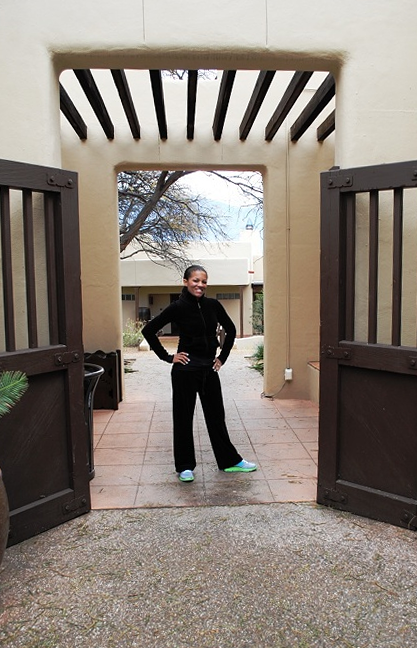 Matt and I attended a photography class with Nancy Schroeder. Nancy is a photographer for the NY Times, L.L. Bean, REI, and she used to be a photographer on Martha's Vineyard. She is also known for hiking seriously long trails for the "super hikers." The thing I love about the classes at Miraval is that they are taught by professionals in that particular area. For instance, the Miraval Equine Experience and It's Not About the Horse are taught by Wyatt Webb who is an expert with horses. I have a Nikon and I know nothing about the features on this camera. When I left her classes, I was able to shoot like a pro (or at least I thought so).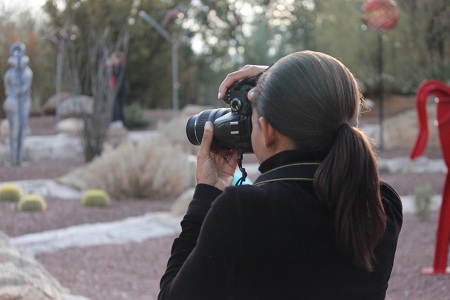 Apperture, ISO, white balance, were all terms that were foreign to me. We attended a second class, which was an evening photography hike with Nancy. These are some pics I took around the resort after my class.
I learned how to photograph water without the blur. You can actually see the water clearly.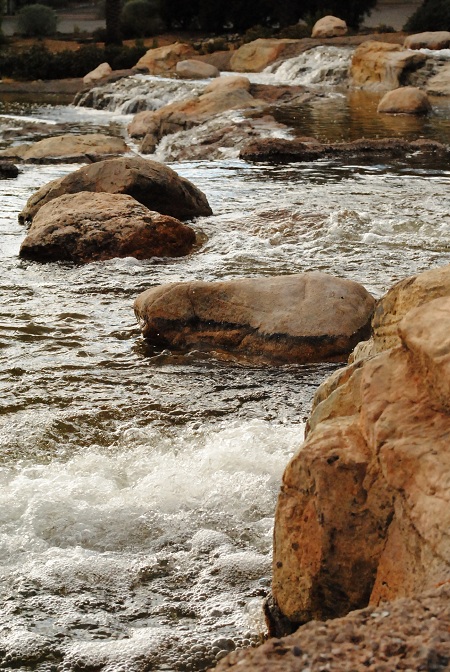 I also learned how to make the velvet effect on the waterfall.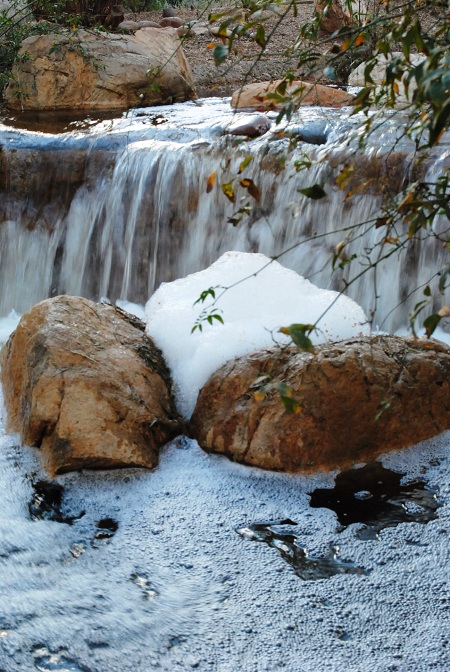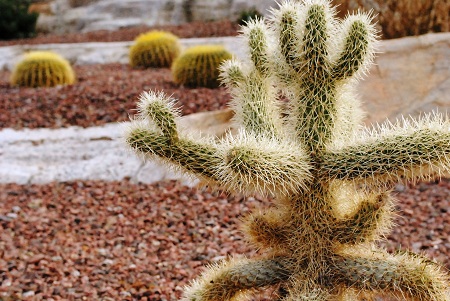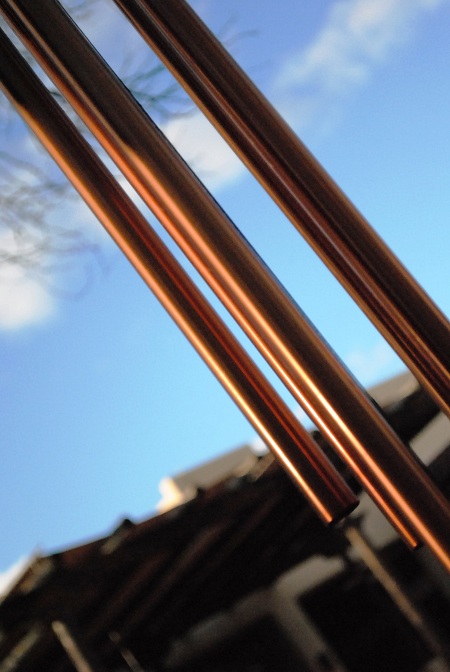 This is Nancy Schroeder, our instructor at Miraval. She was a great instructor and made what I have always thought was so difficult, so simple. We spent a total of about 4 hours together and I feel more confident when I shoot now. I'm not perfect, but I'm a lot better than I used to be! Thanks, Nancy!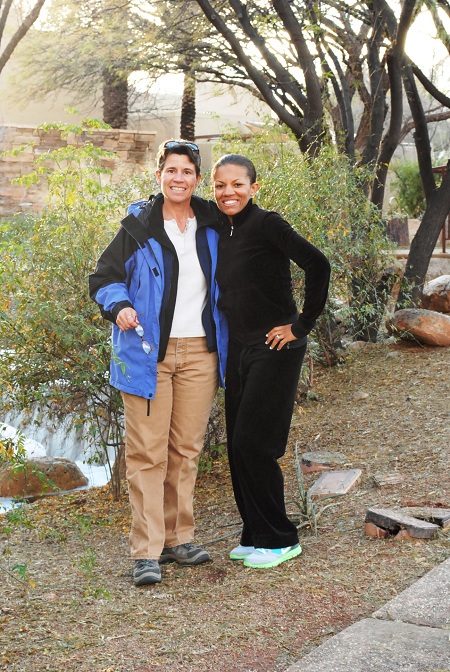 If you are not local, I would suggest coming to the resort when the flowers are blooming because it is so magnificent when you are walking through the mountains and you see the blooms on the cacti and the greenery at the resort. The resort owns a lot of the surrounding land and it is beautiful. It's an experience you will never forget. Just remember to come casual in sweats, athletic gear and sneakers. Until next time, live life in balance!