The hubster and I decided to get away and leave reality behind. We did just that by going to Miraval Resort & Spa. I have heard so many wonderful things about this resort, so I always wondered, "What's the big deal?" Oprah and Gayle went on a retreat here, Bill and Guiliana Rancic experienced the tightrope here, and just recently, Katherine Jackson stayed at Miraval for a restful getaway. It is definitely a great way to get some rest and relaxation away from the hustle and bustle of life, and it is truly a place where you live life in balance.
I am not an outdoorsman (unlike my husband), but this really caused me to go outside of my comfort zone in so many ways. This is a wellness resort, so there are so many classes focused on balancing life, stress relief, relationships, trust, healthy eating, healthy lifestyle, etc. One class, which is adequately called "Out on a Limb," is a tight rope experience where you walk across a log that is several feet in the air. You are attached to ropes, but it really challenges your fear of heights and is supposed to enhance self improvement. There are also classes in which you climb up onto a 35 foot pole and jump (with ropes attached, of course). It's a trust thing, and I have no problems with trust, so I had no urges to climb and jump off anything.
Gayle completed "A Swing and a Prayer," Click here to see the video.
This is the Miraval Zip Line experience from Ellen: Click here to see the video.
Well, I surpassed these challenge courses and instead decided to spend my Saturday in the spa relaxing and being pampered by Sarah during my massage.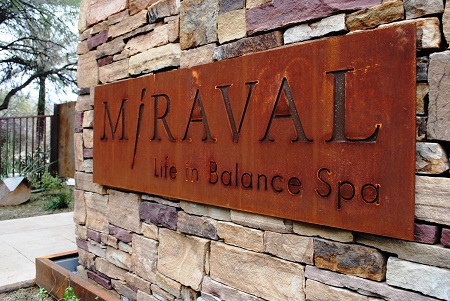 It was so relaxing. They have a quiet room with plush chairs, blankets, and a fireplace facing the mountains. During the day, you see the Catalina Mountains. At night, you see the moon and the stars. Of course, I booked a late night spa treatment, so I spent the entire evening in the spa being quiet, relaxing by the fire and looking out at the moon and the stars. I wanted to just live there.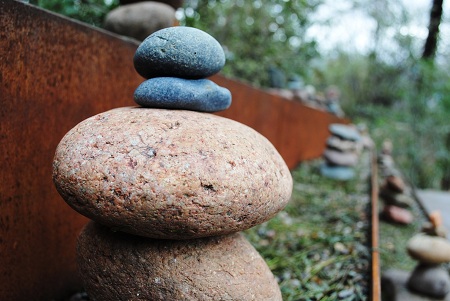 I love little birds, especially hummingbirds. Little birds were everywhere.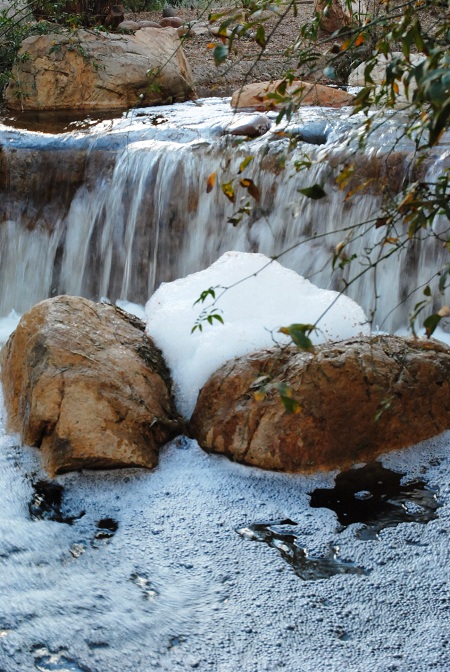 I have heard all of the great things about the gourmet dishes at Miraval. All meals were served at the Cactus Flower Restaurant, and it far exceeded my expectations. What I love is that you know exactly what you are eating because every dish has the calories, serving size, fat, carbohydrates and protein grams listed. For breakfast and lunch, there is always a chef's special that you can order in addition to a buffet. The buffet items also list the calories, serving sizes and descriptions. For dinner, the menu includes "first plates" for starters, an entree, and a dessert. The resort is all inclusive, so your meals are included. By the way, all meals are served in the appropriate portion size, which means that instead of getting a New Orleans sized serving of bread pudding, you get a little cute square. Apparently, I have been eating all wrong.
I loved the flavorful Ono dish. Ono is a fish that has sort of a steak texture. It was pan seared with red rice, broccolini and persimmon gastrique sauce. This dish was actually very filling in this portion size.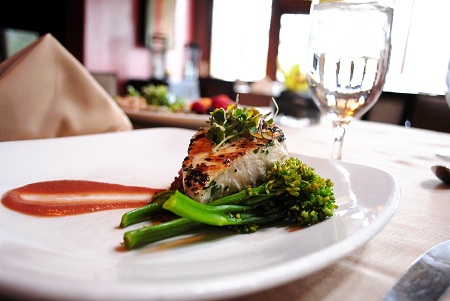 This is tamarind beef satay, which is grass fed beef sirloin, ginger, coriander, toasted sesame, garlic, crushed red pepper and dried cherry chutney. This was so delicious that I wanted to eat about five plates of this. I purchase grass fed beef at our local farmer's market because it is the only beef I prefer to eat. It's just as tasty and it has added health benefits.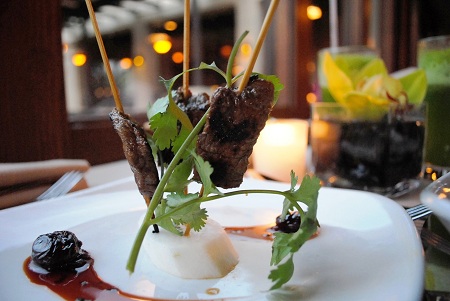 These are mussels in their appropriate serving size. The mussels are cooked with fresh garlic, white wine, portabello mushrooms, and grape tomatoes.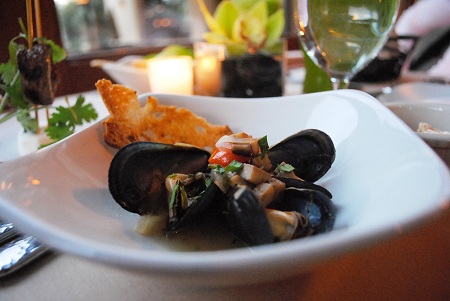 The lamb, along with everything else, was delicious. I love curry, and this dish was a curry rubbed rack of New Zealand lamb with roasted cauliflower puree, curry cream sauce, snap peas, and chive oil.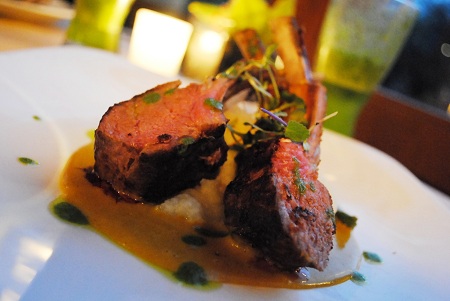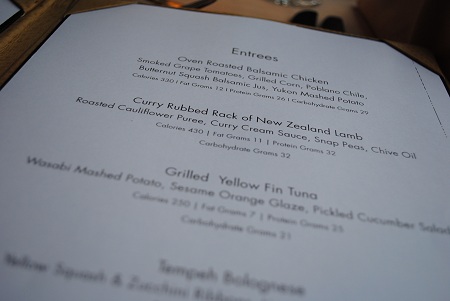 Bananas foster without all the calories…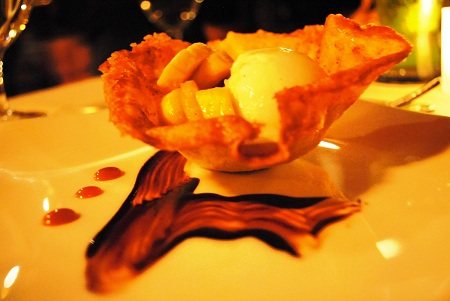 This is the bread pudding in its true serving size, and it was delicious! Miraval is the first place in Arizona to get the bread pudding right! Thank you, Miraval! This was not your traditional bread pudding. It had cranberries (yes, cranberries) in it and a cream cheese topping. The flavors were so complementary and unexpected. I was afraid it wasn't going to be moist, but it was moist and the cranberries added a different, but delightful taste. I wanted a New Orleans serving of this because it was truly delicious.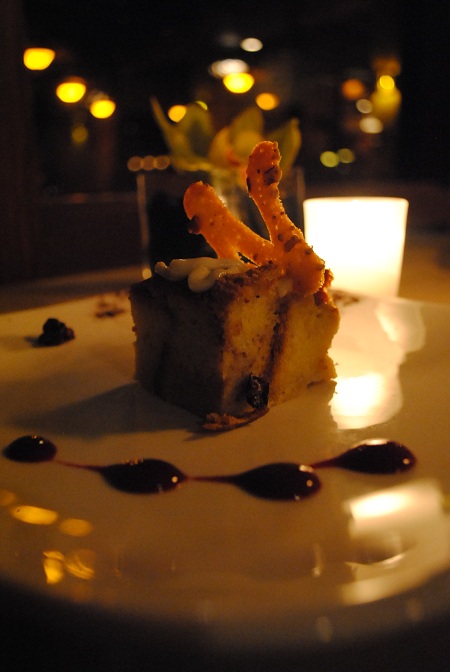 You can order Miraval's Mindful Eating cookbook online at Amazon.com. They also have cooking classes with a chef that are offered at the resort. I love food and I had so much fun eating at Miraval. The dining, alone, is an experience. Matt and I really loved all of the dishes that were prepared for us. Miraval captured the experience and I will definitely give them 5 stars for this wonderful and oh so delicious assortment. We had so many unique and wonderful dishes that I could not put everything on the blog!
This was a Mahi Mahi dish that was served for lunch on Sunday, along with a buffet.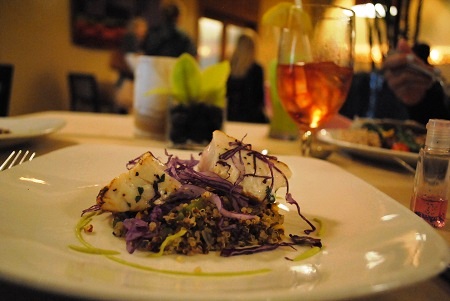 For breakfast, we had "chamomile-scented French toast" with prickly pear syrup and crab cakes. Yes, the French toast smelled like chamomile and tasted like heaven. I ate more than my portion size in French toast and I liked it!
What to know about Miraval:
* Children under 14 are not allowed.
* Be mindful of the cell phone policy. Cell phones can only be used in your room and on certain designated locations on the resort property.
* This place is really quiet and relaxing, so if you expect to yell across the property at your friends, party all night, or be the loudest in the dining room, this might not be the place for you. Peace and quiet are literally sacred at this resort!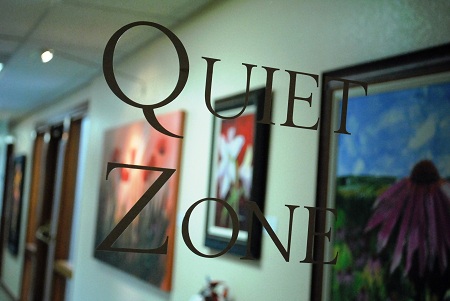 * Miraval is what I refer to as "outdoorsy." Make sure you don't go in heels and dress clothes. If you saw the video with Oprah and Gayle, their attire is what the guests at the resort wear during their stay (athletic, casual gear). I, along with about 99% of the other guests, wore sweatsuits and sneakers the entire weekend. You want to be comfortable. Some people came to the dining room in their spa robes. I don't think I could have eaten while sitting in my robe. I did, however, walk out of the spa in my robe and walked to my room because I did not feel like changing clothes. Say what you want, but I could have slept overnight in the spa's quiet room after my massage, so changing clothes to go to my room was out of the question.
* Miraval books really fast, so make sure you book your room well in advance to ensure you will have a room for the date you want.
* When booking, make sure you specify if your room accommodation is for 1 guest or 2. This resort charges per person, so each person will have to pay taxes and fees in addition to the listed price for the room.
* This resort is an all inclusive, non-tipping resort, so all meals and drinks (except alcohol) are included. Smoothies, cookies, and hors d'oeuvres are served during the day at no extra cost.
* Most classes are included, but some are only available for a fee. Please see Miraval's activity list for prices of events/classes that require a fee.
* Classes are filled quickly because Miraval tries to keep the classes intimate, so sign up on the sign in wall as soon as you arrive at the resort. We were able to attend 3 out of 4 classes we were looking forward to attending. The classes we attended actually had a waiting list.
* Miraval will pick you up at the Tucson airport at no extra cost. Everything you need is on the premises at Miraval, but if you want to drive into Tucson, you will need a rental car. The resort is in an area that is not close to shopping. Most of the guests never leave the property.
Up next, hiking in the mountains at Miraval! Our friends could not believe it when I told them that I went hiking. My hubby finally got his wish — a nice hike in the mountains. 🙂