My hubby's friend, Robert, has done it again! When we went to Los Angeles, he told us about this great restaurant in Manhattan Beach and we loved it. Well, Robert and his wife moved to New Orleans last summer. While my husband and I were in New Orleans, Robert told us about Joey K's, a great little family style neighborhood restaurant on Magazine Street. I love Magazine Street. They have so many fun shops, sweet little cafes, and restaurants galore. If you want a good home-cooked meal, Joey K's is the place! www.joeyksrestaurant.com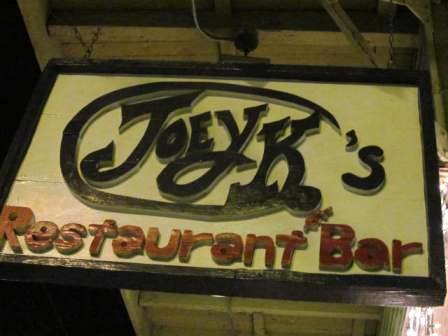 Guy Fieri of Diners, Drive-Ins and Dives visited the restaurant and did a review, so I wanted to see what the hype was about. It was everything I hoped it would be and more.
I chose the Trout Tchoupitoulas, which is a tasty trout topped with shrimp and crabmeat, served with mixed veggies and new potatoes. What I love about this dish is that it is not rich and overflowing with a creamy, heart clogging sauce. The crab and shrimp were not swimming in butter, but it was so delicious. When you come to New Orleans, don't expect imitation crab because it's just not going to happen. This crab was fantastic and the fish was flavorful and light.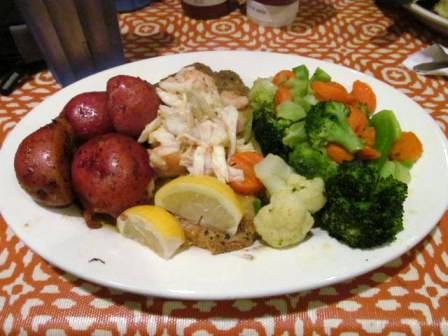 The hubster, on the other hand, ordered a dish I will never understand — chicken fried steak. Is it chicken, steak, or a mystery meat? I have never ordered it because I haven't the slightest clue what it really is. Robert raved about this dish and guaranteed it was the best dish on the menu. Robert, I'll have to take your word for it (and of course, the fact that my husband ate all of it).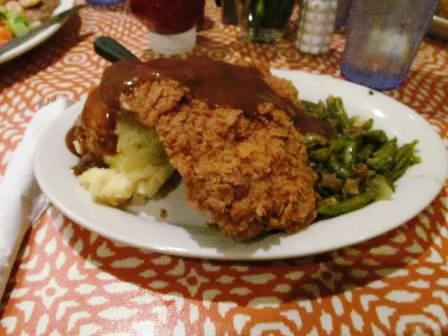 If you know me, you know that I'm a bread pudding snob. I saw bread pudding on the menu, so everyone knew that I had to get some bread pudding before leaving the Big Easy. I hoped and prayed that it would be some of the best bread pudding I had ever eaten.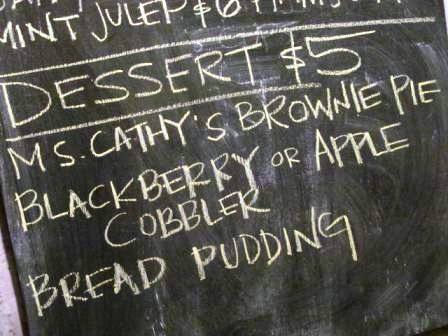 And yes, it had the delectible bourbon sauce that was undeniably some of Louisiana's finest. I was pleased with the moist texture, the fact that it literally melted in your mouth, and I could taste nothing but heavenly sweetness during my happy eating. Although this bread pudding was some of the best, it did not beat the savory taste of the bread pudding I remember from Drusilla's Seafood Restaurant in Baton Rouge, Louisiana.
Nonetheless, it was a meal I will definitely remember! Oh how I love New Orleans! How can you eat anywhere else after eating in N.O.? I have had the best red fish, rainbow trout, corn roasted grits, shrimp, and crab (and the list goes on) since I've been here. You just don't get this type of goodness in a meal anywhere else.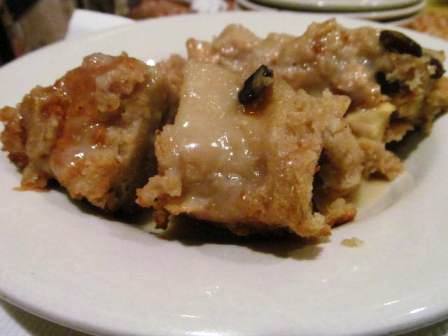 Southern food is one of the reasons I hate to say goodbye to the South. Until I return to the South, I will miss every wonderful meal shared with friends and family.