I have been trying to find a good farmer's market with great local products. Well, I found one near my house and was so excited while looking at all of the fun things the vendors have to offer. This farmer's market is new to the Dove Mountain area and is at Heritage Highlands. It is from 9:00 a.m. – 1:00 p.m. on Thursdays. Handmade Kilm rugs, furniture, clothing, organic lotions, soaps, and produce are also available.
Here are a few things I purchased at the Farmer's Market:
Pumpkin spice pecan jam and raspberry jalapeno jam — the flavors are perfect and are so rich. These were made by No Ordinary Jams, Jellies and Baked Goods, a company from Casa Grande, Arizona. I also saw their champagne and wine jellies, and a beer jelly, which is supposed to be really good as a marinade for meats. I might have to try those next time, but the pumpkin spice and raspberry jalapeno jam really hit the spot. I brought them home and spread them on whole wheat toast, which was delicious.
No Ordinary Jams, Jellies, and Baked Goods (nick@nickosborne.com or 520-413-2540)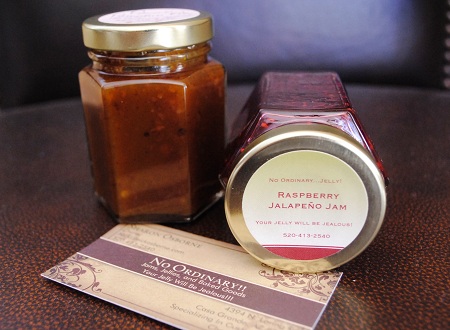 Pineapple upside down cake, zucchini bread and monkey bread by Lil' Mama Sweets. Moist and flavorful is all I can say. I love pineapple upside down cake and this did not disappoint. You also have to try the monkey bread, which is bursting with the flavor of cinnamon. These treats were so wonderful. Note: I did not eat all of this alone! I am 8 lbs. away from my pre-pregnancy weight and I am not trying to continue looking pregnant!
Lil' Mama Sweets (520-789-MAMA or lilmamasweets74@gmail.com)
If you love bread pudding with the best sauce ever drizzled on top, then you have to order her bread pudding. I'm a bread pudding snob and nobody pleased me with their bread pudding until I found her. It is truly the best!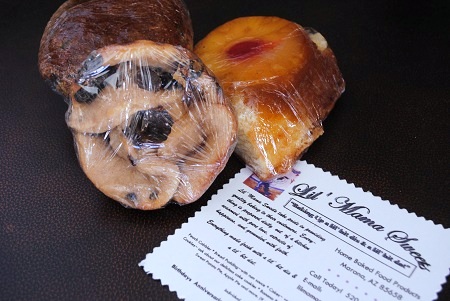 I have never had tapenade before, but I will definitely be enjoying it from now on. Tapenade is normally a dish consisting of puréed or finely chopped olives, capers, anchovies and olive oil, but this Tapenade made by Rainbow Valley Heritage Foods in Maricopa, Arizona is crushed dried blueberries, lemon juice, basil and balsamic vinegar. You would never guess that there was basil and balsamic vinegar in this dish. The vendors for Rainbow Valley served this on mini vanilla wafers, but told me that I could also try this as a topping on ice-cream or a spread on toast. This tapenade had a fruity taste and I ate it on whole wheat toast, which was scrumptous! They also have awesome flavored butters such as honey, cajun, lemon, raspberry jalapeno, and blueberry to name a few. I tried a couple of them and will purchase some on my next trip. Their flavored butters can be used for baking or as a spread. Check out their website for more of their products.
Rainbow Valley Blueberry Tapenade (rvheritagefoods.com or 520-424-3464)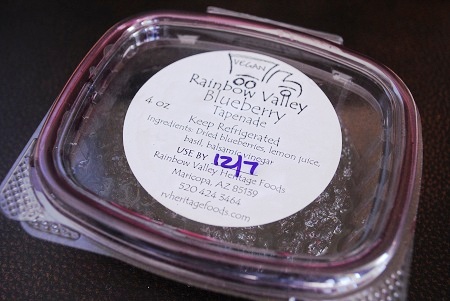 I am not a beef lover, but if I eat it, my preference is grass-fed beef. I finally found grass-fed beef at the market from San Rafael Valley! I have been searching all over the place for grass-fed beef. I made some great cajun burgers and fresh salad —- this was a great burger!
San Rafael Valley Natural Beef (www.srvbeef.com or for orders, contact sidney@srvbeef.comor call 520-394-0031).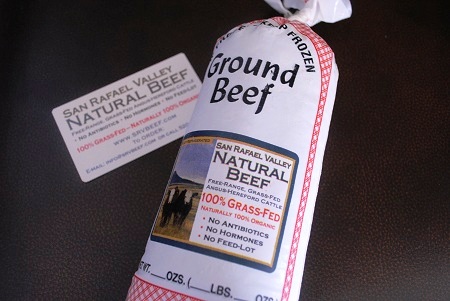 If you want to support locals, check out Dove Mountain's Farmer's Market. You'll be helping local businesses, and in most cases, you will be getting 100% organic foods, which are pesticide and hormone-free.