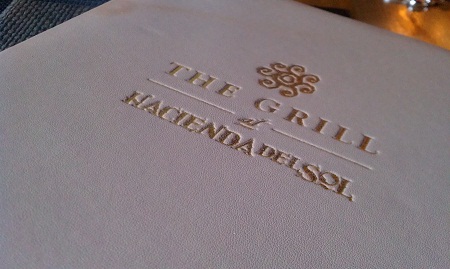 After a long week, my husband and I decided to try The Grill at Hacienda Del Sol. I saw this restaurant in the Tucson Living Magazine, and it was listed as one of the top 5, so I wanted to take a visit. It's also winner of the AAA Four Diamond Restaurant Award. Note: If you are going to the Grill at Hacienda Del Sol, this is considered "upscale dining", and you have to have a reservation to assure a spot at the grill. If you are going to Terrazo, which is considered "casual dining," you don't need a reservation. The great thing is that even if you don't make reservations for upscale dining, you can still request the Hacienda menu and order something from this menu.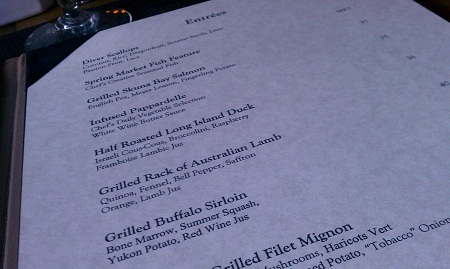 I really enjoyed my experience here. The piano player walked over to us and asked us if there was anything we wanted him to play. Of course, I used to play classical piano, so I told him to play some classical music. Two of my favorites are Fur Elise and Moonlight Sonata. I did not tell him that these were songs I wanted him to play. I only told him to play a little classical piece. He actually played both, which was so sweet.
Complements of the chef… and no, I did not eat the caviar.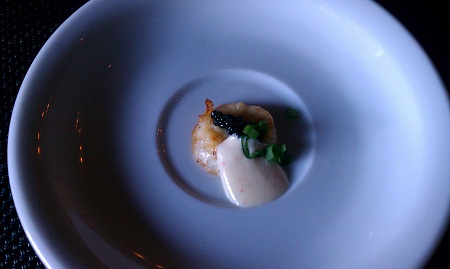 I ordered the half roasted Long Island duck, which was so juicy and savory. This dish also included Israeli cous-cous, brocollini, and raspberry Framboise Lambic Jus. I love duck and this dish did not disappoint.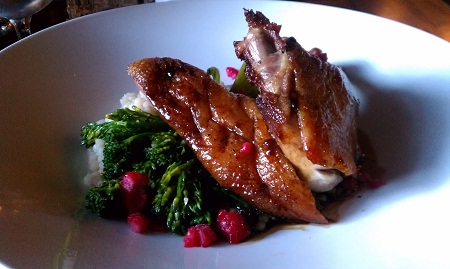 My hubby ordered the grilled rack of Australian lamb. He ordered it medium well, which meant that I couldn't eat any (sad face). He loved it and did not leave any meat on the bone.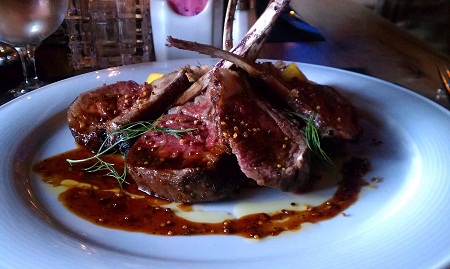 I LOVED this dessert! Everything was edible. The chocolate was not too rich. It was "just right." I think I'm going to go back next week just to get this dessert. This is the Hacienda Signature Chocolate Cake, which is a chocolate mousse cake with caramel and chocolate sauce, and a scoop of Hacienda made vanilla bean ice cream. This dessert was dreamy!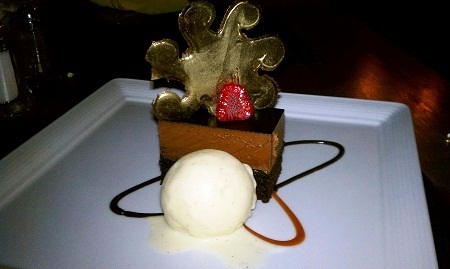 It was beyond awesome! This restaurant lives up to its AAA four diamond restaurant rating and is sure to please every guest who walks through its doors. If you're in Tucson, you have to check them out. Your taste buds will thank you!