I had a blast at my baby shower. I chose to have the shower in my home. My friends, Robin and Shawn, hosted the shower and it was so much fun.
I didn't want the traditional baby shower with paper decorations or baby booties, pacifiers, rattles, etc. all over the place. I also didn't want a theme. I just wanted a simple luncheon with the ladies filled with fun and chatter. The shower was streamed live to my family in Louisiana and Mississippi, so they were able to watch the shower as we celebrated in my home. I didn't want to fly so late during my pregnancy, so my family out of state decided to have a shower simultaneously while watching us here in Arizona. About 20 people attended the shower in my home, and about 15 attended my "satellite" shower that was being held in Louisiana.
This dress was so comfortable. I especially liked the black leather belt that wrapped around the dress. It was a fun little detail.
Dress by Calvin Klein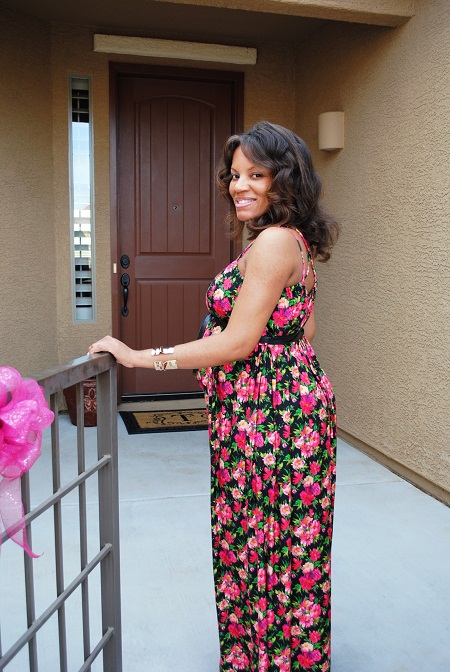 My love for roses was evident during the shower. My colors for the shower were fucshia and blush pink. I am really not into pastels at all, but I loved the shape and look of these roses, so I chose them along with the darker rose. I chose three different roses to place throughout my home. The roses were arranged by Georgeanne Fimbres of Villa Feliz flowers. She was my florist for my wedding and she has the best roses in town. I wanted small arrangements so that people didn't have to look around the flowers to talk to each other. I'm not a fan of cascading centerpieces that just get in the way.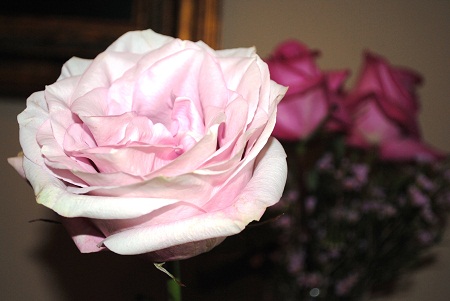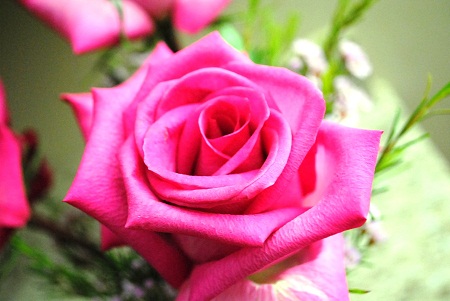 Upon entering my foyer, a candy display created by Shawn and labeled, "Shayla's Candy Store," was offered to guests. I do not like jelly beans, but the jelly beans at the candy store were absolutely the best jelly beans I have ever eaten. I stayed away from the chocolate because my addiction can get a little ugly.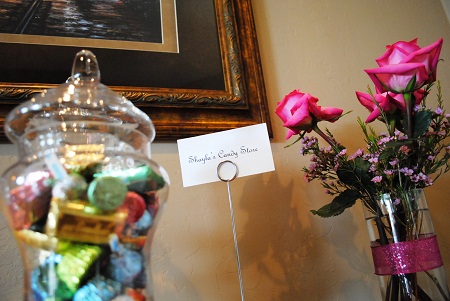 Food was overflowing (mac 'n cheese, barbecue meatballs, deviled eggs, Tequila lime chicken, barbecue chicken, fruits, vegetables, potato salad and the list goes on). The fruit punch was even delicious! The food choices were endless and I ate until I could not eat anything else. Thanks Miss Robin for the wonderful food! Cally, thanks for the homemade mac 'n cheese.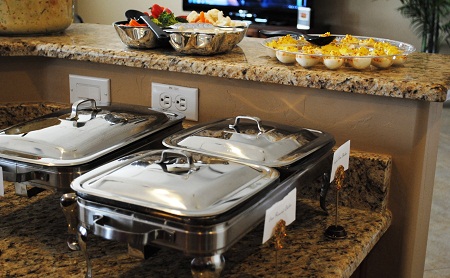 Robin created the fruit tray display and arranged all of the food for the guests to enjoy. I don't know what I would have done without her. I am no pro in the kitchen and her culinary skills saved the day.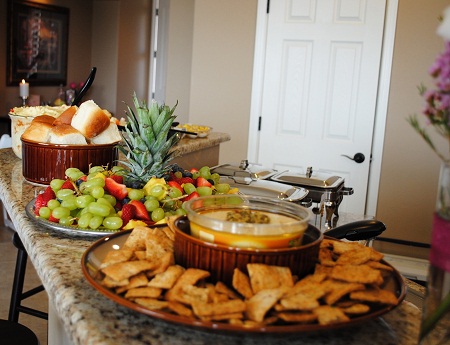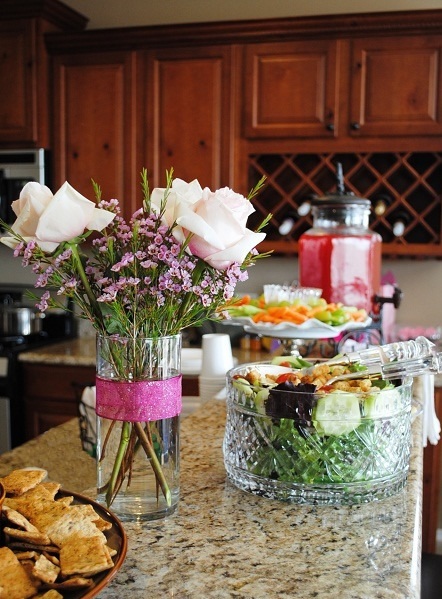 The cake from AJ's was delicious as always. It had a fruit and pastry cream filling like the cake from the gender reveal party. There was none left.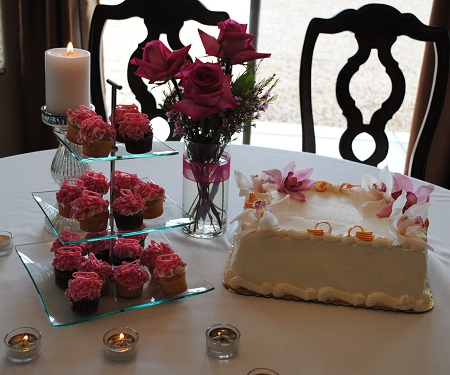 These were the cutest little cupcakes!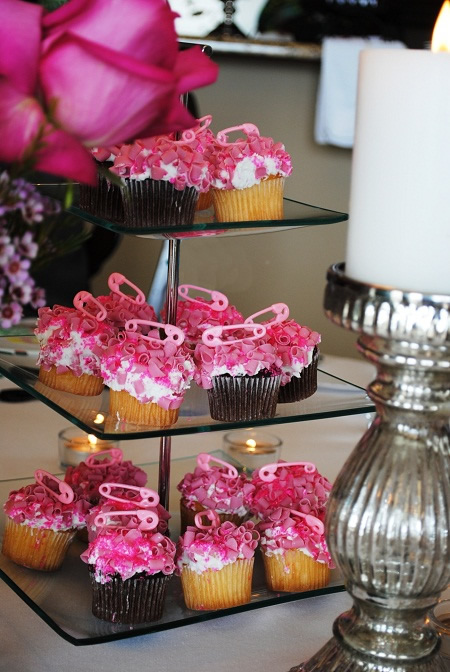 After everyone had eaten, we played several games. For the first game, the guests had to smell six different containers of Gerber baby food and guess the flavor. During the second game, the guests had to guess the measurement of my belly. The third game was Baby Taboo. The competitive nature of these women really came out during Taboo. This group was so much fun!
And, no, the competitiveness did not end during the gift opening. People were stealing the cute miniature clothes pins from each other if anyone said "baby" when I opened a gift. It was hilarious and I really enjoyed these women.
I received some wonderful gifts from friends and family. These are just a few of the gifts that were given to me during the shower. If your gift isn't displayed below, please know that I love all of my gifts. I didn't have enough space to put everyone's gift on here. 🙁
This was so adorable. It's a little teddy bear riding a motorcycle made up of diapers, a bib, a onesie, and socks.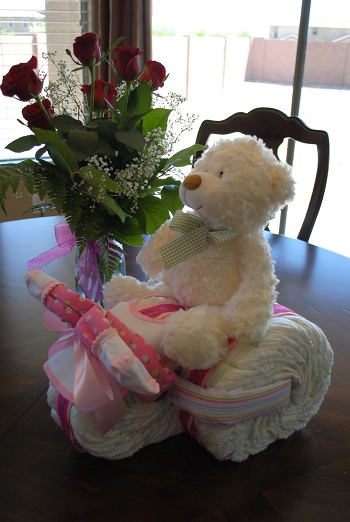 These are a few of the hooded towels, bath towels and bath time mits I received.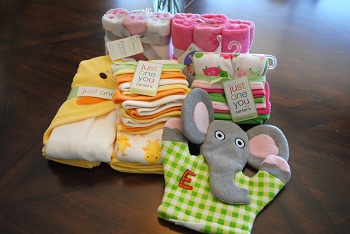 I received numerous onesies and cute ensembles for the baby. These are just a few of the clothes I received.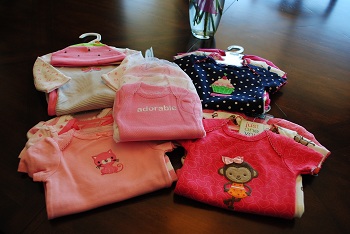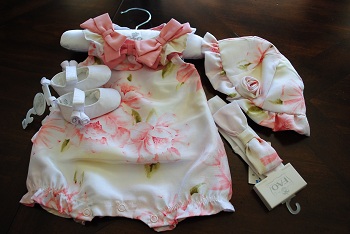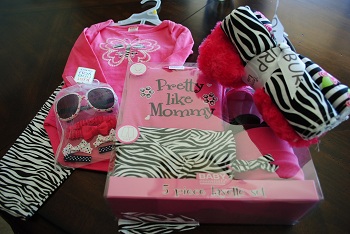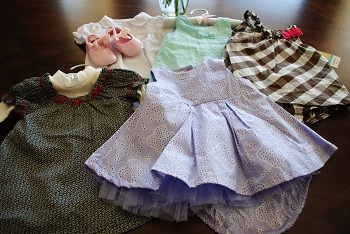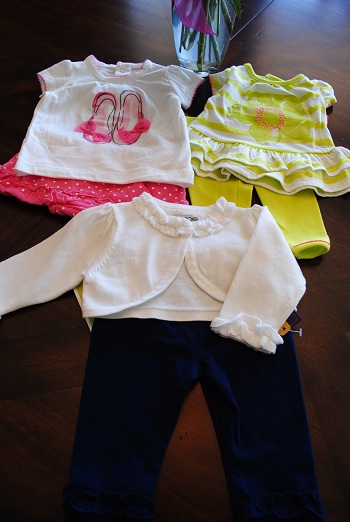 These are the cutest little hair accessories. I know nothing about combing hair, so these will come in handy. I also love the little pink hamper that the accessories are in.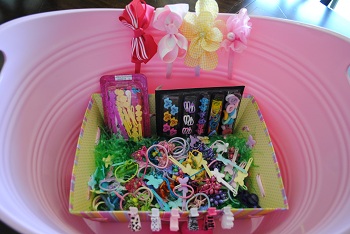 More onesies…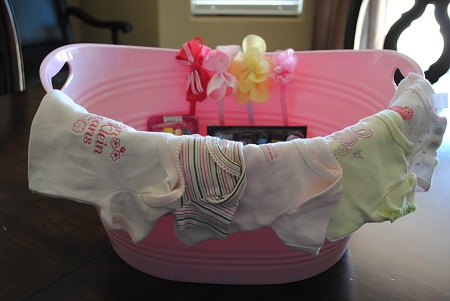 Hooded blanket made by my mother-in-law. We will keep this in the family for generations to come. I can't wait for the additional blankets that she is making for the baby!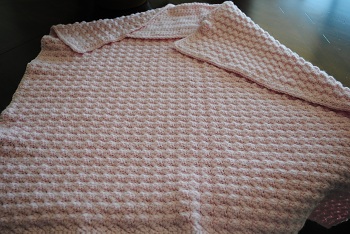 Beautiful monogrammed blanket and hats (the matching socks were also ordered, but are on backorder from Restoration Hardware)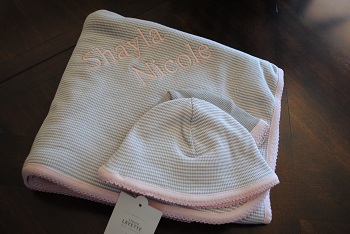 Cozy little tub…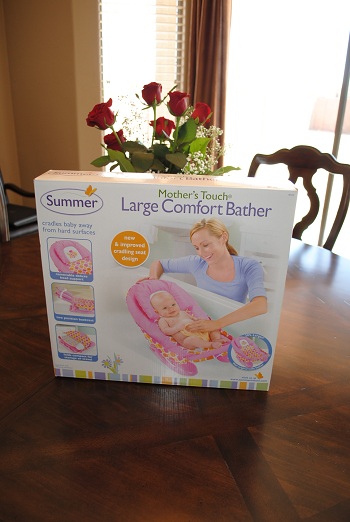 Snug A Bunny Fisher Price Bouncer…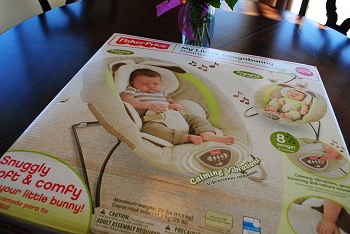 I'm starting a library for the baby. I purchased the matching bookshelf for her nursery. The book ends are gifts from Restoration Hardware, and I already have about 20 books for the baby's collection, which have been purchased by my mom and several friends and family members. My mom always quotes a philosopher who said that parents should have so many books in their home that their children stumble over them. I plan to do just that. Thanks for the great advice Mom!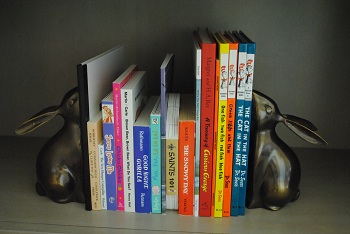 The stroller and car seat were two of the hardest decisions I had to make. There are just so many strollers and car seats out there until it is just overwhelming. We decided to go with the Baby Jogger City Mini stroller.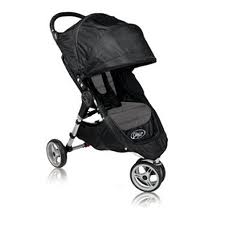 My husband and I saw the safety video for this car seat and were sold (Safety 1st Onboard Air 35 infant car seat).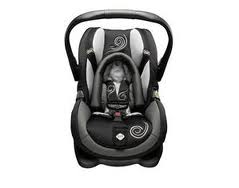 I have to say, "Thank you" for the wonderful "First Mother's Day" flowers I received from my mother and father-in-law!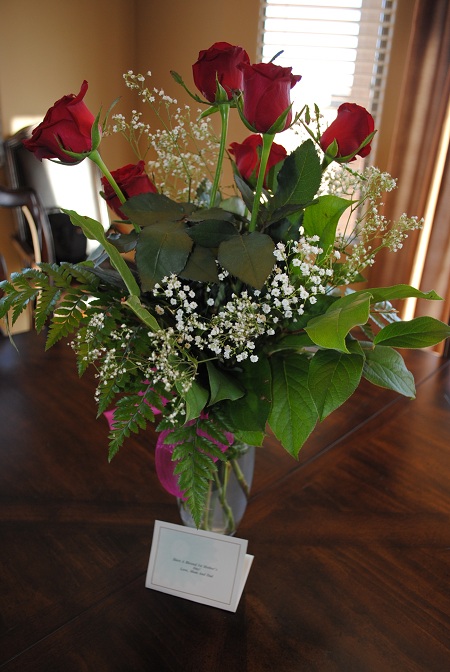 Thanks to my parents and my in-laws for helping purchase the nursery furniture. I ended up purchasing a set from Restoration Hardware, which was different from the set I originally posted in my previous blog. This is from the Emilia Collection. It looks so feminine, and I love the French gray distressed wood and the fine details of each piece.
The delivery crew began putting the crib together and noticed a problem with a screw, so off they went with my crib. A new one will be arriving Friday! This crib converts to a toddler bed and a full size bed. I have every intention to keep this set for a long time. The delivery crew put the book case together, which is so adorable; and the dresser, which was on back order, is on its way. I'll post pics of the finished nursery later!
Note: If you order anything from Restoration Hardware, order early! Their stock goes quickly and lots of items are on back order when you order! We're grateful the baby will have a full nursery by the time she arrives.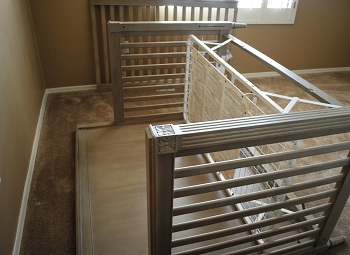 A special thanks to everyone for your wonderful gifts! I am so grateful for your thoughtfulness and generosity. I am so blessed to be surrounded by such awesome friends and family.