Colorful jeans are so much fun. I love pairing colors on top of colors — green and yellow, orange and pink, blue and pink, etc. I prefer gold accessories whenever I wear colorful pieces. I love these blue maternity jeans. They are so comfortable. The tank is also comfortable and expands with my growing tummy, which appears to blow up overnight. This is a really comfortable outfit. I am still wearing heels, and I find that wedges are great for comfort and style as you try to balance an expanding mommy tummy.
I cringe when I see a pregnant woman's stomach peeping out under her shirt. Keep those babies covered! I prefer to purchase shirts that cover my stomach with a little extra length to prevent my stomach from hanging out. My belly is taking over!
I am not attempting to hide my tummy. The wind is blowing fiercely, so I have to hold my jacket to prevent it from flying allover the place.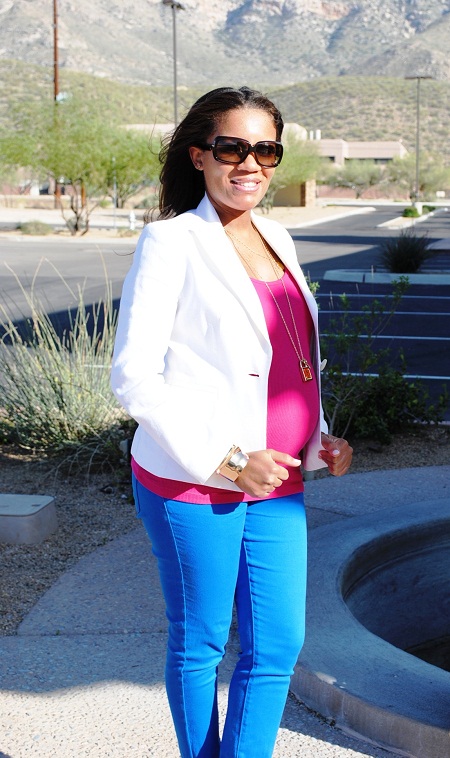 If you're looking for some fun colored jeans, Joe's Jeans has numerous colors in their skinny jeans. Nordstrom Rack also has some super cute colorful jeans that are not as pricey as Joe's Jeans.
Blazer (Banana Republic), tank (Motherhood Maternity), Jeans (Bella Vida Maternity), wedges (Valerie Stevens), handbag (vintage), cuff and necklace (H&M), sunglasses (Burberry)
I love white. It's so sleek and clean. My next mission is to find some cute white maternity jeans that I can fall in love with during my final months.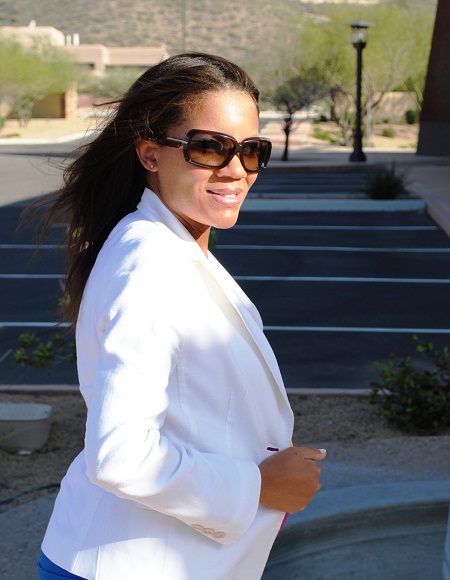 I hope you are having a Happy Tuesday. I'll see you soon!