I have never cooked shrimp because I know it is easy to overcook shrimp. I am so tired of messing up different dishes that I called in a professional, my good friend Arlette, to help me with a pasta dish that I saw her cook a few months ago. You might remember Arlette from my prior post last summer, "Music to My Ears" (https://shaylajay.com/2011/06/music-to-my-ears/), in which I showcased Arlette and her husband's band.
Arlette is not only talented vocally, but she is also a heavyweight in the kitchen. The dish that we cooked consists of bow tie pasta, shrimp, chicken, sun dried tomatoes, shrimp scampi, and spinach. We started cooking and I began taking notes. Please note that the use of the spices listed was based upon taste and not measurements. I'm trying to get to the point in which I can cook without measuring everything. My mom can do that, but I have not learned that trick yet. Arlette helped guide me through this taste test.
Ingredients: dill weed, paprika, cajun seasoning (or whatever seasoning you prefer for your meat), garlic powder, sun dried tomatoes, spinach, bow tie pasta, shrimp, chicken, shrimp scampi.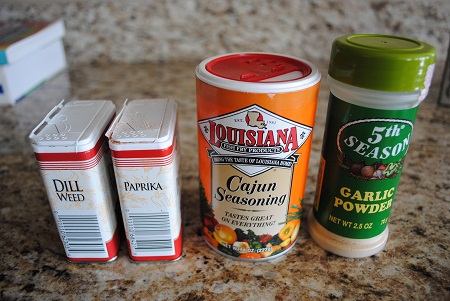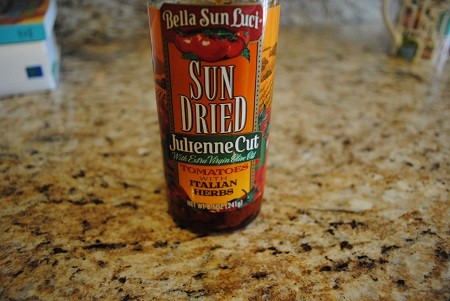 In a large pot, bring water to a rolling boil. Season chicken with dill weed, cajun seasoning and paprika. You might prefer other seasonings, but these are some of my favorite seasonings. Remove the tails from the shrimp and sprinkle the shrimp with dill weed, garlic powder, paprika and cajun seasoning. Cut the chicken into small cubes. Place olive oil in a skillet and cook chicken until almost done. Add the shrimp. Do not cover shrimp when cooking, and if you are cooking shrimp and chicken, always cook the chicken first. Shrimp cooks quickly, so you don't want to overcook it.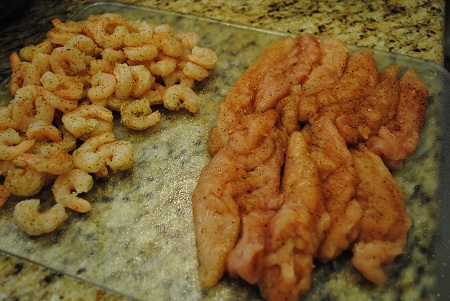 Pour pasta into the boiling water and cook until done. Drain the pasta and add the chicken, shrimp, sun dried tomatoes, and spinach to the pot along with the pasta. The spinach will cook down once you put it in with the other ingredients. Turn the fire down low and allow the ingredients to cook.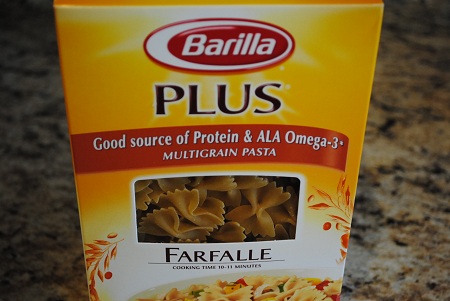 In a separate skillet, cook the scampi. The shrimp scampi adds great flavor to the dish. Once it is cooked, add the shrimp scampi to the pot with the other ingredients.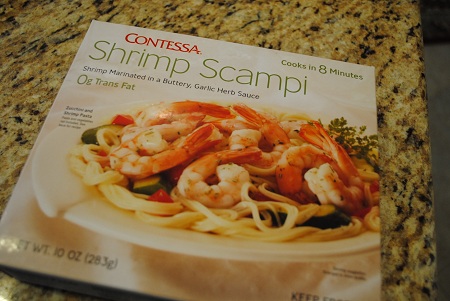 Almost done…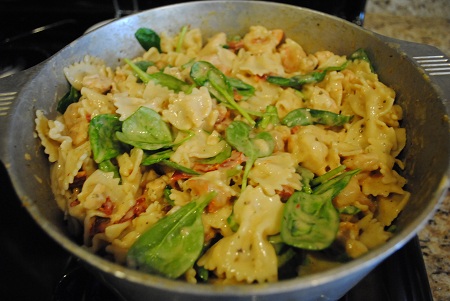 Mmmmm, this dish was so awesome! My hubby loved it and so did I. Thanks, Arlette, for taking time out of your busy day to teach me how to make this wonderful dish.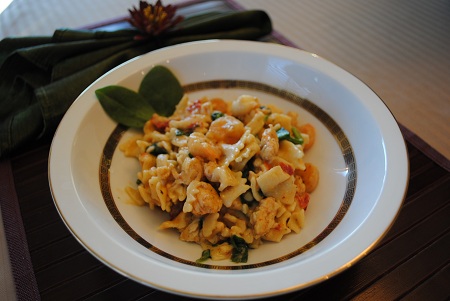 Arlette also showed me how to make mini apple and peach cobblers, so tune in for my post on the mini cobblers. They are so cute and oh so good! I hope you are off to a great week!