I can't get enough of this awesome weather! The sun always shines and humidity is basically nonexistent. So, I really enjoyed the outdoors during this photo shoot.
I love colorful jeans (red, pink, green, etc.). I was on the search for a bright red pair of jeans. The search became a bit difficult with my growing belly, but when I saw these red jeans, I knew I had to have them. They are actually maternity jeans and are very comfortable. I love to see bright colors worn with patterns and prints. If I had not chosen this zebra striped cardigan, I would have paired the jeans with maybe an animal print shoe and a solid shirt. The next time you see these jeans, you might see them paired with a pink top. Don't be afraid to pair fun colors together, just be careful or your outfit will become too busy.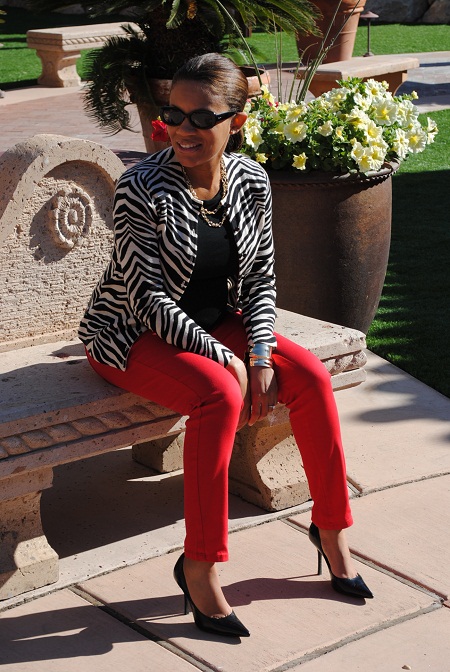 Jeans (Bella Vida Maternity), cardigan (JCrew), tee (Banana Republic), necklace (Arden B), cuff (H & M), shoes (Guess), handbag (BCBGMaxazria), sunglasses (Ralph Lauren). I hate to see a pregnant woman's belly hanging out of the bottom of her shirt. What I love about this tee is that it stays put and it always keeps my tummy covered, even though it isn't as long as most of my other shirts.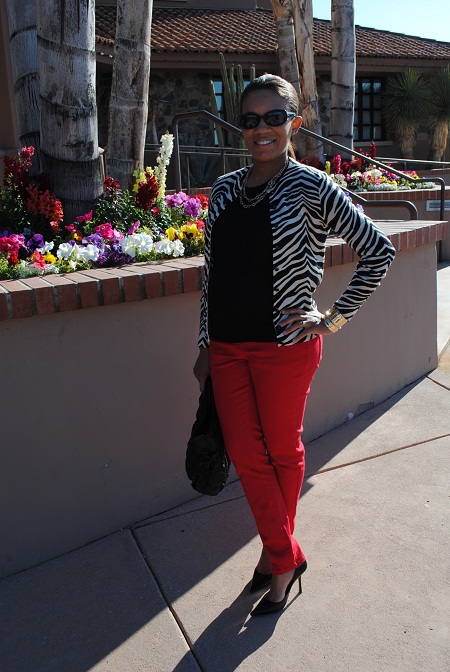 Well, I will be attending the Accenture Golf Match Play Championship at the Ritz-Carlton this week and I am so excited. Some of those golfers have serious outfits, so I'm hoping to see some interesting ensembles this year. I'll see you this weekend. I hope you are having a fab day!