By now, you know that I am not a great cook. So, I called Cally over for a cooking lesson. Cally is a great cook and has her own business. Cally's mother also owned her own catering company. I had no idea how much time and effort goes into cooking a serious meal, and this meal was literally a beast. I told Cally that I wanted greens, cornbread, peach cobbler, and baked chicken. I had no idea what I was getting myself into. Cally suggested a stuffed chicken recipe, which was delicious! After cooking with Cally, I really felt like I can do this. I can prepare a good meal for my family and really know what I am doing. Cally laughed at me during most of our session together. I love my kitchen, but I have no idea what many of the utensils I own are used for. Cally kept asking me for different utensils to which I would answer, "We don't have one of those." Cally would look in my kitchen drawer and reply, "You actually have two of them." Well, I had no idea. I just watched her and learned. The great thing is that she made me do most of the work so that I could get a feel for the cooking and learn how to "season to taste." Cally taught me that there is a difference between a "dry measure" and a liquid measure. Don't judge me, please. I really didn't know there was a difference. I use the same dry measuring cups for everything. She also taught me about the different types of knives. I had apparently been using a boning knife for everyday use. She quickly corrected me and now I know better.
I washed the greens thoroughly. That's one thing I learned as a child from my grandmother — clean those greens! I am always skeptical about eating other people's greens because I have no desire to eat dirty greens, and some people fail to thoroughly clean them.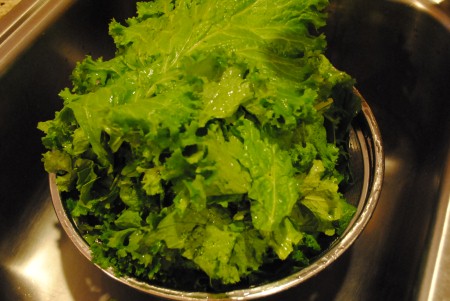 The peaches are getting ready for the cobbler, which was so good!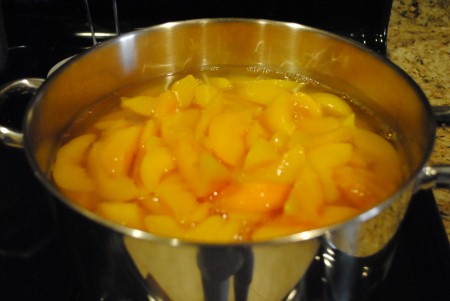 Potatoes are being boiled to make the stuffing for the chicken.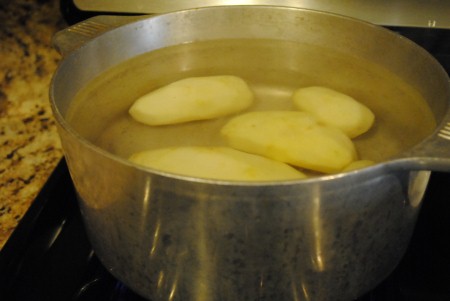 I am putting the greens (collards and mustards) in the pot. I can't wait!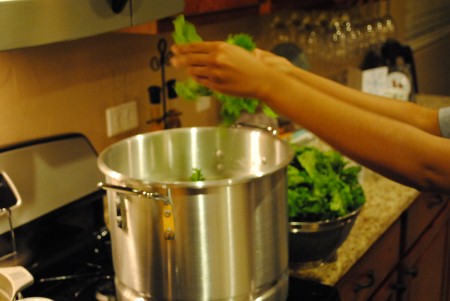 Cally makes homemade dumplings to put in her peach cobblers, so we did the same for this batch. Did I mention that she makes the best bread pudding and sauce? I went to her house for dinner once, and she would not make the sauce while we were in the kitchen. I guess it's her big secret. Well, she can keep her secret as long as she shares the bread pudding! Her bread pudding is in the rankings with Drusilla's Seafood Restaurant in Louisiana.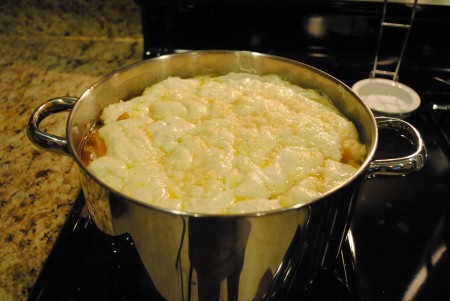 The potatoes that were left over for the stuffing were placed in a baking dish to bake as a side. I have been craving potatoes and it goes without saying that I ate the entire leftover batch of potatoes within the next two days. They were so delicious!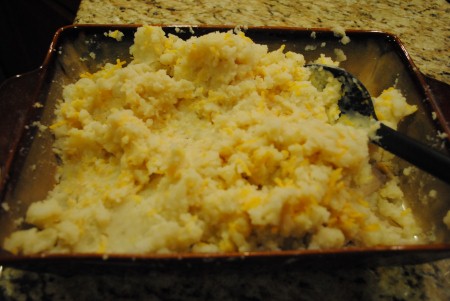 Raw meat grosses me out, but this is how the stuffed chicken looked once we filled each breast and prepared to place them in the oven.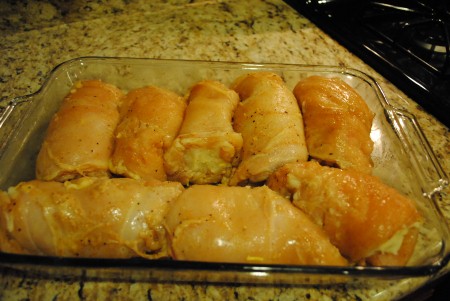 By the end of the night, we had greens, cornbread, potatoes (my favorite), and stuffed chicken. Why isn't the peach cobbler in the picture? It was very tasty, but I started watching The Help with Cally and her family and totally failed to keep an eye on the cobbler. The top of the cobbler was a little toasty! I just scraped the toasty portion off, put some vanilla bean ice-cream on top and let the good times roll!
I had gotten ahead of myself and began eating from my plate before taking a picture.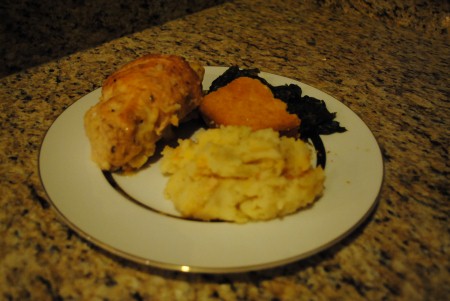 Cally, thanks for taking the time to help me believe that I can prepare a good, quality meal for my family! P.S. I made some mustard greens, turkey drumsticks and cornbread last week. My husband and I really enjoyed them. Cally, you would have been proud!