In a prior post, "Go Green," I introduced you to butter LONDON, a "3 Free Nail Lacquer," which means it is non-toxic and formulated without the use of formaldehyde, toluene, DBP or Parabens. For pregnant women and those who are conscious of the toxic chemicals found in nail polish, butter LONDON is a great line featuring bespoke colors that are not only better for the environment, but eye catching. I love the intensity of the colors and the fun designs Nonie creates with her colors on models. Founding Creative Director of butter LONDON, Nonie Creme, gave me a little tease of what is to come. I told her that I was looking forward to her fab new colors and designs this year. She replied, "I have some epic adventures in nail lacquer planned for February Fashion Week(s) in NYC, London, and Paris. I think you will be pleased." Hmmm, I wonder what bold colors and designs she has up her sleeve. I cannot wait to see the runways this Spring!
Check out these two featured colors from butter LONDON's Holiday 2011 collection: Fairy Lights (left) and Tart With a Heart (right).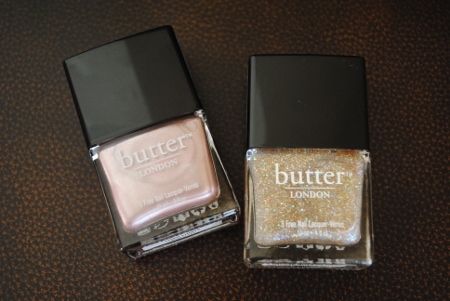 Fairy Lights is a liquid metal rose pink. This metallic hue can literally be seen from across the room and is sure to light up any party. Tart With a Heart is serious glitter! Every girl needs a little bit of bling. I am a lover of all things bling, so this caught my eye the moment I walked over to the butter LONDON section in ULTA. I always use a base and top coat, and you definitely don't want to skip the base and top coats on these. If you apply Tart With a Heart on your bare nails, it is downright gorgeous, but removing the glitter is a bit tedious. However, a base coat helps and removal can be done using the foil method. The top coat helps seal the polish and prevents chipping, which is sure to happen if you skip the base and top coats. butter LONDON has both base and top coats available. Once I removed Tart With a Heart, I reapplied it again within a couple of days because I just can't get enough of it.
I applied Fairy Lights as my primary color and topped my ring finger with Tart With a Heart.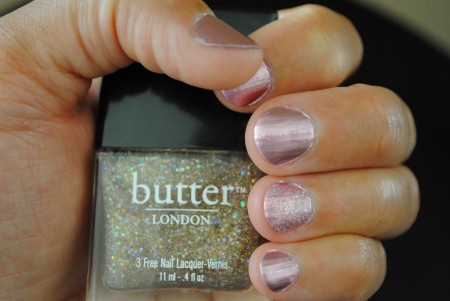 Oh well, I couldn't resist. I had to put Tart With a Heart on every finger. Tart With a Heart looks awesome with any color polish and can be applied over the nail color for a dramatic effect. Don't forget to add a top coat to seal in the color and to prevent premature chipping.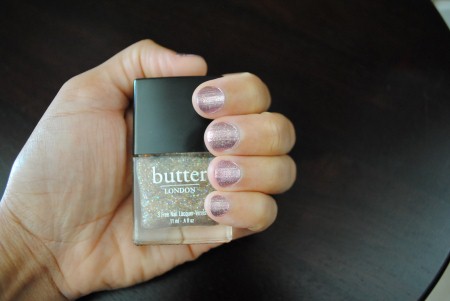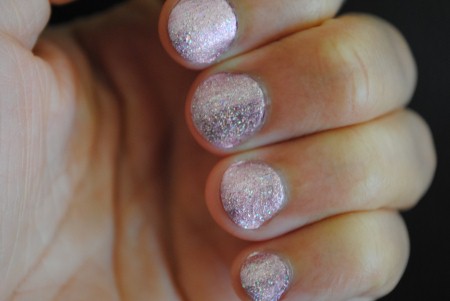 I must admit that I had a blast playing with these colors. I love the depth of the colors from butter LONDON and the fact that this polish is labeled as "3 Free". Check out butter LONDON's dazzling collection at www.butterlondon.com, and you're sure to become a fan.