There's no place like home for the holidays. My husband and I visited our parents for Thanksgiving and we planned to visit our parents again for Christmas. However, we decided that we need to just settle down and be still for a while. Our parents live four hours apart. Jet lag and all of the driving, packing and unpacking to visit everyone would have been a bit much for us. Since we're going to be in our desert home for the holidays, I added little decorative touches to make our home warm for the holidays. I found some beautiful decor at stores you can probably visit locally to find great deals.
I love the smell of a fresh cut Christmas tree, but I always find a way to kill the poor tree prematurely, whether I put too much water or too little water on the tree. I'm a little accident prone and I realize I don't have the gift of a green thumb. I chose a color scheme (gold, green and red), which consisted of traditional Christmas colors.
Christmas tree ornaments Pottery Barn (red glass ornaments) and Michael's (gold ornaments). The ornaments at Pottery Barn were 20% off when I purchased these, and Michael's is ALWAYS having a sale. I never pay full price for anything at Michael's, and these were 50% off. I purchased the ornaments from Michael's several years ago, but I purchased the ornaments from Pottery Barn about two weeks ago. If you are looking for beautiful ornaments for next year, wait until after Christmas. PierOne, Pottery Barn, Michael's, and Bed, Bath and Beyond will have them marked as clearance at great prices.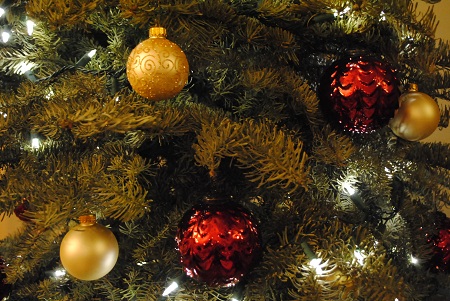 I purchased this bowl and the Christmas bells in green, red and gold from PierOne. The bells were only $1 each. I saw this identical bowl at Home Goods for half the price I paid for it at PierOne. I think Home Goods will be my first stop next time. I always decorate with books. If you go into any room in my house, books are everywhere. The hand carved end table was purchased at Studio C.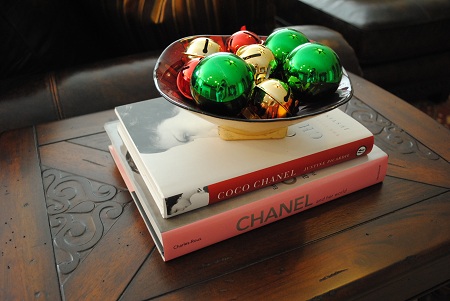 I love a beautifully decorated table. I made the centerpiece using a glass hurricane from PierOne. I purchased 40 shatterproof Christmas ornaments from Bed, Bath and Beyond for $9.99 per case. The ornaments are beautiful and inexpensive. I also keep a 20% off coupon handy for any Bed, Bath and Beyond purchases, which always saves a few extra dollars.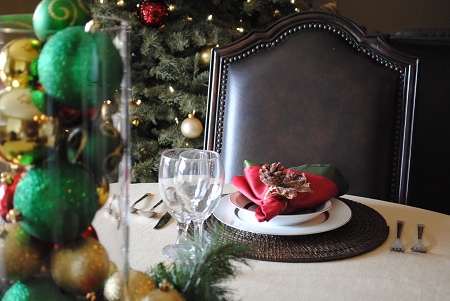 The festive napkin ring was purchased at PierOne for $3. Red napkin (Fry's) and green napkin (Pier One). I love to layer napkins, so I always choose two beautiful colors to decorate my place settings.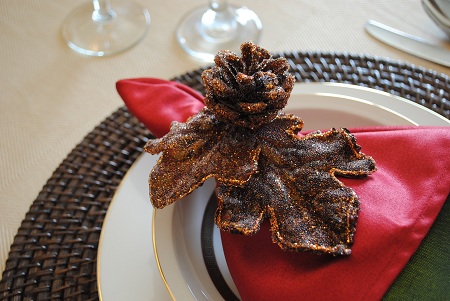 I woke up one morning and my husband had hung the garland over the arch leading into the foyer. The garland is prelit and is adorned with small pine cones and red berries. My ceilings are pretty high, so I purchased 2 packs of 12 feet of garland for $19.99 per pack at Bed, Bath and Beyond. Most stores were selling garland without the lights, pine cones or berries for $30 or more, so this was the best bargain I found. I also used my 20% off coupon — more money saved!
Although I did not incorporate silver into my color scheme, I saw this little silver handmade twig reindeer in Pottery Barn and had to have it. I placed the reindeer on my table in the foyer.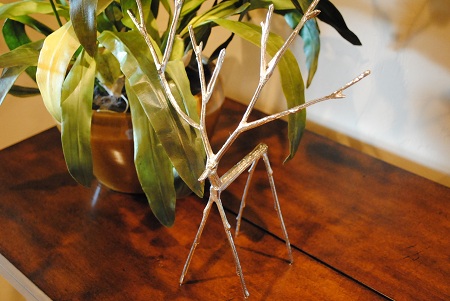 I purchased gift boxes (set of 10 for $3) and ribbon at Wal-Mart. I wrapped the boxes to use as decor for certain spaces in my home. It was inexpensive and added just the right touch of holiday cheer. I added fleur de lis ornaments to bring Louisiana to the desert for the holidays. These fleur de lis ornaments were on sale for $2.99 at Bed, Bath and Beyond for a set of 5.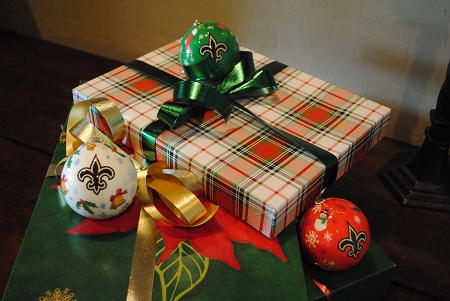 New Orleans has a presence throughout my home. My foyer is filled with Louisiana art. This is an R.C. Davis painting of Canal Street after Hurricane Katrina, entitled, "Renewal." (www.rcdavis.com) I love New Orleans streetcars, so this piece caught my eye.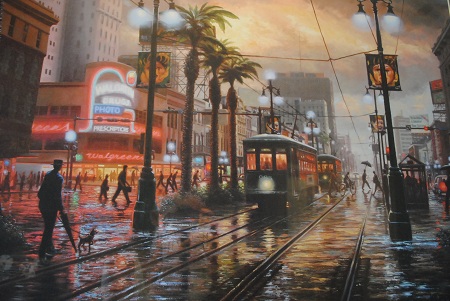 I also have the "Playing for Tips" series paintings by Margaret Slade Kelley, a New Orleans native. She is a very talented lady and has drawn most of the paintings that are the symbols of the Essence Festival in New Orleans every year. I was introduced to her paintings in 2002. (www.margaretsladekelley.com)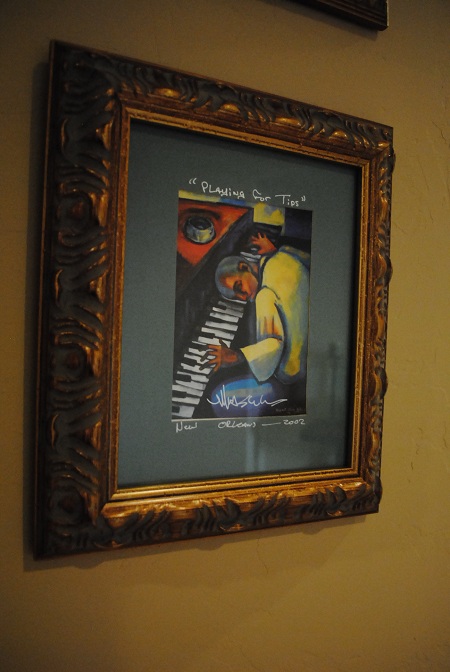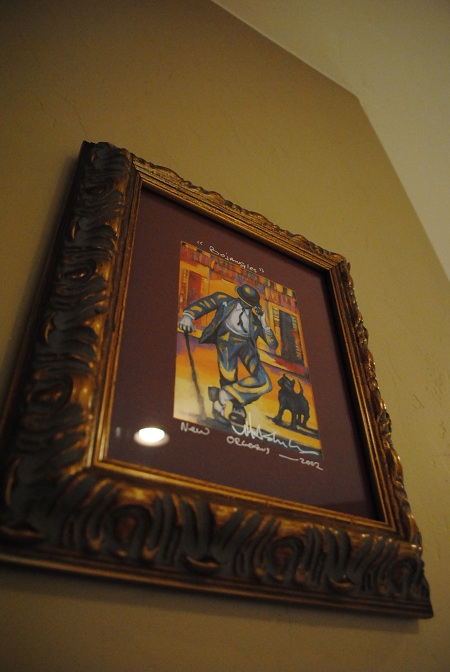 If you are far away from home for the holidays, bring memories of home to you wherever you may be. Have a blessed Christmas and a wonderful New Year. In the midst of all of the decorations and gifts, remember the true reason for the season — the birth of Jesus Christ. Enjoy your family and friends, and be thankful for all that God has given you. I encourage you to give to those who are less fortunate this year. Donate warm clothes or just drop something in the Salvation Army piggy bank when exiting a store. I truly believe that if you bless others, you will also be blessed!
I'll see you after the holidays! Be safe and Merry Christmas!