Thursday, October 13th, was a great day! It marked the grand opening of Nordstrom Rack in my area and I could not wait to get there.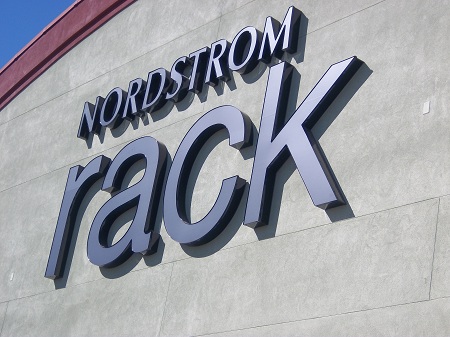 I did not know what to expect and I wondered how many people would show up for this event. The staff began "tailgating" from 7:00 a.m. until 9:00 a.m. The store opened at 9:00 a.m. and the place was packed! Parking attendants were directing traffic in the parking lot.
Nordstrom provided a dj who was playing funky music for the crowd!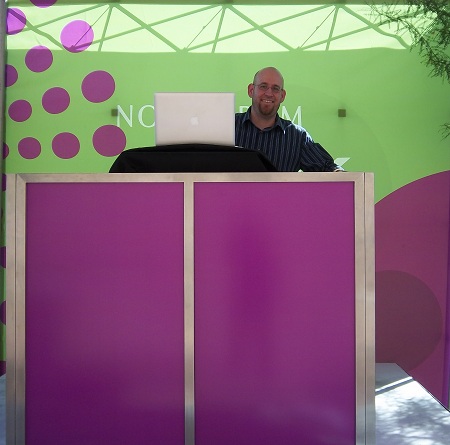 Bagels, cream cheese, coffee and other pastries were provided for guests. They even gave us this cute little bottled water while we waited in line. I don't know how long some of the early birds stood in line, but I was in line no longer than 10 minutes.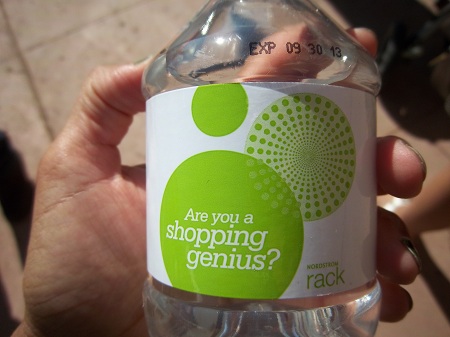 I talked to some of the ladies at the store and they informed me that people began camping out at midnight the night before! The young lady standing in line with me stated that she came at 7:30 a.m. and the line was seriously long but well worth the wait! When I arrived at about 9:30 a.m., I was informed the store was "at capacity" meaning there were 800 people in the store.
I must say that you have to meet the store manager, Amy Kerr, who is vibrant and fun. We took some fun pictures together, then "lights, camera, action" — I received my 5 minutes of fame when the Nordstrom media crew from Seattle interviewed me about my love for Nordstrom Rack. No autographs please! Needless to say, I had a blast.
THE SCOOP:
Nordstrom Rack has designer jeans that are at least $100 below retail price. The shoes literally took up the entire back wall. They have a "shoe" section, then there is the "designer shoe" section. The designer shoes include Cole Haan, Donald J. Pliner, Via Spiga, Stuart Weitzman and the list goes on. I saw some beautiful Cole Haan boots that I have to go back and purchase. I almost lost my place in line looking at them. There are so many designers (Juicy, Tahari, Tory Burch, Rebecca Minkoff, etc.) that I cannot name them all. If you're in the market for UGGs this winter, look no more. Nordstrom Rack has different styles and colors that are sure to fit your budget!
Let's take a look at my "I just rolled out of bed to go shopping" outfit. I had to be comfy for my adventure. I am wearing a Juicy Couture "Lovers of All Things Couture" tee and Juicy Couture sweatpants. I paid $128.00 for the Juicy track pants, which are only $39.00 at Nordstrom Rack! My Juicy matching jacket (not pictured) was $98. Juicy tracksuit jackets are only $49.00 at Nordstrom Rack. You can actually purchase the sweatpants and the matching jacket for less than the price I paid for my pants alone. That's a deal! Although you cannot see my shoes, I am wearing Converse. Nordstrom Rack also has Converse shoes like the ones I am wearing at a fraction of the retail price.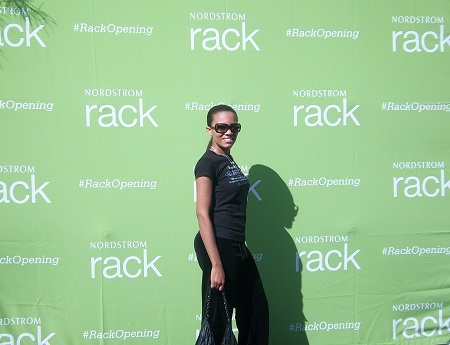 You have to go and see for yourself. Just let me know when you're going so I can meet you there. Have a great weekend!