This will be my only post this week because it is a post that is very dear to my heart. I want my viewers to see this post for the entire week. It is my prayer that this post will encourage women who have not been getting their annual mammograms or those who have not been giving themselves a breast exam at home to begin doing so.
This weekend, I met up with my banker, Terry, and her friend, Linda, to attend the 2011 Making Strides Against Breast Cancer walk. Last year, I walked during the Louisiana Breast Cancer walk with Team YWCA, of which I was a board member. I am believing God that one day, this horrible disease will be eradicated due to the collective research of specialists all over the world. Until then, I will contribute to the yearly walk in my local area and I encourage you to do the same.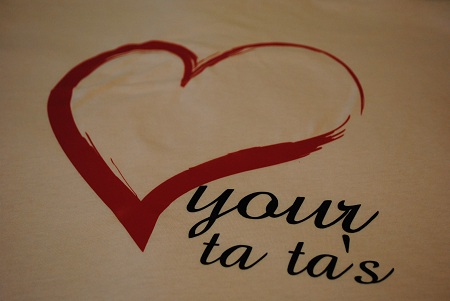 I walked for my mother and wore a "Survivor" medal in her honor. I joined the Young Women's Christian Association (YWCA) in 2009 because of ENCOREplus, one of the many wonderful programs they offer women who cannot afford mammograms. Less than a week after I joined the organization, my mom was diagnosed with breast cancer and the battle became personal.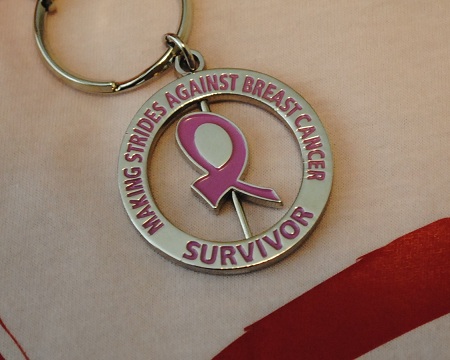 I walked in memory of Nancy Burton, one of my co-workers I mentioned in my "Hats Off" post a couple of weeks ago. Terry and I wore "Love Your Ta Ta's" tanks during the walk.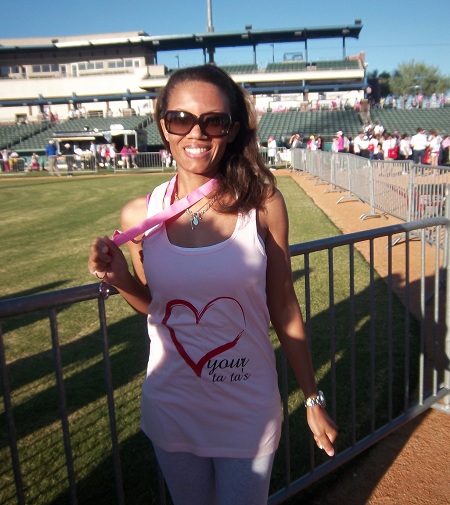 As I looked around, I saw that breast cancer does not discriminate. There were women from all walks of life and from all ethnicities there walking in memory of someone they love. Men were also there showing their support, which was awesome. Did you know that men are also diagnosed with breast cancer? I watched a series on breast cancer a few months ago, and a father and daughter were both diagnosed with breast cancer. Remember this disease doesn't just affect women.
Ladies, please note the studded bra!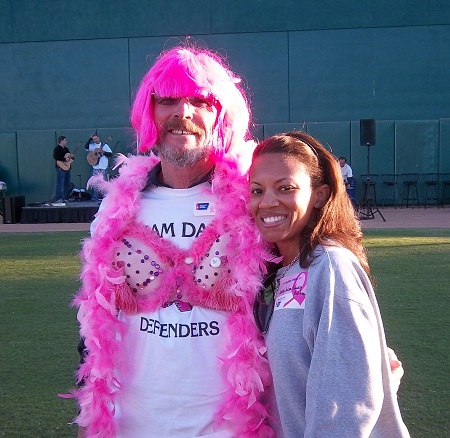 After age 40, women should regularly receive mammograms. I have had several mammograms and I am not 40 years old. You should know your body, and if something does not feel right, talk to your doctor who can refer you to a breast specialist. You can also perform self exams at home. Listening to your body could save your life.
According to screeningsforlife.com, breast cancer in the U.S. is the most common cause of death from cancer among Hispanic women. About 70% of women who are diagnosed with breast cancer have no known risk factors. Screenings for Life had a booth during the walk, which contained information on their services. Please check out their website for more information.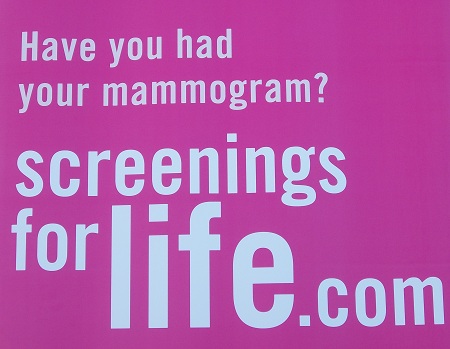 We got fun tattoos before the walk.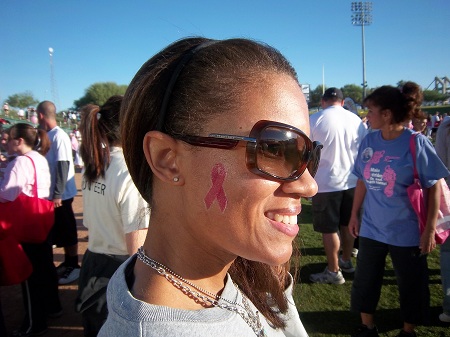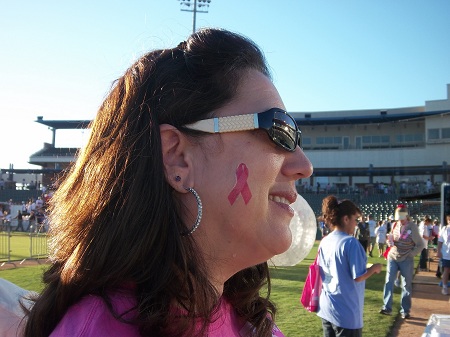 I don't know how many supporters came out for the walk last year, but this year, there were supporters for miles both in front of and behind us walking for this cause.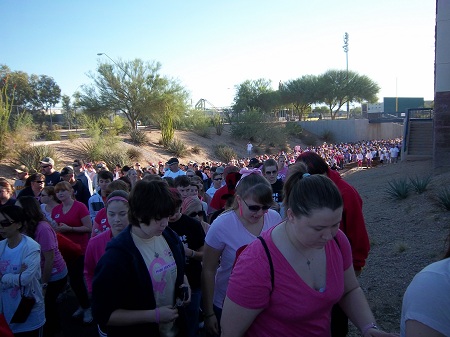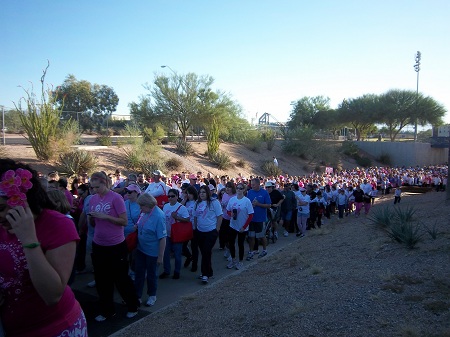 Terry, Linda and I after the 3-mile walk — it passed so quickly because we talked the entire time. Linda (middle) is a survivor of breast cancer, so this walk was extra special for her.
I hope to see you at the Making Strides Against Breast Cancer walk next year in your local area. It's a great cause and if you know someone who is not getting their annual mammogram, please encourage them or go with them if they need that extra support. There are also several organizations that can possibly help your loved one receive a free or discounted mammogram if she doesn't have insurance. Let's work together and beat this dreadful disease!