Ralph Lauren was my first "real" suit.   He is one of my favorite classic designers, and I especially love his timeless pieces. During my college years, I was a sold out Tomboy — jeans (very baggy jeans), t-shirts, and NIKE shoes.  I look back at pictures from college and wonder, "What was I thinking?"  I had several friends in college who wore heels, cute skirts and carried handbags.  I was not interested in handbags, skirts or heels, and I loved ponytails.  When I went to law school, however, I decided it was time to grow up and buy a suit.  I chose this navy pinstripe suit, which  has a pleated front, tapered legs, a long jacket and shoulder pads (old school). Some designers are still using tapered legs and pleats in suiting.   There's no doubt that I absolutely still love this suit!
I picked up a newspaper to go with my old school theme and became engrossed in the article involving Reggie Bush, Albert Haynesworth, Chad Ochocinco, and Vince Young who will be moving to new NFL teams.  This is going to be a very interesting season and I cannot wait.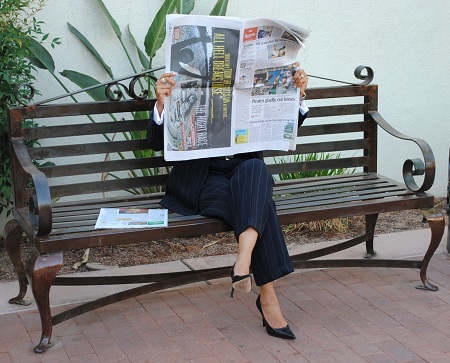 This is the first time I have ever worn this necklace.  I purchased it a few years ago at Barney's New York Co-Op in Atlanta.  I considered giving it away several times, but I could not part with it.   I love the colors, the chunky knotting and the oddity of this piece.  I think I will put it to more use soon.  I am loving it today.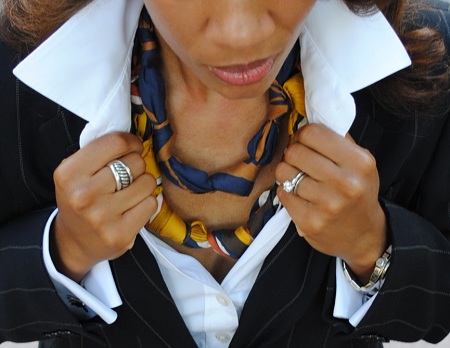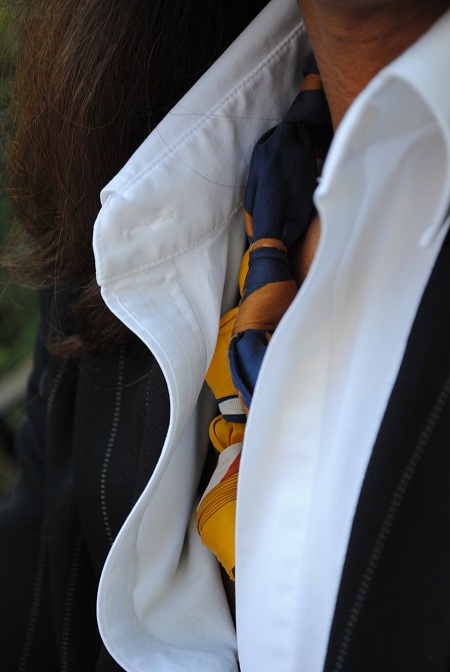 Suit (Ralph Lauren), necklace (Barney's New York Co-Op), shirt, belt and cuff links (Banana Republic), shoes (Guess), watch (Coach by Movado).
I have always felt powerful in a pantsuit.  I was the commencement speaker at a graduation a few years ago, and a woman stated to me, "Back in my time, we would have never worn pants."  Of course I informed her (in a professional manner) that we were well past her day. I don't do what everyone else is doing, and if I had been born in the early 1900's, I would have been the outcast who wore the pantsuit.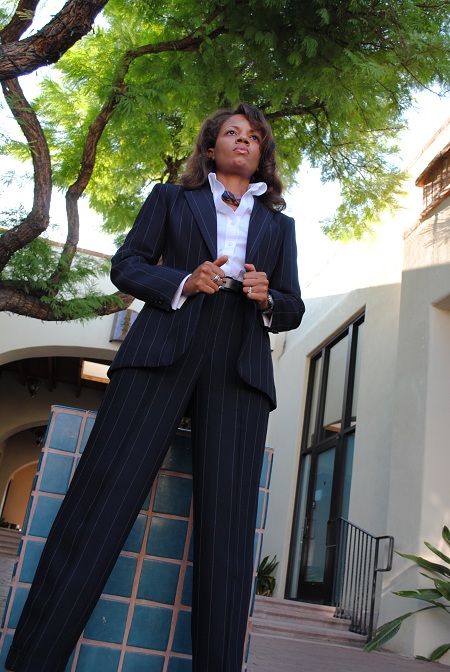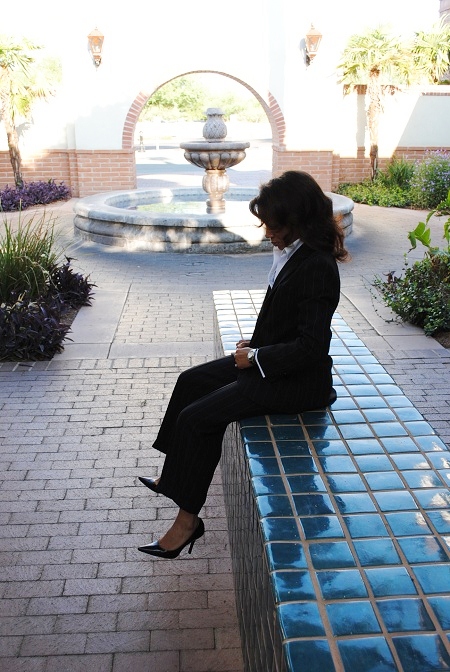 Many women are afraid to venture into wearing pocket squares, cuff links,  or huge (boyfriend) watches.  I love all things that are nontraditional.  I think masculine elements can be fun and feminine.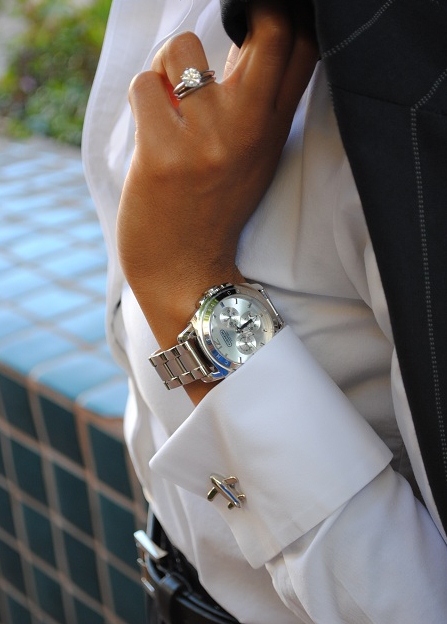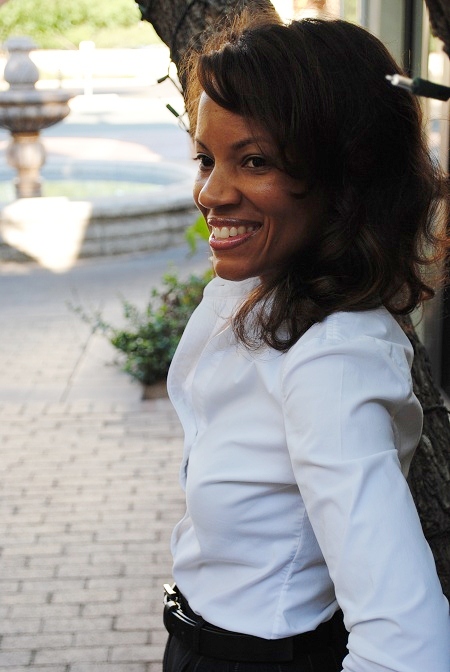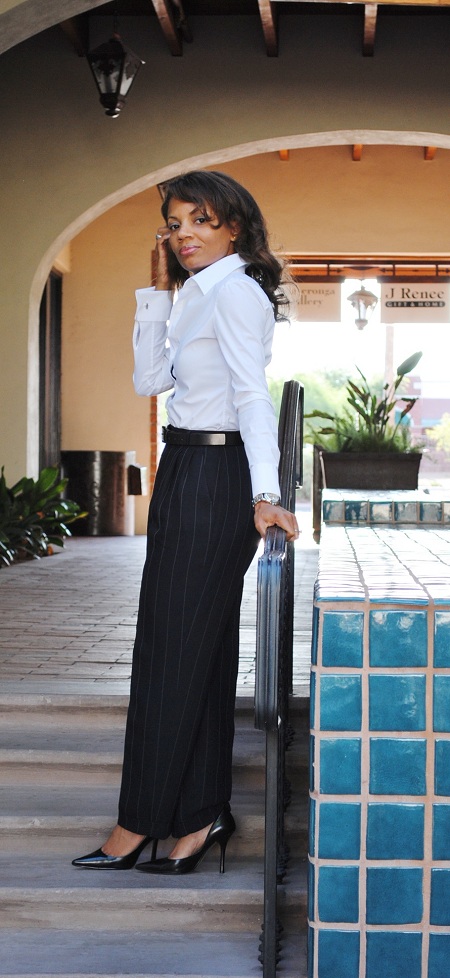 I love the Guess Carrie pump.  The heel is just the right height and it has a sexy pointed toe.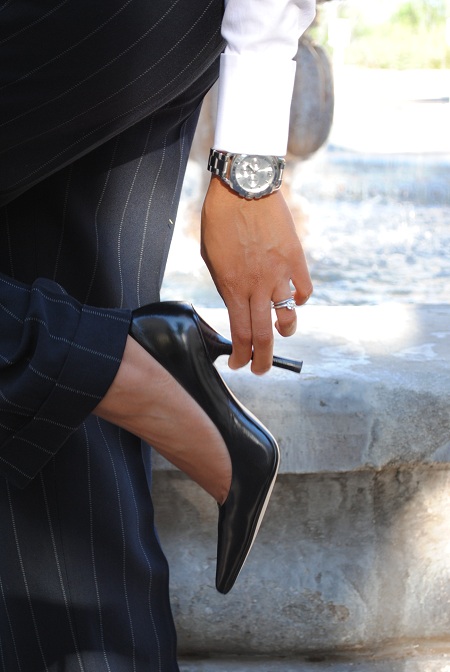 Well, it is time for me to hit the road.  I will see you on Friday, and I hope you are having a great week!