I have had an amazing week. I traveled to Memphis, Tennessee where I had a blast with my childhood best friend. I also traveled to Mississippi to visit my family and I did not want the week to end.
I arrived at the airport as my flight was boarding, which meant I was in a hurry. I always wear comfortable clothes and carry a light jacket or sweater. I have never tried to look like a princess on a flight and today was no different.
I look a bit disheveled because I did not tie my sweater in the front to make it look pleasant. I just threw it over my shoulders and began hiking to my terminal to catch my plane. I knew it would be really hot and humid in Tennessee and Mississippi, so I packed 4 black t-shirts and pulled my hair back. Wearing dark shirts in humid climates is the best choice for me because I hate for people to see me sweat. I have always been taught to wear light colored shirts in the heat, but trust me, it does not matter what color you wear. When the temperature is over 100 degrees, you will still feel the heat. If you are not used to humidity, I can attest to the fact that you will sweat and feel as if you always need a shower.
By the way, these cammy utility pants were originally $85.00 at J.Crew. They are now on sale for about $7.00 if you get an extra 40% off. Now that's a steal! They're made from cotton ripstop, which is used in army pants and police uniforms. They also have added stretch, which makes them comfortable for sitting on the plane for over 3 hours.
Sweater and cammy utility pant (J.Crew), shirt (GAP), shoes (Nine West), handbag (BCBG Maxazria).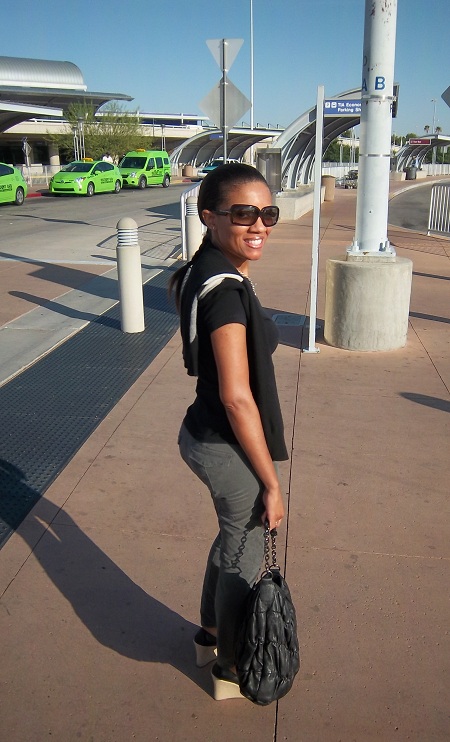 I love flying in the morning because I love breakfast, and American Airlines always serves great breakfast in first class.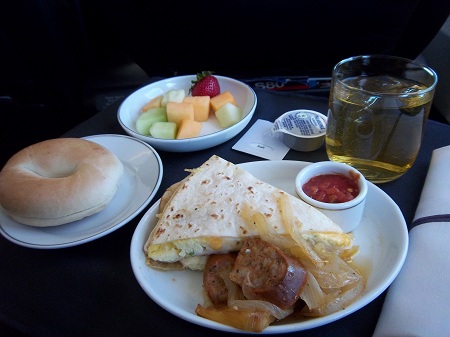 When my plane landed in Memphis, I called my best friend, Leisa. We went to Beale Street and had a great time. We laughed the entire time about anything and everything. I felt like I was in high school again. She is hilarious and always makes me laugh.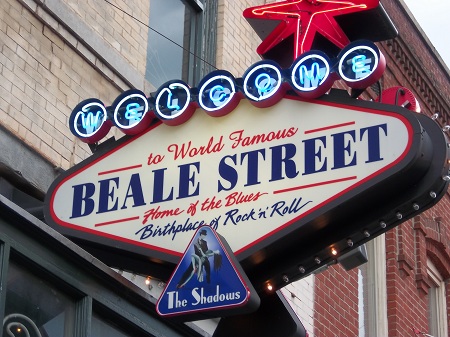 Everyone in Memphis has a "hustle", from the kid flipping from one end of the street to the other, to the lady selling handmade jewelry and cross body handbags. I loved this vendor's feather earrings and the colorful jewelry and handbags.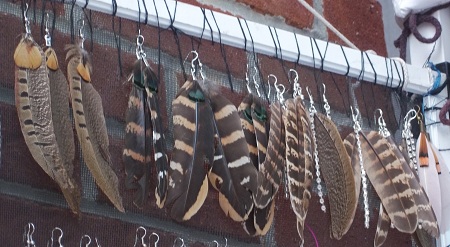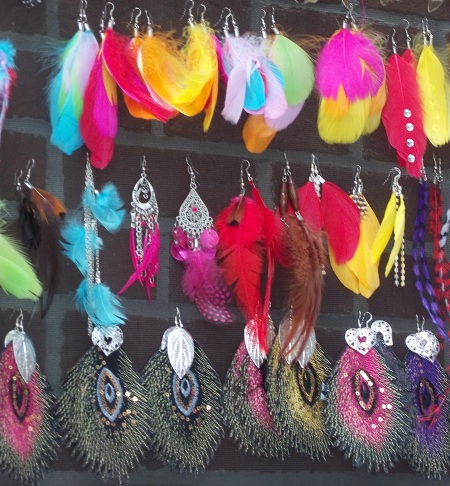 This vendor had some really creative pieces. I have not seen shell necklaces and bracelets since I was a kid.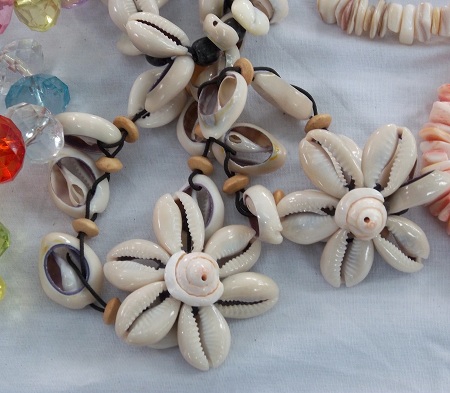 You know I always have to find an awesome place to eat. We went to Charles Vergo's Rendezvous, which is a great restaurant specializing in good Southern barbecue. Rendezvous was featured on Food Network's The Best Thing I Ever Ate, and it was worth the visit. I'm sure you've heard of a "hole in the wall" restaurant. Well, this was a "hole in the alley" restaurant. You have to park on the street and walk through an alley to get to this restaurant, and it was filled to capacity. Service was quick and the crowd was friendly. I ate my fill and so did Leisa. I had the brisket, cole slaw and beans. Leisa had what I thought was an odd combination (sausage, cheese, pickles, and jalapeno peppers). I am not a fan of pork, so I don't eat it. However, I had to try this and it was delicious. The different flavors from the cheese, peppers and sausage were a great combination. I never would have thought of this myself, but it was delicious!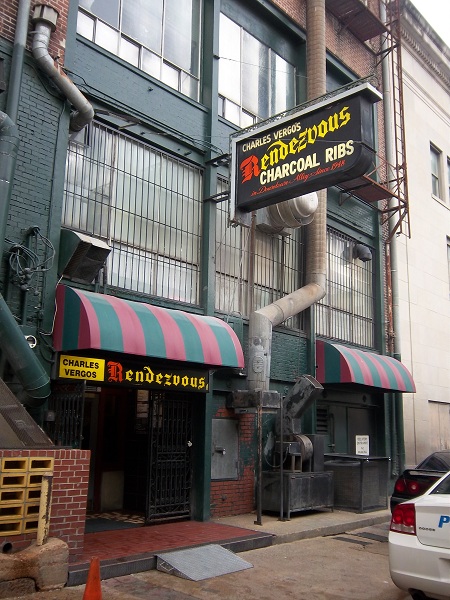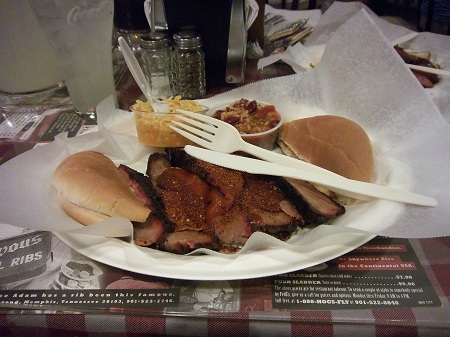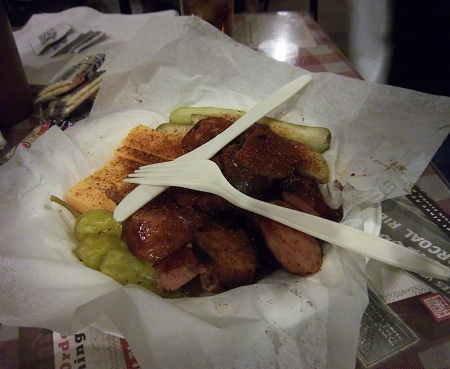 After we finished our meal, we continued walking down Beale Street. I put on my flip flops so that I could be comfortable as we walked. I always carry flats in case I need to change my shoes. Sandals (Coach)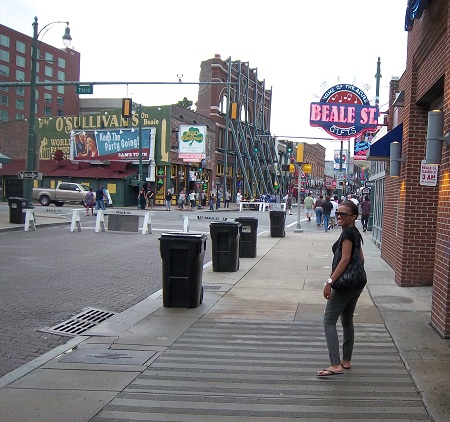 We heard a band playing and followed the beautiful sounds to the Blues Hall Juke Joint. I haven't heard the words "Juke Joint" since The Color Purple. The band was great and the atmosphere was casual and laid back.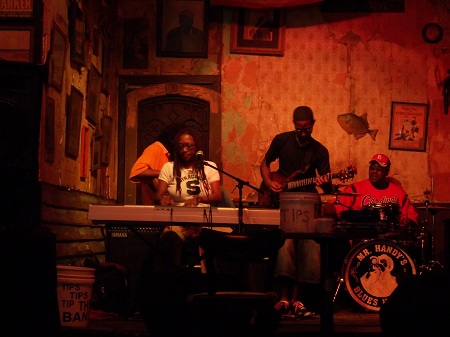 Everything on Beale Street is premised on two things:
(1) the Blues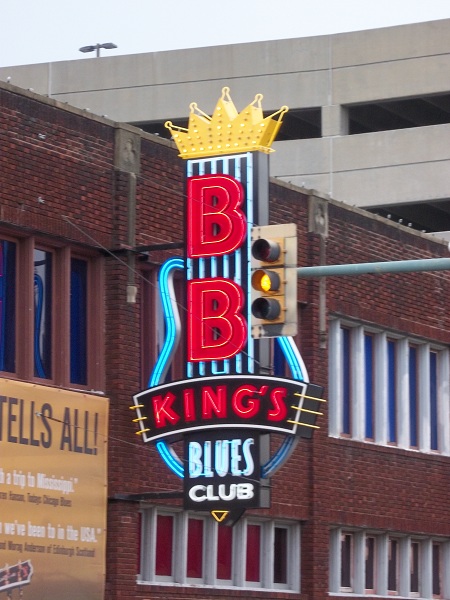 (2) Food (This sign says "PIG, Pork With An Attitude," and pork is apparently the meat of choice on blues row.)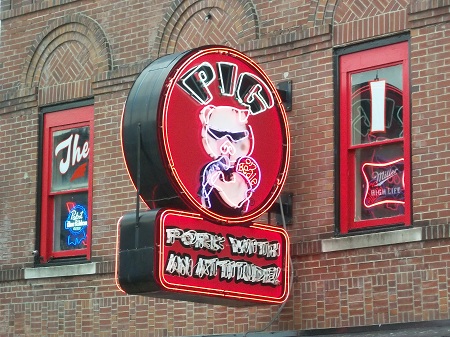 You could also take a ride down Beale Street in Cinderella's carriage, which was parked in front of The Peabody Hotel.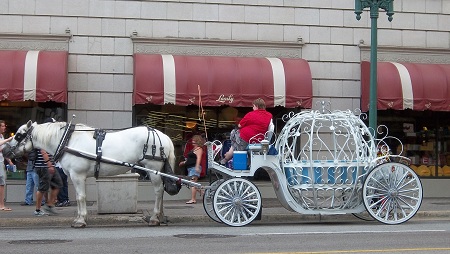 While passing a store on Beale Street, I couldn't help but notice the window of this store, which was filled with guitar and piano toilet seats. I am sure someone is proudly displaying these in their home. They are so nice and shiny. I don't think I could allow anyone to sit on these!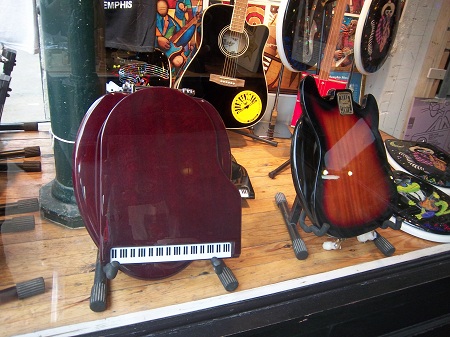 Well, the next stop is my hometown. I'll share more with you next week. Until then, be blessed and have a great weekend!