Earlier this week, I wore a Ralph Lauren navy pinstripe suit. The Ralph Lauren jacket has a breast pocket, but the breast pocket is not functional. What I mean by functional is that you cannot put a pocket square or a silk scarf in it. Most women's suits do not have a functional breast pocket. This is quite disheartening to me as I am a woman who would prefer a pocket square or a silk or cotton scarf in my breast pocket as opposed to tying it around my neck. Years ago, I decided it was time to find a suit that had a functional breast pocket and so I did. Not all of my suits have the functional breast pocket, but I do have fun with scarves and pocket squares whenever I find a suit that will allow me to play with this feature. J.Crew is one of those designers who offers bespoke characteristics (functional button holes on the cuffs, functional breast pockets, etc.) in some of their off-the-rack suiting.
This is one of my favorite J.Crew suits. I love the functional breast pocket, the flared leg and the fitted jacket. Instead of a traditional silk pocket square, which fits deeper into the breast pocket and is not as large, I played with my cotton scarf from Harold's. Do you remember this scarf? You've probably seen it tied onto my Madison Sophia Coach handbag. I have plenty more scarves, but I wanted to use this one with the darker pink color to complement the light pink in my shirt. If you want something a little more subtle, a silk pocket square, which is smaller, will be perfect.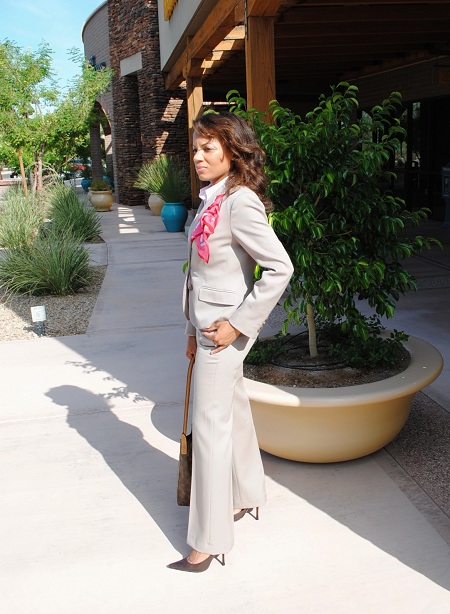 The shirt is actually a cotton "basket weave" fabric, which makes it heavier and not as crisp as the rest of my dress shirts. I love the texture.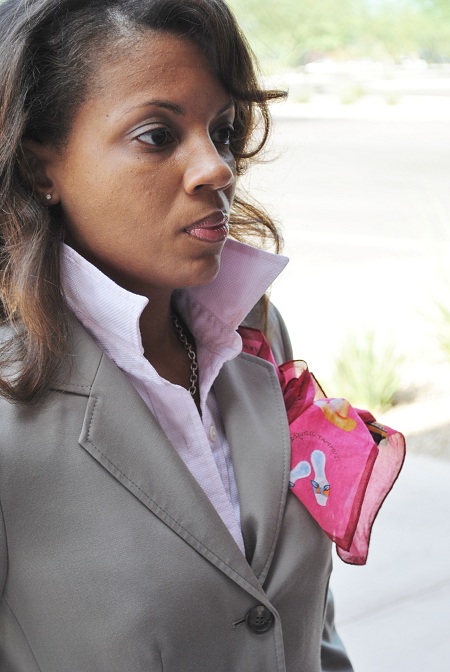 Suit and silk belt (J.Crew), scarf (Harold's), shirt (Banana Republic), shoes (Guess), handbag (Louis Vuitton).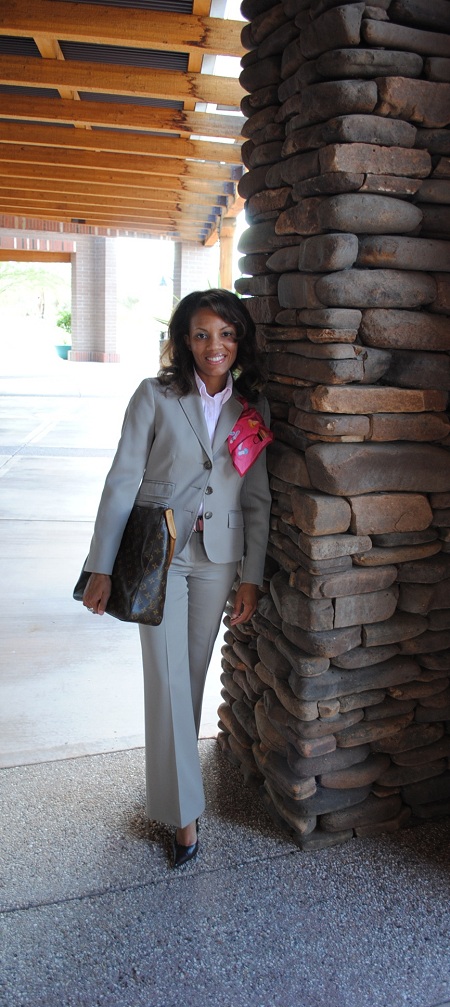 Several years ago, J.Crew used the silk fabric from its Italian ties to make belts. I purchased a couple of them and I love them still to this day. I am a fan of anything with stripes, and this belt fits the bill. Don't be afraid to mix patterns and designs (scarf with designs and striped belt). Just don't overdo it. You can end up destroying the perfect outfit.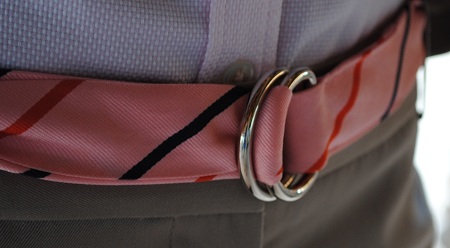 The double pockets on the right side of this jacket were also another feature that drew me to this suit jacket.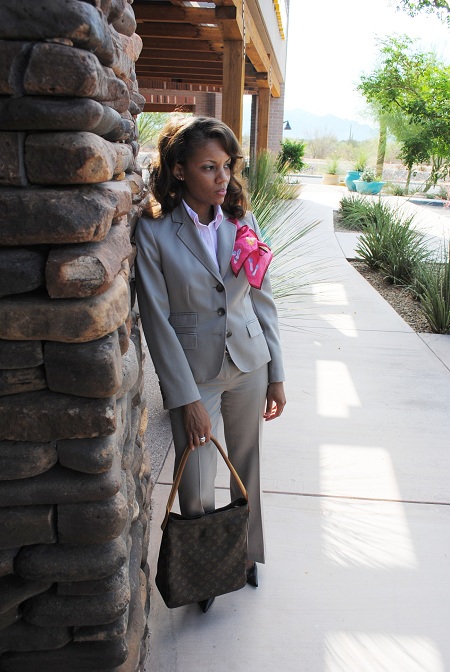 Well, it's time to get ready for a great weekend. I hope you had a great week and have a safe weekend.