Before sharing my wedding day photos on my blog, I thought I would start with my engagement.  I know there probably aren't many men out there who are tuning into this blog right now, but for those who are, let me tell you that if you are preparing to ask the woman of your dreams to marry you, you have to make it special and it must come from the heart.  My husband personally called my close friends and family and invited them to Fleming's for our proposal.  He flew into town the day before the proposal and met with the staff at Fleming's to ensure everything would be ready for the special day.  I was totally oblivious.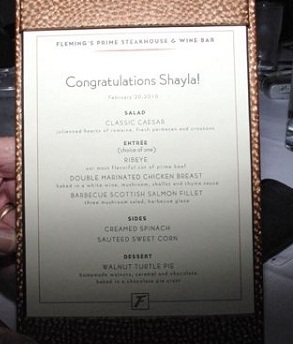 My engagement story is a pretty long, funny story, so I won't get into the details.  Short version: One of my best friends invited me to dinner at Fleming's Steak House. Once we arrived at the restaurant, we were taken to a private room, which was odd to me.  When we opened the door, I heard, "Surprise!"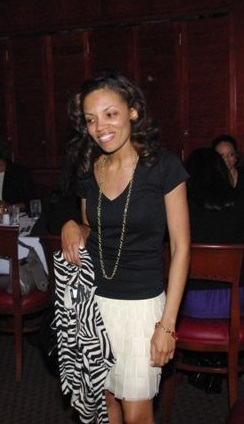 I saw my college roommate and several of my close friends, but when I saw my mom and dad, I began to cry because they lived out of state and I had not seen them in months.  For those who know the story, I was really confused because I had no idea what was going on and I was not anticipating a proposal that night.  I turned around and my fiance' was sitting in the corner of the room.  At that moment, I knew this was it, so I yelled excitedly, "You're about to propose!!!!!!"  The room filled with laughter, and he guided me to a seat in the middle of the room and got down on bended knee.
I'm so excited I wore this particular outfit.  This is a great example of the reason you should always look your best.  Looking good can mean cute jeans and a baby tee, or a pencil skirt, button down shirt, and hot pumps, depending on the occasion.   This skirt is my favorite.  The shredded, lightweight silk makes it so feminine and perfect for an evening out.  Skirt and cardigan (JCrew), v-neck tee (Banana Republic), necklace and link bracelet (Arden B), pumps (BCBG).
He began to read excerpts from Proverbs 31, and then he pulled out the blue box.  At that point, time literally stood still, and I don't remember anything except taking the blue box, unwrapping it and placing the ring on my own finger.  I don't even remember saying, "Yes."  It's all a blur.  As a result of the blue box, my proposal pictures went from sweet and innocent to this: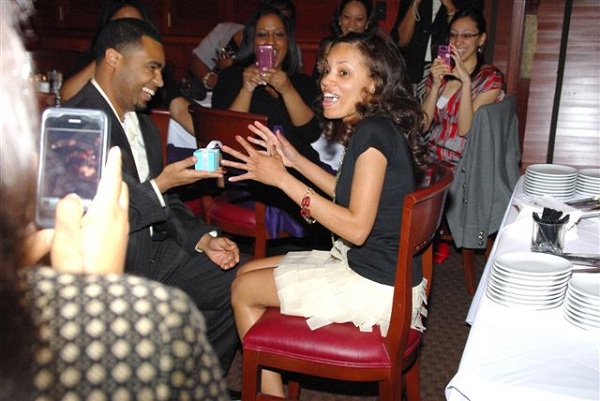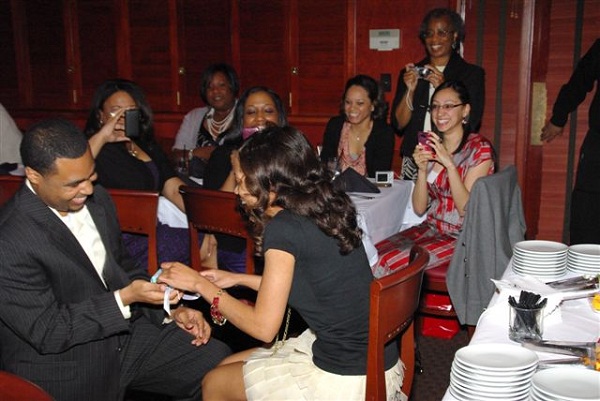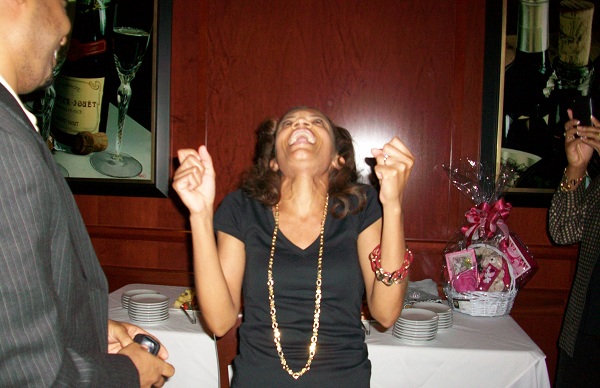 For those who are expecting a ring in the near future, please try to stay calm and composed for your pictures.   You cannot reverse time, and any pictures taken will remain with you forever.  The night was beautiful, the food was excellent, and I am so grateful we were able to share this moment with our family and friends.   Next post… "I do."