After my post last week, "The White Suit," I mentioned that I needed to find a fun event to wear my white suit. Kevin Hamilton sent me an invitation to his White Party for his birthday at the Onyx Room Restaurant. There was great soul food, wonderful music by Kevin Hamilton and the Southwest Soul Circuit and Kevin's beautiful wife, Tanishia. Tanishia and I went to college together and connected again in 2009. You might remember Kevin, Tanishia and the band from my wedding. I have kept in touch with them since that time. I adore them, and you just know Kevin and Tanishia love each other the way he looks at her as she sings with such emotion. Love is undeniably in the air when these two get together.
Honestly, Kevin's invitation is where "The Challenge" got really challenging. Can you guess what my first thought was? You guessed right — to go out and buy something new. However, I knew I had to stay focused on the challenge, dig deep and come up with something that was already in my closet. I knew I would be wearing a white suit, but what shirt, shoes, etc? This is what I came up with.
I purchased this silk halter in Atlanta at Banana Republic over 5 years ago. I love this halter, but I don't wear it often. It's one of those shirts I put in the closet and just forgot about. For that reason, it might be on the next Goodwill list.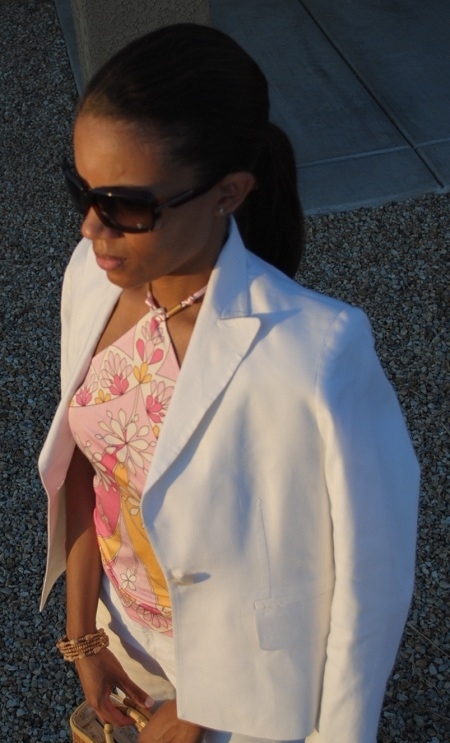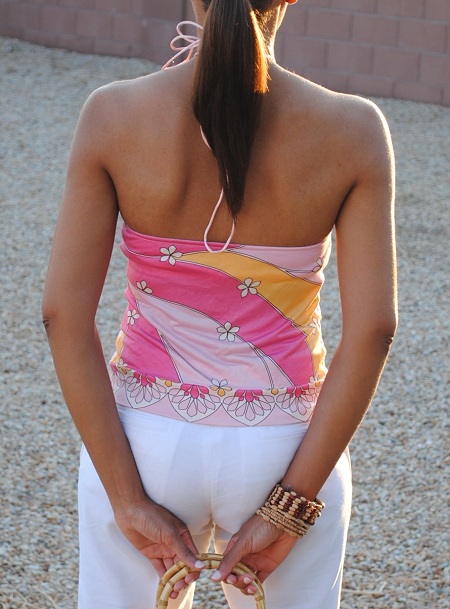 I love this wooden tote. I think it's "summery" and goes well with the white suit. Although I am wearing two bracelets in one of the previous photos, I decided later to only wear one bracelet. So, I removed the larger one and wore the smaller one. Sometimes less is more in my opinion. Gold jewelry would also look great with the bright colors in the halter.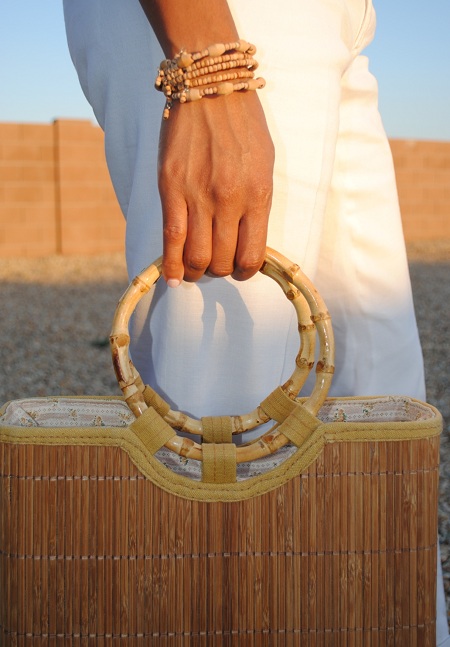 I am too embarrassed to tell you how old these shoes are. These are open toe Anne Klein shoes with a wooden heel. I used to love these shoes, but after the challenge, I am going to replace them. They still look new because I hardly ever wear them, but it's just time to let go.
I usually attempt to avoid rocks by any means necessary when walking in heels. They can really wear on your shoes and your ankles.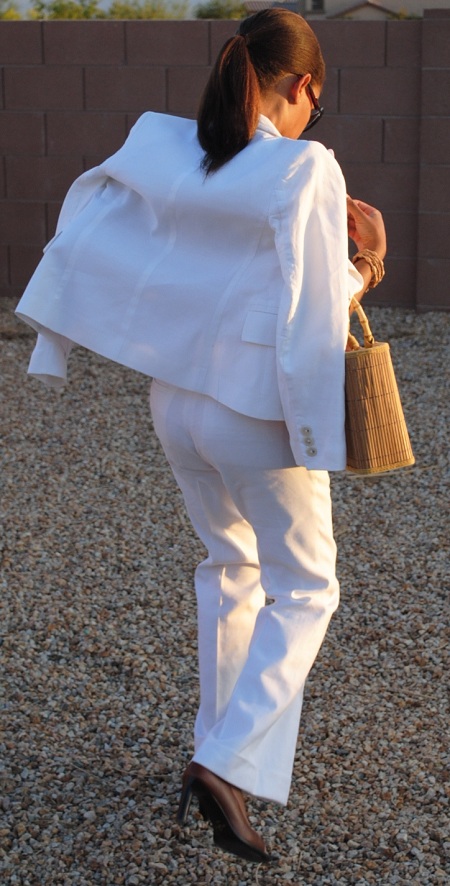 Suit and silk halter (Banana Republic), shoes (Anne Klein II), bracelet and handbag (vintage), sunglasses (Burberry), watch (Gucci).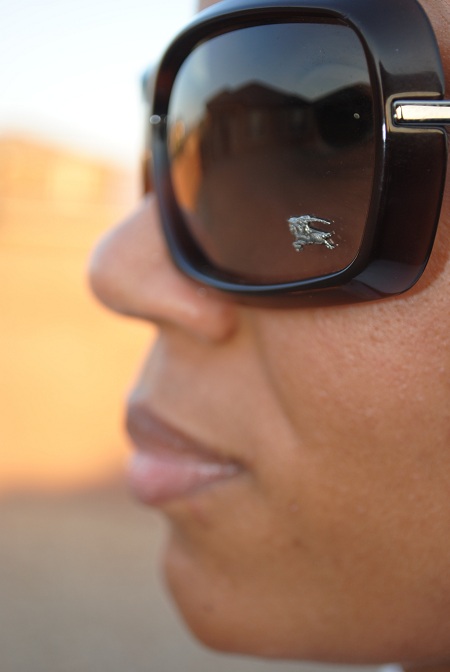 As I began walking out the door to leave for the night, I remembered something very special to me, my Vintage Gucci watch. This was my high school graduation gift. This watch has been good to me, and I knew I had to take her with me. Her pink band matched my silk halter perfectly.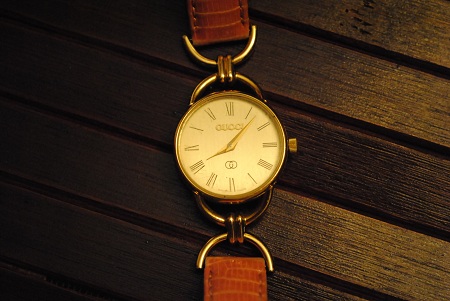 Now I'm ready for the night — good friends and good eating.
Once we arrived, we were greeted by Kevin and Tanishia. They were awesome! It amazes me that Kevin would sing at his own birthday party. That's the kind of guy he is. Instead of receiving gifts from others, he instead showered his guests with the greatest gift — his wonderful music.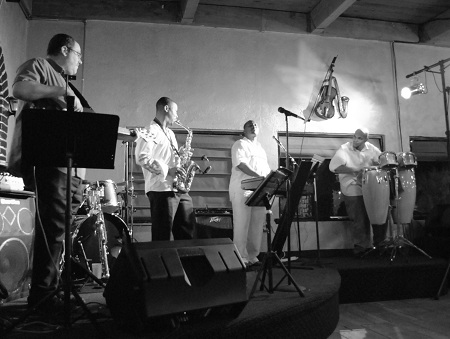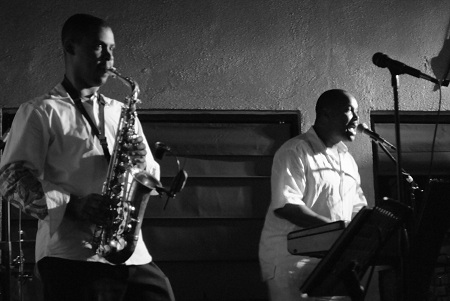 At my wedding, I decided I would sing a love song (He Loves Me) to my husband. No, I cannot sing, but it was my wedding and who was going to stop me? At Kevin's birthday party, Kevin and Tanishia dedicated the song, "He Loves Me," to me and my husband. It was beautiful. I wanted to put on my wedding dress and walk down the aisle allover again. For those of you out there who are preparing for your wedding, enjoy every minute on your special day. It comes and goes so fast.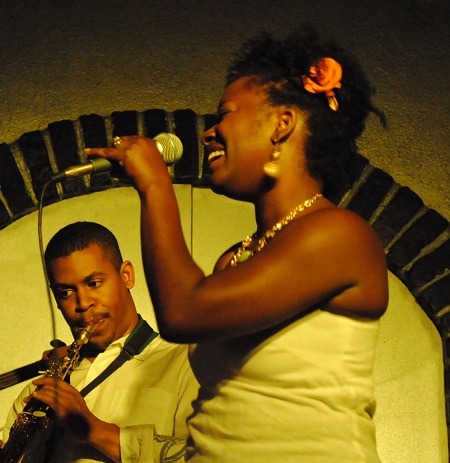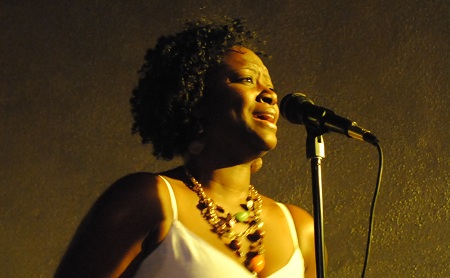 During our wedding, Kevin and Tanishia also sang, "With You I'm Born Again." They also sang this song to each other Saturday night. You should have been there. Merely reading this blog gives their performance no justice. It was just that wonderful, and if you weren't there, you missed the baddest bass player in the land, the smoothest saxophone player ever, percussionists who swayed the crowd with their jazzy beats, and a husband and wife team that are truly a match made in heaven. Happy Birthday Kevin, and may God bless you with many more!