I love weddings — the beautiful flowers, the happy bride and groom, the good food and the warm atmosphere.  My wedding was wonderful. I would not change a thing about it. The reason I really enjoyed my wedding was because I did what I wanted to do.  I did not allow anyone to dictate my style, the menu, the guest list, or anything pertaining to the wedding.  This wedding was the result of me putting ideas that I love together.  We decided on our location at the Ritz-Carlton at Dove Mountain. The hotel was still being built when we visited the grounds and took a tour.  It just felt right and we knew we wanted our venue to be special.  I planned my wedding from over 1000 miles away, and I can truly say that Beth Hoishmann, my wedding coordinator at the Ritz, made my wedding day go smoothly!  I have always loved the Ritz-Carlton, and I am so happy I chose them for my wedding venue.
My dress is by Paloma Blanca (Gabrielle's Bridal Boutique in Baton Rouge, Louisiana).  I had never heard of Paloma Blanca, but this was the first dress I tried on and I was hooked.   I am short and I have a small frame, so it is difficult to find things that really fit my body type.  This dress was "the one."  I also went to New Orleans to Town & Country where I found some beautiful gowns, but I kept coming back to this one.  Within a week, I had found a dress.  I picked my dress alone.  I didn't take anyone to the bridal boutique to confuse and frustrate me.  It is great to have the opinion of friends and family, but always remember it is your wedding and you want to wear a dress you love.
Justine Miller of Justine Miller Photography (www.justinemillerphotography.com) took the pictures for my wedding.  She was fun, original and really thought "outside of the box."  I could not post all of my pictures, but these are a few of my favorites.  I took the first picture at the Ritz-Carlton in a casita where we stayed after the wedding. The casitas are like little houses on the Ritz-Carlton property that are located in their own little subdivision.  Our casita had a beautiful fireplace, a living area, dining area, massive bathroom that was the size of most hotel rooms, and a huge walk-in closet.  We had a private patio that overlooked the mountains and hiking trails.  Words cannot describe my stay on this property. The Ritz-Carlton at Dove Mountain is absolutely breath-taking.  If you haven't been, you have to visit.  I have stayed at several Ritz properties, and my husband and I stayed at a Ritz-Carlton in the Caribbean during our honeymoon, but the Ritz at Dove Mountain is the most impressive Ritz I have visited.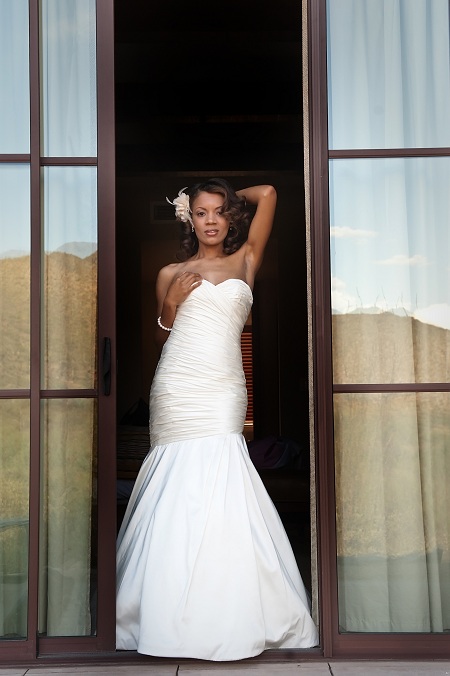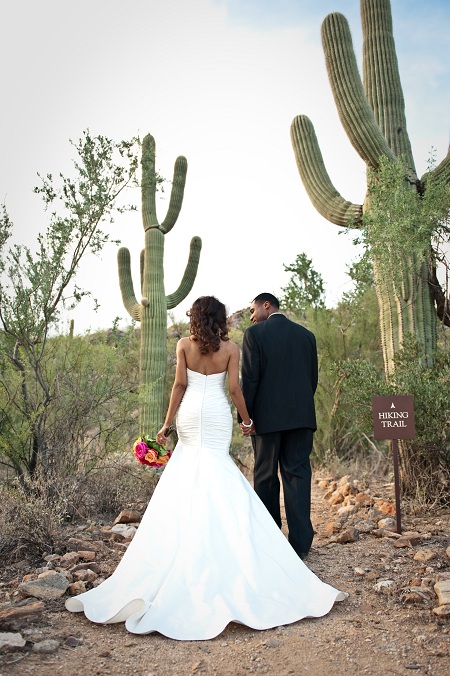 I did not wear a traditional veil.  Your wedding should reflect your style, and if you don't want to follow tradition, do what feels right for you.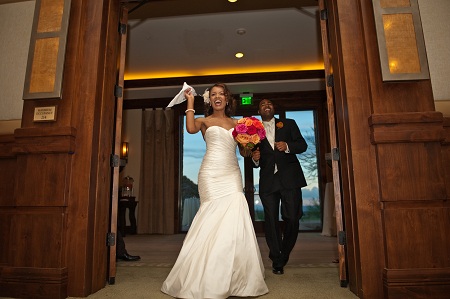 I love hugs and kisses, so I love the "kissy" pictures.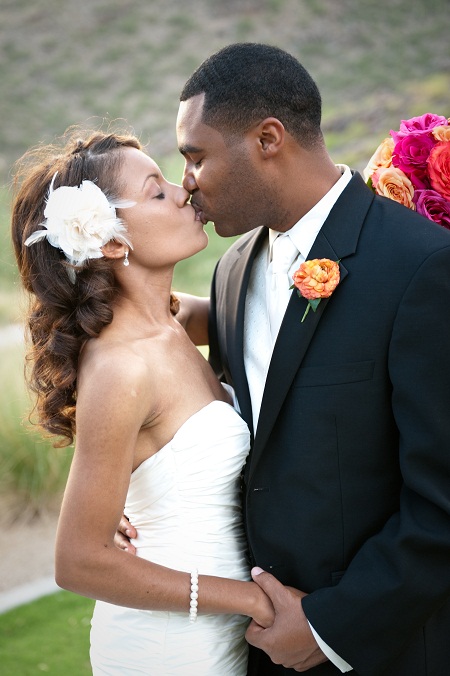 I did not realize how important the flowers are for your wedding.  They really set the mood (elegant, playful, classic, etc.) for your special day.  I chose roses because I love the look and smell of roses.  My grandmother used to grow beautiful roses, so I have always loved them.  Georgeanne Fimbres at Villa Feliz in Tucson has some of the most beautiful roses I have ever seen.  Some of the blooms have to be held with both hands because the blooms are so big.  I was in heaven with all of the beautiful flowers, and they were literally everywhere!  My cousin (Lisa), sister (Nicole) and college roommate (Caroline) stole a golf cart and  took numerous flowers and spread rose petals throughout my casita.  To this day, I  cannot stop laughing at the stolen golf cart story.  Lisa, Nicole, and Caroline turned the lights down low and turned on the fireplace before Matt and I arrived.  Words (and pictures) cannot describe how beautiful the casita was.  Thanks ladies!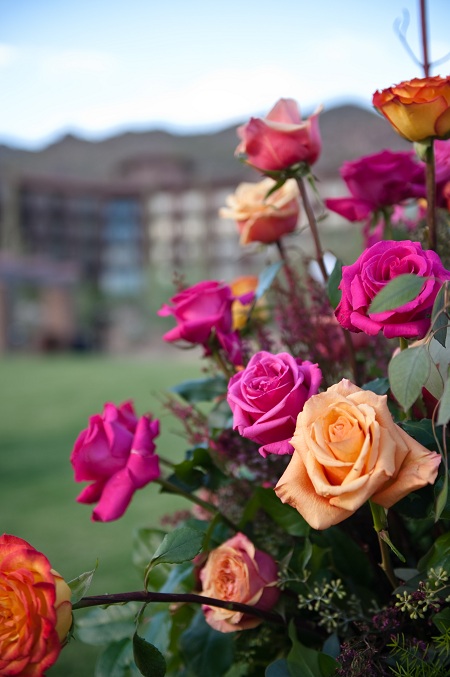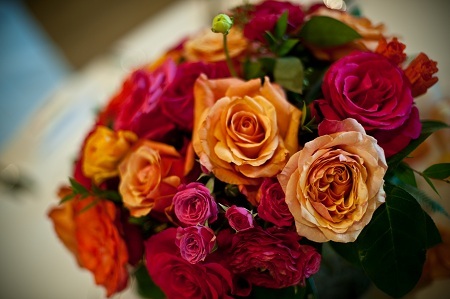 I chose fresh flowers for my cake, which was a great idea.  The cakes were made by the pastry chef at the Ritz, who was awesome. I love the look of fondant, but fondant is not the tastiest, so the chef smoothed French buttercream onto the cake to look like fondant. Matt's cake was chocolate, and my cake was mango and French buttercream filling with French buttercream frosting.  Matt loves the New Orleans Saints, so when he saw the cake on the evening of the wedding, he was so excited.  He had no idea he was getting a cake with a fleur de lis on top.  The cakes were delicious!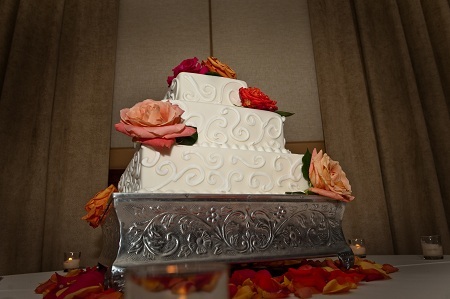 I wanted a live band for the wedding because I desired an intimate feel for the evening.  Kevin and Tanisha Hamilton performed during the wedding.  The guests referred to it as a "mini concert."  We really enjoyed their style and energy.  They performed "Do Whatcha' Wanna" for us to do a second line when we entered the reception.  For those who don't know what a "second line" is, it is a dance native to Louisiana.  We allowed everyone to join in, so the entrance was not only about the bride and groom, but about everyone coming together and enjoying the night together.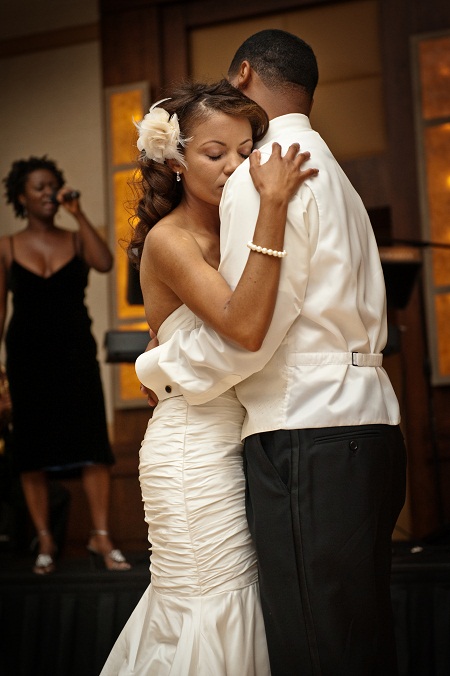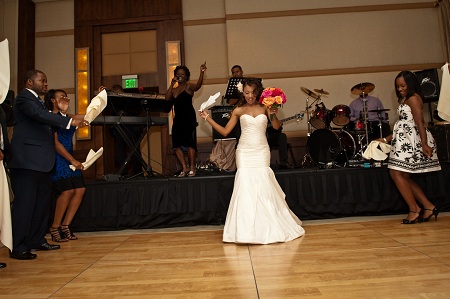 Last, but not least, you have to give your guests something to remember your special day.  I chose to celebrate the Louisiana theme with fleur de lis gifts.  As the guests entered the reception, they were given a crystal fleur de lis memo pad.  Once they got to their assigned seats, they were given a fleur de lis bronze magnet, which was a gorgeous keepsake.  Each gift was wrapped with ribbon in burnt orange.  I love making things look beautiful, so I purchased the gold "T" stickers, the pillow boxes and the ribbon, and wrapped each favor.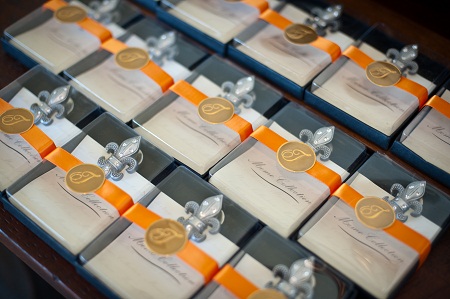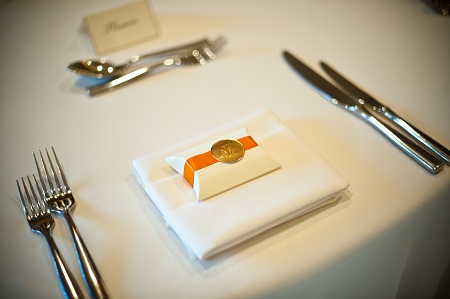 Have a Happy Monday, and don't forget to leave a comment to let me know your thoughts.  If you're a bride-to-be and you have any questions, feel free to ask.  Thursday's post… my "trash the dress" session.